Illustration by Giordano Poloni / For The Times; animation by Jess Hutchison / Los Angeles Times
Yes, the never-ending hamster wheel of life can be stressful, especially around the holidays. But it doesn't have to be especially so if you — and the stressed-out loved ones in your orbit — have an arsenal of stress relievers, anxiety reducers and mood lifters at the ready.
The list below is my starting point for building that arsenal — for both gift giver and receiver.
It includes all manner of lotions, potions, edibles, visuals, toys and games with one overarching goal in mind: keeping the stress demons at bay and making life feel less like a run on the hamster wheel and more like a walk in the park.
If you make a purchase using some of our links, the L.A. Times may be compensated.
Working on your holiday shopping? We've got you covered with recommendations for the best gifts to find in L.A.

Kush Queen Relax 1:1 CBD & Delta 9 THC Bath Bomb
Confession: This is one of the very rare items on this list that I haven't tried personally but that's only because I'm not really a bath person. But several of my bath-taking nearest and dearest have dropped these bombs into their bathtubs, and they enthusiastically endorse the stress-relieving properties of these scented spheres infused with 25 milligrams of CBD and 25 milligrams of THC along with an essential oil blend that includes lavender, chamomile and frankincense. "It's mostly like a normal bath ... but better," said one of my bath-bombing colleagues. "Every time I use one, I go for the full experience: Light a candle, throw on some spa tunes, close my eyes and breathe. It's just plain incredible." CDB-only versions of the Relax bath bomb (and the Anaheim-based brand's pain relief, sleep and immunity bombs) are also available.
$20 at Kush Queen
Pioneertown Motel Lotion
My first encounter with this fragrant, calming and transportive lotion was during a pre-Coachella stay at the 19-room western-movie-set-meets-high-desert Pioneertown Motel just outside of Joshua Tree. The contents of the two amber bottles (a lotion and a similarly scented soap) in our room were redolent of just-extinguished campfires and desert scrub brush at sunset — a scent that somehow telegraphed both familiarity and mystery at the same time, much like the weathered rustic motel and Pioneertown itself. (According to the label, this essence of desert is a combination of Dalmatian sage, vetiver, black spruce, benzoin, dark patchouli and blood orange.) When we checked out, one of the bottles for sale at the front desk came home with us, and it wasn't until later that we realized it had been created specifically for the motel by Grateful Desert Apothecary, a Joshua Tree-based purveyor of handcrafted, small-batch tinctures, sprays, oils and aromatherapy lotions. I mention it here because Grateful Desert's website offers a deep bench of similarly calming lotions, tinctures and aromatherapy sprays.
$25 at Pioneertown Motel
Mindsight Breathing Buddha
Mindful breathing exercises — patterned sets of inhaling and exhaling — are a simple, efficient and do-anywhere method of addressing anxiety, and this toy-like Breathing Buddha is designed to help in two ways. First, by sitting on the corner of your desk, he serves as a reminder that your adventure in mindful breathing awaits. Second, when switched on, his glowing colors help guide breathing in one of two exercises: a 5-5 cycle (inhale for 5 seconds when the Buddha glows green and exhale for five seconds when he's blue) or a 4-7-8 cycle where you inhale for 4 seconds (green), hold for 7 seconds (purple) and exhale for 8 (blue). Included in the box is a quick-start guide (which suggests practicing for up to 5 minutes at a time) and a USB-C power cord. Because even the Buddha's got to power up from time to time.
$21.95 at Amazon
Mind Brain Emotion 52 Essential Coping Skills cards
Created by SoCal-based educator and emotional intelligence researcher Jenny Woo and a product of the Harvard Innovation Labs, this pack (which doubles as a standard 52-card deck of playing cards) has an assortment of wisdom nuggets paired with exercises designed to help build skills in adaptive coping strategies. That's a highfalutin way of saying the prompts on the cards are geared toward helping you get out of your own head, reduce your stress, manage your emotions and change the way you react emotionally. Examples include How to Get Unstuck ("What memory or emotion are you dwelling on?"), I Dissent ("When you feel wronged, attack the issue, not the person. Present the facts, not the blame") and Forgiveness Letter ("Write a letter to a person who has wronged you. Express how you've been affected. Store the letter away.") Mind Brain Emotion's other decks help build interview skills, instill critical thinking skills and navigate social dilemmas, but this one feels like a fruitful few hours of therapy — one card at a time.
$24.99 at Amazon
ENO SingleNest Portable Hammock
Tucked into its attached pouch, this lightweight nylon taffeta hammock is small enough to stow in a beach bag or backpack. Unfolded, it's 9½ feet long and nearly 5 feet wide and can safely hold up to 400 pounds. Carabiners at each end make attaching it to an existing hammock frame a breeze, but because this is a portable hammock, why not spring for the company's adjustable no-knots-needed suspension system ($29.95)? Then the ability to relax is just about anywhere the recipient can find two sturdy trees 10 to 15 feet apart.
$54.95 at ENO
Dad Stash Decoy Pack
A lot of folks who want to take the edge off without taking off (the way they would by ingesting THC, the compound in cannabis responsible for the intoxicating effects) turn to products high in cannabidiol, or CBD, which is widely used to combat anxiety, insomnia and inflammation. It also has the added benefit of being legal under federal law. While there are myriad options out there to choose from, Dad Grass has made a name for itself by offering hemp flower (hemp is the same plant as pot — cannabis sativa — but bred to contain less than 0.3% THC) with a tongue-in-cheek, retro-nostalgic sensibility. One example of that is the brand's slogan: "Low dose, full toke, like your parents used to smoke." Another is its humorously themed "dad stash decoys" — themed sleeves that slip over its packs of prerolled joints disguising them as boxes of wood screws, tins of sardines or cans of motor oil. There's a handful of holiday-themed options too, including a wrapped-Christmas-present pack and a five-pack of prerolls camouflaged as a box of Hanukkah candles.
$37 at Dad Grass
Explore the most captivating experiences in California, whip up 12 days of holiday cookies, find recipes for the best jams and preserves and much more with gifts from Shop L.A. Times.
L.A. Times Festival of Books 2023 55-Piece Mini Wooden Jigsaw Puzzle
I do not, as a rule, find assembling puzzles to be relaxing or stress-relieving in any way, shape or form. This one from San Luis Obispo-based Nautilus Puzzles is different, though. That's because, for starters, there are only 55 wooden pieces, some of which are cut into whimsical shapes (think a palm tree, a star, a cat and a girl reading a book). Those distinctive shapes not only make it easier to put together (this puzzle is described as a "level 1" difficulty) but thematically key into the art that's revealed when the puzzle is fully assembled: in this case, the cheery colorful poster for the Los Angeles Times 2023 Festival of Books designed by Times art director (and illustrator of last year's holiday Gift Guide) Patrick Hruby. No stressed-out friends or family on your nice list? That's OK. Since the (unassembled) puzzle fits in a box that's barely 4 inches by 4 inches by 1½ inches, it makes a perfect stocking stuffer too. (See how all the pieces fit together so nicely?)
$16.95 at Nautilus Puzzles
Fable Into the Woods THC-infused beverage
There's a wide, wide world of weed drinks out there, but this one's my stress-relieving holiday pick for two reasons. First, in a wide-ranging taste test earlier this year, it was the judges' top pick. Second, it basically tastes like the winter holidays in a can, thanks to an herbaceous flavor profile heavy on pine and rosemary with a dash of stone fruit. (One of the taste-testers even name-checked the season — way back in midsummer when we tried it — with this observation: "I love that the weed burp tastes like Christmas.") And because it clocks in at 7 milligrams of THC and 3 milligrams of CBD per 10-ounce can, most folks can tipple this Tannenbaum-tasting tonic and not immediately go (Christmas) lights out.
$26.40 per 4-pack at Fable
Kinetic Sand
Kinetic Sand is weird stuff; natural sand that, through some wizardry, has been made perpetually moist enough to build the kind of solid sandcastle you dreamed about as a kid. It clumps and molds and holds a shape (a rolled sphere of it the size of a baby meatball has been in an ashtray on my desk for weeks now), but somehow it doesn't stick to your hands or get all over the place. In addition to being the stuff of many a free-form desktop sculpture (my recent creations include a stegosaurus with paper-clip back plates, a series of turrets towering over a stapler and a baguette bristling with pen caps), Kinetic Sand can be gripped or squeezed by the handful just like one of those stress balls (minus the ball part).
$10.99 at Amazon
Puff Puff Pass, the Card Game for Stoners
Some stressed-out folks get mellow after they've smoked some herb; others remain as anxious as they were before. For those in the latter camp, this conversation-starting, side-splitting, thoroughly engaging game, designed to play baked (right down to the easy-to-follow rules), requires only drawing a card from the deck of 109 and doing what it says. In addition to stoner-level trivia questions and truth-or-dare challenges, the 10 categories include debate (example, "Is Mark Zuckerberg an alien?"), memory ("Who used the restroom most recently? If you can't remember, take a puff") and a whole bunch of cards simply labeled "Puff," which, when drawn, require everyone at the table to toke up.
$19.99 at Amazon
Rose Delights Deep Sleep CBD
A local edibles brand known for its niche collaborations with chefs and farmers has turned to Brentwood's Frog Hollow Farm to provide the mulberries in its first product formulated specifically to improve sleep. Passion flower and vanilla round out a flavor profile that's given a little extra depth thanks to the terpenes of hemp flower rosin, which delivers 10 milligrams of CBD in each Turkish-delight-style gummy (20 to a box). Catching Z's never sounded so tasty.
$40 at Rose Los Angeles
Etch A Sketch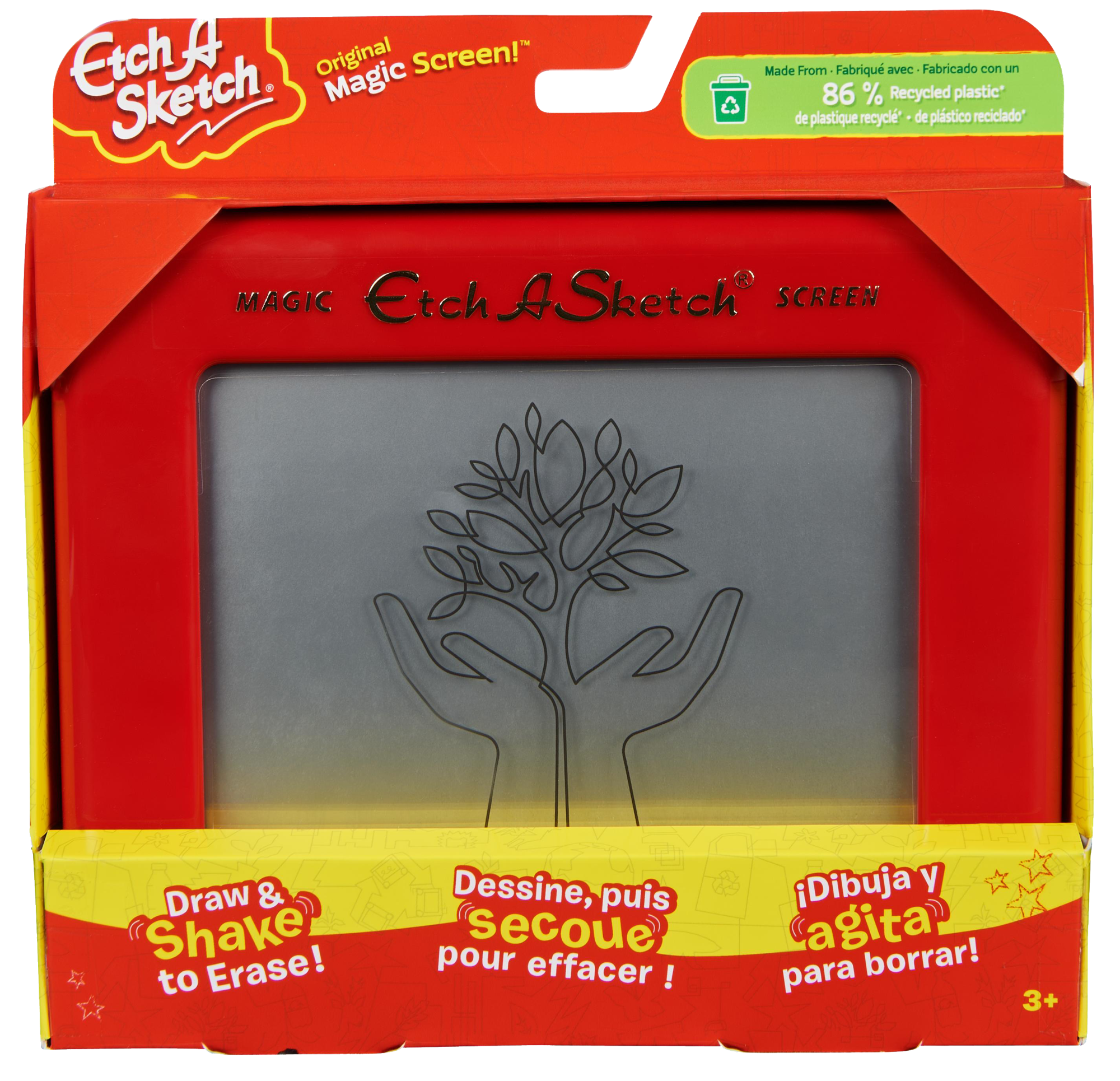 In an always-on, digital-everything world, this totally old-school kids' mechanical drawing toy is an analog oasis in a red frame. No Wi-Fi connections to worry about, no incoming messages to check and no batteries to replace. Just two white knobs and an infinite gray canvas. Whether you're trying to sketch something specific — drawing and sketching can be useful in combating anxiety — or simply twisting the knobs at random to see what image emerges, the stylus scraping the aluminum powder off the inside of the screen feels like pulling a tiny rake through a Zen garden. The best part is, if you don't like the way things are going, all it takes to start over is a good shake. The rest of life should be that easy.
$14.97 at Amazon
Cali Heights vape pen
When it comes to hassle-free ways to consume cannabis, single-use vaporizer pens are right up there at the top. They're portable, there are no concentrate-cartridge compatibility issues to worry about and they don't require any of the accouterments (lighters, grinders, papers, charging cords and the like) that other consumption methods rely on. But that convenience often comes at the expense of creativity. The vast majority of vape pens look like, well, pens. That's why Cali Heights' new pens are a standout. The design is eye-catching. Not only are the pens shaped like the outline of the Golden State (which, it turns out, is the perfect shape to fit comfortably in a clenched hand), but what appears to be a swirly abstract design on the front is actually topographical contour lines that reflect (accurately, I was told by a company representative) the terrain of the state. That makes the cluster of concentric circles toward the bottom right Mt. Whitney, California's highest peak. And the gram of cannabis oil inside each one (at launch the four options include an indica, a sativa, a hybrid and a live resin) pretty much ensures that whoever has their lips latched onto the northern border is on their way to becoming the highest person in the room.
$45 from a list of stocking dispensaries at Cali Heights
60-Minute Wavetable session at the Reality Center
Can a drug-free psychedelic trip help alleviate stress? Your mileage may vary, but I entered the Reality Center in Santa Monica a skeptic and left 60 minutes later feeling like I'd been through a mental car wash. Based on Don Estes' theory of sensory resonance (which posits that the body's autonomic nervous system can essentially be "reset" by synchronizing all of the major sensory mechanisms — visual, aural and vibrational — together), the process is designed to jump-start the mind and body and move it toward a near-meditative state. That's achieved through a combination of sounds, trippy lights and vibrations rumbling through a modified massage table. Gift cards are available through the Reality Center's website, and another option is to consider booking a session for two — you and your stressed-out friend — and embarking on the technodelic self-help train together.
$249 for 60 minutes at Reality Center
The Los Angeles Times Community Fund builds vital service programs and initiatives within The Times and Greater L.A. Tax-deductible donations support literacy programs, local charities and more. Donate now.
Miko Shiatsu Foot Massager
What's more relaxing than having your feet massaged? For me, it's probably not having to ask someone — professional or otherwise — to put their hands on my hooves. But not having to leave the comfort of my own home to get my tootsies touched runs a very close second. This device, which looks like an extra-large Roomba with foot holes, solves both of those problems and manages to deliver a darn good foot rub at the same time. Slide your trotters into the foot holes (the liners zip out for easy cleaning) and let the machine compress, roll and pummel your lower appendages over the course of a timed 15- or 20-minute cycle. You'll use the buttons on the top (or a wireless remote) to adjust the heat, pressure and kneading action. Does it replicate, as the Miko website says, "the authentic shiatsu massage experience you get from a professional massage therapist"? Maybe not quite. But until a professional therapist can be stashed in a closet until needed again, this is as close — and convenient — as it gets.
$249 at Amazon
Alice Nightcap Mushroom Chocolates
No, these mushroom chocolates are not designed to send you on a psychedelic trip like magic mushrooms would; rather, they help you regulate your sleep cycle (which, let's face it, is a magic of its own if you have a hard time drifting off). Joining the reishi mushrooms, touted for their ability to combat depression and fatigue, in the squares of organic, fair-trade semisweet chocolate are chamomile, L-Theanine, magnesium and zinc, all ingredients intended to promote healthy sleep patterns. The recommended dosage is one square of chocolate an hour before bed, and each tin contains 16 doses. That's enough for two weeks-plus of 'shroom-enhanced sleep.
$29 at Alice Mushrooms
Prices and availability of items in the Gift Guide are subject to change.
More gift guides
Get our L.A. Goes Out newsletter, with the week's best events, to help you explore and experience our city.
You may occasionally receive promotional content from the Los Angeles Times.