Column: Teen party with Nazi salutes all too real for victims of 'Jew jokes' and casual anti-Semitism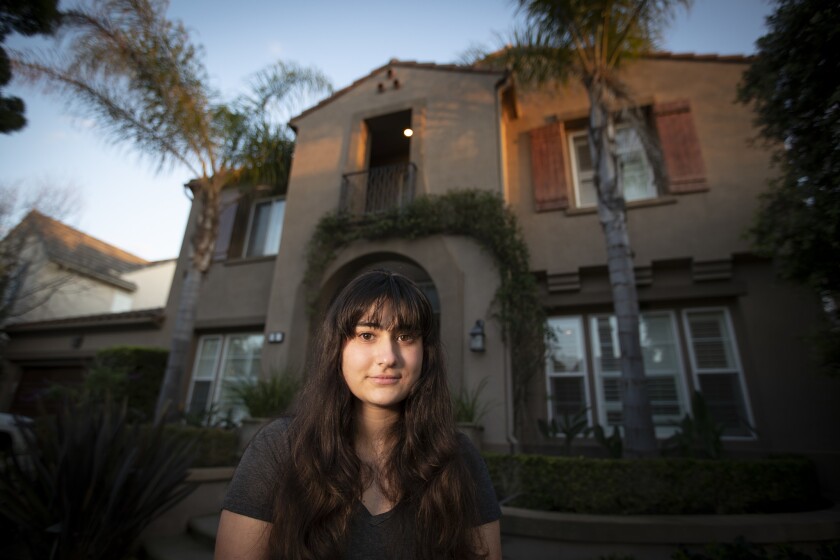 On Saturday night, Michael Maietta Weinberg, a Tustin high school senior, was visiting his cousin, Rachel Weinberg, at her home in Newport Beach.
It was around 9 p.m. Rachel, a high school junior, was baking a cake with ube, a purple yam, when her social media feeds started pinging with photos that would soon make national news.
The posts featured white teenagers at a party standing around a swastika made of dozens of red Solo cups. The kids were throwing Nazi salutes into the air, and they looked as if they were enjoying themselves immensely.
Having attended Newport Harbor High School last year, Rachel recognized some of the kids who were posting the photos. The school's students come from Newport Beach and Costa Mesa, where the party was held, according to Newport Beach police.
The cousins spent the next couple of hours talking about the images, watching various posts zip around social media. There was, to put it mildly, a tempest in the making. When accused of insensitivity, some of the partying teenagers were defiant.
Rachel shared some of those screenshots with me.
"I have absolutely no sympathy for anyone offended by this," posted one young man whose Instagram feed made the rounds. "I'm a Jew and was there with some of my closest friends and we played a sick ass game of rage cage." (Rage cage is a drinking game like beer pong.)
His post continued, in unprintable language, to accuse those who would "censor" the photos of being the real "Nazis."
Michael and Rachel became so engrossed in what would soon blossom into a scandal that Michael missed his 11:30 p.m. curfew. He had lost track of time debating with friends, and trying to figure out if they knew any of the culprits.
"It's hard to get behind the motive of why they would do this," Michael said. "Being teenagers, it would be two things: an actual hatred for Jewish people, which I don't understand, obviously. And the other one is to be edgy and cool. But how stupid would you have to be to post it so everyone could see it? They are going to be blacklisted by every college in the country. It can mess up your whole life."
::
Michael, 18, who attends the Orange County School of the Arts, told me he has been subjected to casual anti-Semitism in the past — what he called "Jew jokes" or being told "You're Jewish, of course you have all the money."
Rachel, 16, told me she grew up thinking there was "little to no anti-Semitism" in her world.
"But in the last couple of years," she said, "it's all started coming up."
It has rocked her.
Last October, someone in a hoodie defaced Beth Jacob Congregation in Irvine with obscene anti-Semitic graffiti.
But what really devastated a lot of people in Orange County was the January 2018 stabbing death of Blaze Bernstein, a 19-year-old college student from Lake Forest. His alleged killer is a former high school classmate who prosecutors say was deeply involved with a neo-Nazi group that preaches hate and violence against gays and Jews. Bernstein was both.
For many people, the swastika/Sieg Heil photos were a sickening reminder that hatred is on the rise, and that it can have deadly consequences.
"Normalizing the Nazi party and normalizing anything that is hateful, or making a joke out of it, is dangerous," said Gideon Bernstein, Blaze's father.
In the months after their son's death, Bernstein and his wife, Jeanne Pepper, have become, for lack of a better phrase, kindness activists, with a Facebook page dedicated to their son called Blaze It Forward. It asks people to "make the world a better place with one intentional kind act at a time."
Sunday on Blaze It Forward, Gideon Bernstein addressed the red-cup swastika scandal. His initial anger had cooled and he was able to be philosophical.
The kids at that party, he wrote, "chose to make a big mistake last night."
I asked him what he thought should happen to them.
"I want to help them understand what was wrong, and to be remorseful and to learn about how offensive what they did was. After what we've gone through, to have this happen in our backyard really hurts."
He was aware of the young man who defended the party and claimed he was Jewish.
"I don't care what religion he is," Bernstein told me, "what he is doing is basically enraging people. Clearly, he needs some attention."
I agree with him, and think that this kind of behavior comes from stupidity and arrogance and, ultimately, a lack of empathy.
Perhaps growing up in what Michael Weinberg described to me as "the Newport Beach bubble" is responsible for such insensitivity.
I happen to think obnoxious bigots exist on all socioeconomic levels, but an oblivious sense of white privilege is also at work here.
But how to move forward?
A community meeting took place Monday, and many Newport Harbor High School students wore blue to school to show their solidarity with the Jewish community.
It's unclear what will happen to the students whose faces and dumb behavior will live on in social media.
"Do you accuse them of being Nazis and tell them to go to hell and shame them?" Bernstein asked. "Do you think that will change their minds and help them understand they did something wrong? No. You invite them into your house. Yes, you say, they made a mistake and you don't believe they intended to be as hurtful as they were."
I'm not sure you can draw a solid line between, say, neo-Nazis in Charlottesville and the events of Saturday night. But the idea that the Nazi swastika was a joke, or that saluting Hitler is funny, is certainly a step down that path.
That impulse should be quashed — with love and education if possible. Or with repercussions if necessary.
---