Richard Ford's memoir 'Between Them' captures the 'infinite remoteness' between us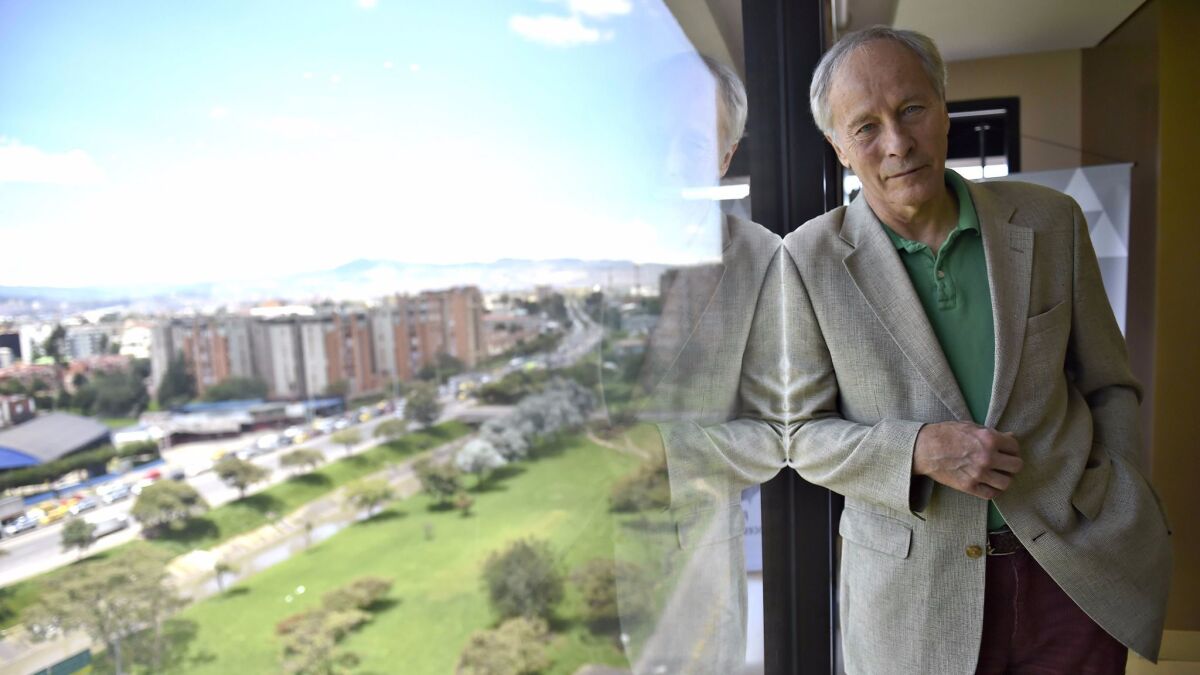 Parker Ford and Edna Akin grew up in the backwoods of Arkansas in the 1920s. Where they met — Little Rock or Hot Springs — is not entirely certain. When they met, the best guess is sometime before 1928. She was 17, he was possibly 24.
What is certain is that they fell in love, married and for 15 years had the world to themselves. He was a traveling salesman, peddling laundry starch from a company car to the South, she his companion, pretty, lively and good with numbers. They had saved each other from their pasts: his father a suicide, her mother just 14 years her senior. Only the future mattered.
Life on the road suited them, calling on accounts — homemakers and grocery stores, prisons and hospitals — and after-hours there were the hotels and supper clubs, drinking and dancing, a good life when good lives were in short supply during the Depression for people like them.
Their run, however, ended with an unexpected pregnancy and in 1944 the birth of a son, Richard. Parker continued to work his territory, and home became an apartment in Jackson, Miss., where Edna and Richard waited for him on Fridays and saw him off on Mondays.
Parker died of a heart attack in 1960, and by the time cancer took Edna 1981, Richard was well on his way to becoming one of the country's most notable novelists — his "Independence Day" won a Pulitzer in 1996 — and now at 73 he shares his parents' story in a rare work of nonfiction.
"Between Them: Remembering My Parents" is a lovely volume composed of two sections — one devoted to Parker and the other to Edna — told from a son's protective if not defensive voice for two lives drawn thin by the circumstance of his birth.
Ford has said that he wrote his parents' stories to draw them near and testify to the particulars of their lives and his. "The future is unpredictable and hazardous, but our parents' lives both enact us and help distinguish us."
The premier challenge, he asserts, is to know our parents fully, to see them as the world does. The more successful we are at this, "the better our chances to see the world as it is."
Parker and Edna had wanted to have children but adapted to being childless, living footloose, away from their families, in the company and comfort of one another. "The past for them wasn't an accommodating site," Ford writes. "As for the future and intimacy, they would be each other's givens."
But Ford upended that future, creating a break in their marriage that was repaired only on weekends. At first they took him, an infant, with them on their travels. When that proved infeasible, they settled for their weekend routines, his leather suitcase never unpacked.
"These absences made their closeness to each other even more paramount, since together was where they'd always, only been," he writes. "I was where things deviated and always sensed that."
As much as his parents loved him, Ford knew they loved each other more, an admission that he shares with neither recrimination nor regret. All that "was most intimate, most important, most satisfying and necessary to each of my parents transpired almost exclusively between them," he writes.
"This is not an unhappy fact for a son to face."
Yet there is a melancholy cast to these pages, a picture of three people standing just out of reach of one another, alone together, no matter their love.
Ford's portrait of his father is laced with poignancy for a man unable to connect to his son ("I do not recall ever having an actual discussion with him") and who suffered his first heart attack at 43 and lived another 12 years, diminished, curtailed, a weekend presence in the family's life.
Imagining Parker's life on the road, Ford sees his father "trapped inside his defective body, trapped in a now-stressful job he's always loved, trapped in his car and in all those tiny hotel rooms and coffee shops, trapped as the father of a son he saw only on weekends … ."
His death came in the early morning hours, and Ford recalls that terrifying moment. Rushing into the bedroom, his mother on the verge of panic, he shook his father, then attempted to resuscitate him — "I put my own mouth over his and breathed down into him" — but too late. Ford was 16, a 10th-grader.
There is a melancholy cast to these pages, a picture of three people standing just out of reach of one another, alone together, no matter their love.
Not long after, his mother made it clear that they were going to have to be more independent, a skill they had already practiced. She went to work, he went to college.
But independence has a price.
When Edna was sick with cancer, worn down and hurting, she flew from Little Rock to visit Ford in Vermont. She knew she was dying and sat with her son. It was early November. She was uncertain how much longer she could look after herself, and Ford offered her a place with him and his wife, come Christmas if she needed it.
"Are you sure about that?" she asked.
Yes, he replied, and she brightened at the prospect. But when she talked about making plans for her furniture, he backpedaled with words he wishes he had never spoken.
"Don't make your plans yet," he said. "You might feel better by then."
"Oh," she replied, and the moment between them was lost. She died six weeks later.
Readers of Ford's fiction might recognize the distances within this family, for distance defines Ford's most memorable character, Frank Bascombe. In four remarkable novels, this feckless, onetime sportswriter, retired real estate agent seems at wit's end trying to bridge the gaps between himself and his son and his ex-wife, or as Ford explains, "to narrow that space Emerson calls the infinite remoteness that separates people."
In this light, the loneliness of "Between Them" might seem more existential than interpersonal, but that's little solace. In the afterword to "Between Them," Ford tells of a friend who thought that Parker and Edna's lives seemed sad. Ford tries to shake it away.
"[S]etting aside their relative brevity, my parents' lives do not seem sad to me, nor do I believe they themselves would have thought that sadness characterized their days."
Consider these lives on their own terms, he seems to be asking, without shadows or melodrama. Every family experiences accommodations and concessions to love in its own way. The Fords were no different. If there was regret and sadness — and there was — these are the measures of a lived life and deserving of our unsentimental regard.
"[T]he world often doesn't notice us," Ford writes, turning to Auden's poem "La Musée des Beaux Arts" with its conclusion that no matter the drama — a boy drowning in the sea after the flight to the sun — "everything turns away."
In "Between Them," he stakes a claim for paying attention, that the most ordinary circumstances sometimes yield the most universal truths.
"Between Them: Remembering My Parents"
Richard Ford
Ecco: 192 pp., $25.99
Twitter: @tcurwen
---
The stories shaping California
Get up to speed with our Essential California newsletter, sent six days a week.
You may occasionally receive promotional content from the Los Angeles Times.