Activists seek to stop sewer line under Talbert Park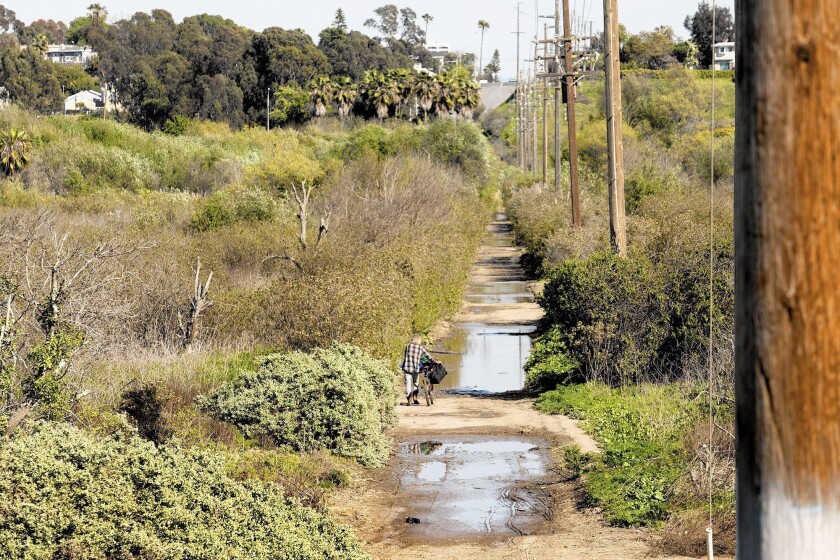 A proposed sewage pipeline that would run under a regional park in coastal Orange County is being challenged by local environmentalists.
But officials say the estimated $23-million project at Talbert Regional Park in Costa Mesa is essential and will help guard against a disastrous spill of untreated sewage onto city streets.
The plans also involve driving a new pipeline under a residential street and decommissioning a handful of underground pump stations near Talbert in an effort to save costs on maintenance and electricity.
There will be some environmental effects, officials say, but they will be mitigated in a variety of ways, such as planting native vegetation to replace non-native plant species there. They also want to create a barrier that, theoretically, would shield area birds from noise.
Still, for Kevin Nelson and others, a pipeline simply doesn't belong in the park.
The proposed underground sewer pipeline that would go through Talbert Park is designed to be about 4,800 feet long.
It would start on a tiny residential street in the Newport Terrace neighborhood of Newport Beach, bend south where Balboa Boulevard meets the terminus of West 19th Street before heading west into Talbert Park, under the Santa Ana River and eventually into the county wastewater treatment facility in Huntington Beach.
The Talbert pipeline would move untreated sewage using gravitational forces, rather than pump stations that apply pressure to the line to move material. It would be maintained, constructed and funded by the Orange County Sanitation District, which is contributing $14.9 million to the project.
::
On a recent afternoon, the unseasonably hot weather made tolerable by frequent ocean breezes, Nelson's eyes squinted in the sun.
Nelson, who grew up in Costa Mesa and lives in San Clemente, was trying to reach the best vantage point for viewing a portion of Talbert that, in his mind, faces irreparable harm if the officials have their way and construct the pipeline through the park.
But finding that vantage point to see the pipeline's potential path was a little tricky that day.
Recent rains made Talbert's otherwise dry trails wet with puddles and slippery. The roughly 180-acre county-owned park, perhaps the most remote area in Costa Mesa, is mostly nature preserve split into two sections north and south of Victoria Street and adjacent to the Santa Ana River. The park has few modern improvements and no parking lot of its own. It even has a lake — but it's gated off, preventing legal access to its shoreline.
In Talbert's southern portion particularly, the trees and brush grow high and thick, making them appealing to wildlife but with the added benefit of shielding park users so they can escape the outside urbanized world. For Nelson and others, Talbert's remote, natural environment is exactly what makes it so special for Costa Mesa — and why it shouldn't be touched by a pipeline.
"It's one of the few places that's wild," he said. "That's its primary value."
Though officials have said the pipelines are not being added to help handle increased sewage capacity resulting from new Westside Costa Mesa developments, Christopher Bunyan, a Banning Ranch activist and former Costa Mesa council candidate, is more skeptical.
"It's very convenient that they want to do this right now," he said.
Bunyan and others have had several talks with the involved agencies, and have also alerted the California Coastal Commission of the plans. Bunyan said that up to this point, the project appears to be under the radar — no town hall meetings and no major announcements.
"For a project like this," he said, "I feel like they didn't do enough to make people aware and get it in the public's hands."
Bradley Zint writes for Times Community News.
---
The perils of parenting through a pandemic
What's going on with school? What do kids need? Get 8 to 3, a newsletter dedicated to the questions that keep California families up at night.
You may occasionally receive promotional content from the Los Angeles Times.