The Coastal Commission hopes to restore public trust with its latest decision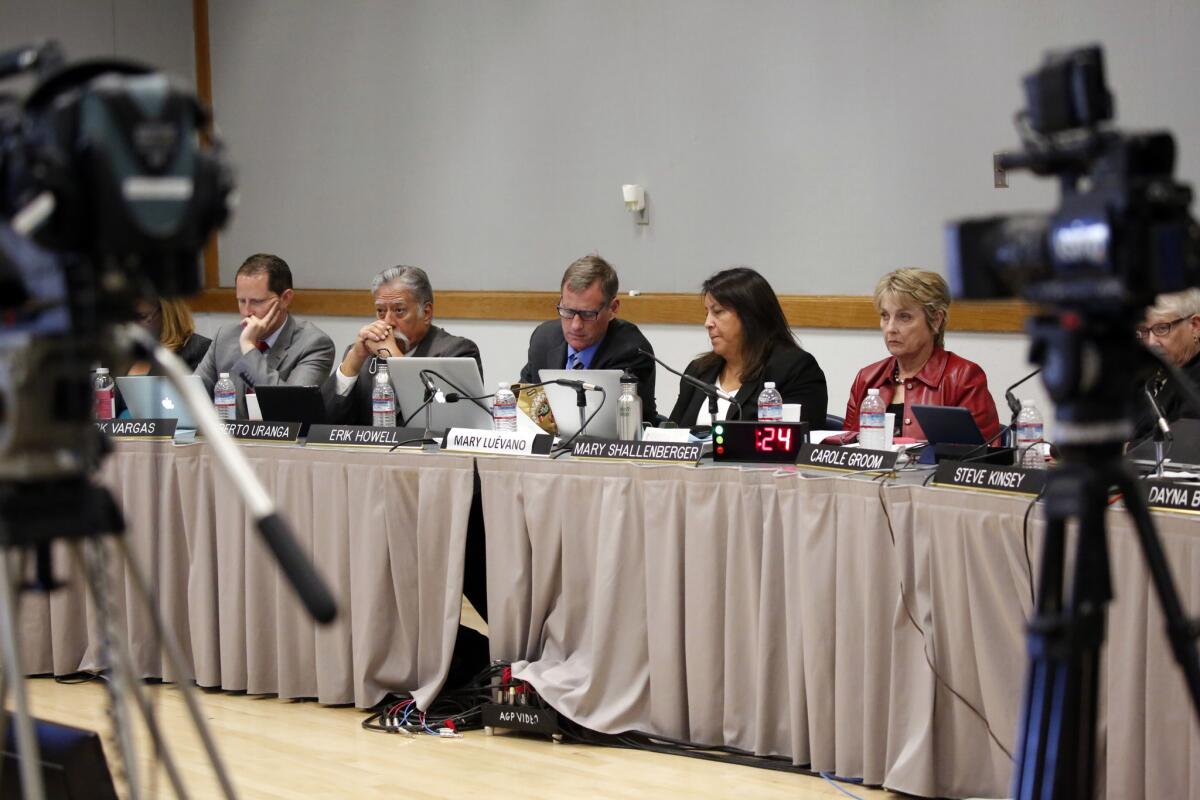 Responding to public outcry, the California Coastal Commission on Thursday endorsed legislation that would ban private meetings and communications between individual commissioners, development interests, lobbyists, environmentalists and other parties with an interest in the planning agency's decisions.
At its monthly meeting in Newport Beach, commissioners voted 6 to 5 to support a bill by state Sen. Hannah-Beth Jackson (D-Santa Barbara) that would prohibit so-called ex-parte communications related to pending decisions such as the approval of development projects.
Jackson contends the measure will remove the possibility of backroom decision-making, improve transparency and help restore public confidence in the commission after the panel fired Charles Lester, the agency's executive director, in February with little public explanation despite overwhelming opposition to his termination.
"As is often said, admitting you have a problem is the first step toward fixing it," Jackson said. "I'm pleased to see that a majority of the coastal commissioners recognize that the public's trust has been significantly eroded in recent months, and curbing ex-parte communications is an important step to begin restoring that trust."
Commissioners Carole Groom, Effie Turnbull-Sanders, Wendy Mitchell, Mary Shallenberger, Vice Chair Dayna Bochco and Chairman Steve Kinsey voted to back the measure. Gregory Cox, Erik Howell, Mary Luevano, Roberto Uranga and Mark Vargas opposed the endorsement.
The support for Jackson's bill comes a day after Kinsey asked the commission's attorney and the state attorney general to determine whether he should recuse himself from voting on a massive development in coastal Newport Beach after he failed to properly disclose ex-parte meetings he held with project representatives.
Ex-parte communications are private verbal or written communications between a commissioner and an interested party that could influence a decision.
The Coastal Commission is one of very few state boards, commissions and agencies that have been allowed by the Legislature to have ex-partes, which is a somewhat unusual provision given that the commission follows a quasi-judicial process to make decisions.
The proceedings have been likened to a court where a judge hears evidence and applies the law before ruling. Some critics have said ex-partes, which are heavily used by development interests, can threaten the fairness of the commission's decision-making process.
Before the vote, commissioners opposed to Jackson's legislation said the elimination of ex-parte communications would remove a valuable and convenient source of information about projects and other matters that come before the panel.
They also contended that a ban would reduce both transparency about the decision-making process and the public's access to commissioners.
"I'm available and offer my presence for ex-partes," said Uranga, who is also a member of the Long Beach City Council. "I'm open to the public to be accessible and transparent. Ex-partes provide an opportunity to learn about a project."
Interested in the stories shaping California? Sign up for the free Essential California newsletter >>
Without ex-partes, the commission would have to hold more and longer public meetings to get the same information, said Howell, who also serves on the Pismo Beach City Council.
"I'd like to have extended hearings, but I have a job. Ex-partes are more convenient," Howell said. "I don't support the legislation. The public has a right to speak to us. We get more information and we make the best decisions we can."
Supporters of the bill said a ban would improve transparency by making sure that all information related to a commission decision is available to the public. They noted that the same information could be obtained by holding more workshops and longer public meetings as the commission has occasionally done in the past.
"There are options to ex-partes that are more fair and transparent," Bochco said. "Ten hour hearings can be mind-scrambling. But I want to know more about multiple hearings. The procedure sounds excellent. We would be able to absorb things and make a better decision."
In addition to supporting Jackson's bill, the commission voted 8 to 3 to back another pending legislative measure that would require people who lobby the commission to register with the state and disclose their clients with business pending before the agency.
Assembly members Mark Stone (D-Monterey Bay) and Toni Atkins (D-San Diego) say the measure would close a loophole in the government code that exempts lobbyists on the commission level from reporting details of their activities to the public.
The measure also would require lobbyists to report to the public the payments they receive from clients and how much they spend on lobbying for specific matters that come before the commission.
Before Wednesday's meeting, Kinsey, who is a Marin County supervisor, said he "did the right thing" by asking state attorneys to determine whether he should recuse himself from voting on the controversial Newport Banning Ranch project, which includes 895 homes, retail space and a hotel.
Kinsey requested the review following disclosures in The Times that he failed to properly disclose two ex-parte meetings he had with project officials Nov. 4 and Dec. 22.
The chairman filed the required disclosure form for the Dec. 22 meeting almost four months late May 2, after The Times brought it to his attention. As of a few days ago, Kinsey had not reported the Nov. 4 meeting, records show.
"I had no intent to hide those meetings," he said during a talk early Thursday at a Newport Beach Chamber of Commerce breakfast. "Whether I get to vote on Banning Ranch or not, I remain committed to the coast and its protection."
The commission's ex-parte rules require verbal and written communications to be reported to the agency on a disclosure form within seven days. If the communication occurs seven days before a commission meeting where the subject matter of the ex-parte is considered, it must be revealed orally at the public hearing.
Commissioners who fail to report an ex-parte can be prohibited from voting on the matter that was discussed or trying to influence the commission's decision. Disclosure violations also carry fines of up to $7,500, and commission decisions affected by a violation can be revoked.
Twitter: @LADeadline16
Join the conversation on Facebook >>
MORE LOCAL NEWS
California saw surge in new Democrats in first three months of 2016
May 26: 'That'll be the day' to celebrate John Wayne, Newport Beach councilman hopes
These 2 teens with similar backgrounds took very different paths to college
Sign up for Essential California for news, features and recommendations from the L.A. Times and beyond in your inbox six days a week.
You may occasionally receive promotional content from the Los Angeles Times.