Cajon Pass fire victims outraged about towing fees: 'I didn't do anything illegal'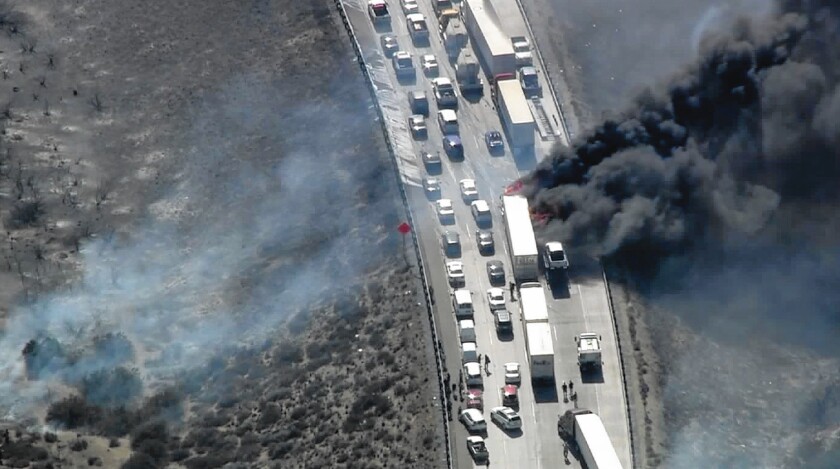 Laura Caro thought the fire on the freeway in the Cajon Pass was bad. And then she got the bill for leaving her vehicle there.
Caro was driving her 80-year-old mother home from a doctor's appointment Friday when the North fire spread to Interstate 15 and started burning vehicles. On officers' orders, she left her SUV and fled, pushing her mom in a wheelchair through a smoky maze of stopped cars and frightened people.
Strangers gave them a lift, and Caro left her Ford Escape behind. When the Fontana resident went to get it from Gonzalez Tow in Hesperia, she was shocked: The company charged her $1,600, she said.
"It was just a nightmare," Caro said. "I didn't do anything illegal to have my car towed."
California Highway Patrol officials said Monday they were investigating numerous complaints about high towing fees from drivers who had to abandon their cars and flee for safety.
Officer Steve Carapia, a spokesman for the CHP's Inland Division, said authorities were contacting all of the towing companies that helped clear the freeway, where flames destroyed 20 vehicles.
The CHP, he said, has tow-service agreements with the companies, and officers contact them in a rotation when vehicles need to be moved from a scene. The agreements have "strict guidelines," and if a company violates them, the firm can be removed from the CHP's rotation, he said.
"We can't request they do their services for free because they're private companies, but we do put a cap on how much they can charge," Carapia said.
The fire on the freeway was a confusing and "very dynamic, horrific event" the likes of which authorities and tow truck drivers had never seen, Carapia said. So far, he said, the companies seem to be cooperative in resolving the fee issues.
Richard Monroy, the manager of Gonzalez Tow, said Monday that his company was refunding money to the people who were charged for their tow after the fire.
Monroy said that the company had initially charged standard rates after drivers were called by the CHP and worked for more than eight hours clearing the freeway.
In a statement released Sunday, Monroy said that many owners could not be found after the fire and that CHP officers instructed tow truck drivers to move the vehicles to tow yards "until registered owners retrieve at a tow and tow-yard expense."
After talking to the CHP, "We decided as a company that we're going to go ahead and donate our time," Monroy said. "We basically did a community service to help clear the freeway. It's something we chose to do. We didn't have to."
Gonzalez Tow's Facebook page was plastered during the weekend with comments about the fees, calling employees "thieves" and "bullies" and saying the company took advantage of victims.
Caro learned Monday that she would be getting a full refund from Gonzalez Tow. But she was still angry: "They should have never charged me in the first place."
Penny Freistroffer of Apple Valley was driving through the Cajon Pass with her sister Friday when a firefighter stopped them and said to leave the car behind and run.
"People were bailing out of their cars and running up the hill," she said. "You couldn't turn around because there was too much traffic."
CHP officers told her that cars that were not burned would be left on the side of the freeway for drivers to pick up, free of charge, once the fire was under control, Freistroffer said.
But her car had been towed by Desert Valley Towing in Oak Hills, and she was stuck with a $646.50 bill.
"I told them, 'You're gouging people,' " she said. "It was crazy to charge that much."
Freistroffer said she paid the bill and was told Monday that the company would get back to her about a refund.
In a statement on its Facebook page, Desert Valley Towing said it provided free "courtesy tows" for about 30 undamaged cars, taking them to staging areas for the owners to claim.
Later that evening, "several vehicles were deemed abandoned by authorities and required towing to an impound facility." The company said it charged those car owners for one to two hours of service.
"Desert Valley Towing prides ourselves on the level of service we provide ... and we can only hope that we will be judged based on our actions and not the actions of others," the company said.
Hoy: Léa esta historia en español
Twitter: @katemshepherd
Twitter: @haileybranson
ALSO:
California faces dramatic climate year with El Nino, drought
A road trip with Times journalists through drought-stricken California
State proposes $1.5-million fine of water district for improper diversions
---
The stories shaping California
Get up to speed with our Essential California newsletter, sent six days a week.
You may occasionally receive promotional content from the Los Angeles Times.