Fires followed by floods: California faces dramatic climate year with El Nino, drought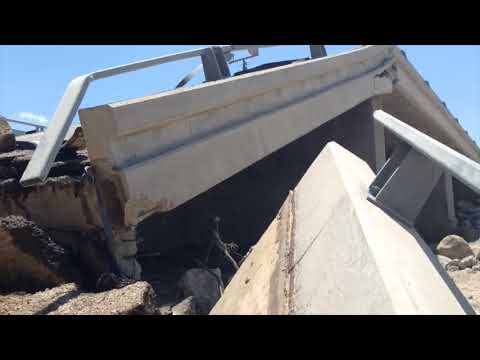 The recent summer storm may be a preview of El Niño this winter.
Reporting from DESERT CENTER, Calif. —
A swath of eastern California offered a dramatic view in recent days of the powerful climate forces buffeting the state.
On Friday, an out-of-control brush fire — fueled by four years of drought — destroyed 20 vehicles on Interstate 15 in the Cajon Pass. Hours later, the area was pounded by historic rainstorms that eventually washed out Interstate 10 here.
The heavy rain is the most concrete evidence yet of powerful El Niño conditions that scientists are becoming increasingly convinced will lead to a wet winter for Southern California.
SIGN UP for the free Essential California daily newsletter >>
This weekend's rains came from a former hurricane, Dolores. Experts say warm ocean water, influenced by El Niño, allowed the remnants of the unusually wet hurricane to go much farther north than such storms typically go.
They also see El Niño in other unusual weather events of recent months: A dusting of snow blanketed parts of the southern Sierra Nevada in early July, and the so-called Miracle May of rain and snow in the Rocky Mountains helped forestall water reductions from reservoirs that feed California, Nevada and Arizona.
These all appear to be preludes of what could come in winter — for better and worse.
"It's a sweet promising start," said Bill Patzert, climatologist for NASA's Jet Propulsion Laboratory in La Cañada Flintridge, but then added: "Except for all the damage it does.... Be careful for what you wish for. Great droughts usually end in great floods."
El Niño is a warming of the ocean along the equator west of Peru, which triggers changes in the atmosphere that can dramatically alter weather patterns across the world.
Although there is still some debate about how strong an effect this year's El Niño will have on California, flood control officials are beginning to plan for the worst.
Officials say they'll have tens of thousands of catch basins cleaned out to hold mud, rocks and other debris that might spill out from saturated hillsides.
In California, the last time a very strong El Niño arrived, the heavens opened up in an unrelenting series of storms in the winter of 1997-98. Those storms left 17 dead and caused more than half a billion dollars in damage. Rivers and flood-control channels flooded neighborhoods, homes slid off soggy hillsides and winds blew off roofs.
"Look at all the damage a couple of inches of rain caused in Southern California in the last couple of days. Can you imagine 30 inches?" Patzert asked.
The flash flooding was severe enough Sunday to collapse an eastbound 10 bridge in the low desert into a roaring wash. The freeway, which connects Palm Springs to Arizona, carries 27,000 vehicles per day.
The fast-moving water undercut the dirt bank supporting the bridge, leading to its failure. The adjacent westbound bridge did not collapse but its support columns were damaged when dirt underneath it was swept away, officials said. Both directions remained closed Monday.
Motorists were being directed on lengthy detours through narrow desert highways.
When the bridge collapsed Sunday afternoon, a pickup truck was swallowed up and the driver, Bryon Castor, was stranded inside for 45 minutes while the waters roiled below. Police and motorists tied rope to the truck to keep it from washing away before he was rescued.
Riverside County Supervisor John Benoit called the chaotic flood a "500-year event."
"This is the worst damage I've ever seen from rain," he said as he looked over the twisted metal rebar from the collapsed bridge. "You build for the 100-year event. But sometimes nature tells you, 'Hey, we are still in charge.' "
Bridges over two other washes had also been damaged, he said.
Caltrans spokesman Philip Havins said the plan is to run both directions of the freeway on the westbound bridge.
The severed link was already stranding motorists. One driver making the journey from Arizona to Redondo Beach in an electric car became marooned after exhausting the 270 miles of charge on his Tesla. He was unaware of the freeway closure and lengthy detour.
"It's my fault, not Tesla's fault," said the driver, Neil Pyne, as he waited Monday afternoon for a Tesla technician to bring him a new battery.
Many have been hoping for an El Niño winter, seeing it as a potential drought buster if it causes a subtropical jet stream to bring storms to the southern United States. But experts said even huge downpours may not significantly ease the water shortage.
Some forecasts say El Niño will mostly affect Southern California, where much of the rain flows into storm drains and the ocean.
California gets much of its water from the north, through winter rain runoff and snow slowly melting through the spring and summer, which is collected in reservoirs and then distributed across the state.
Based on current observations, Patzert said he believes El Niño is only strong enough to affect Southern California. But Daniel Swain, a climate scientist at Stanford University, said he believes heavier precipitation will also hit Northern California, as it did in 1998.
Swain said current computer models forecast ocean temperatures in the Pacific to be actually hotter than they were in the 1997-98 El Niño.
"The warming that is currently suggested by the models would be unprecedented in the observed record," Swain said. "It's certainly a situation that we haven't seen before."
One concern is how warm the winter storms will be, if they materialize. If too-warm storms dump mostly rain instead of snow, California will be forced to flush out some of that precipitation to the ocean to ensure dams don't overflow.
The California Department of Water Resources is far less bullish on the El Niño forecast.
"We can't gain too much confidence," Jeanine Jones, the department's deputy drought manager, said. "We always need to be prepared for a possibility of a flood response. But particularly since we're in a fourth year of drought, we need to be prepared for the possibility of a fifth year of drought."
One thing is clear: A lot is riding on the skies in the coming months.
"What happens this winter is definitely going to be interesting," Swain said. "And it's not entirely clear whether California wins or loses."
Twitter: @ronlin
Twitter: @jpanzar
Twitter: @JosephSerna
Panzar reported from Desert Center; Lin and Serna from Los Angeles.
ALSO:
Editorial: Fighting fires -- and drones
State proposes $1.5-million fine of water district for improper diversions
Cajon Pass fire victims outraged about towing fees: 'I didn't do anything illegal'
Sign up for Essential California for news, features and recommendations from the L.A. Times and beyond in your inbox six days a week.
You may occasionally receive promotional content from the Los Angeles Times.