U.S. judge halts release of secretly recorded videos of abortion providers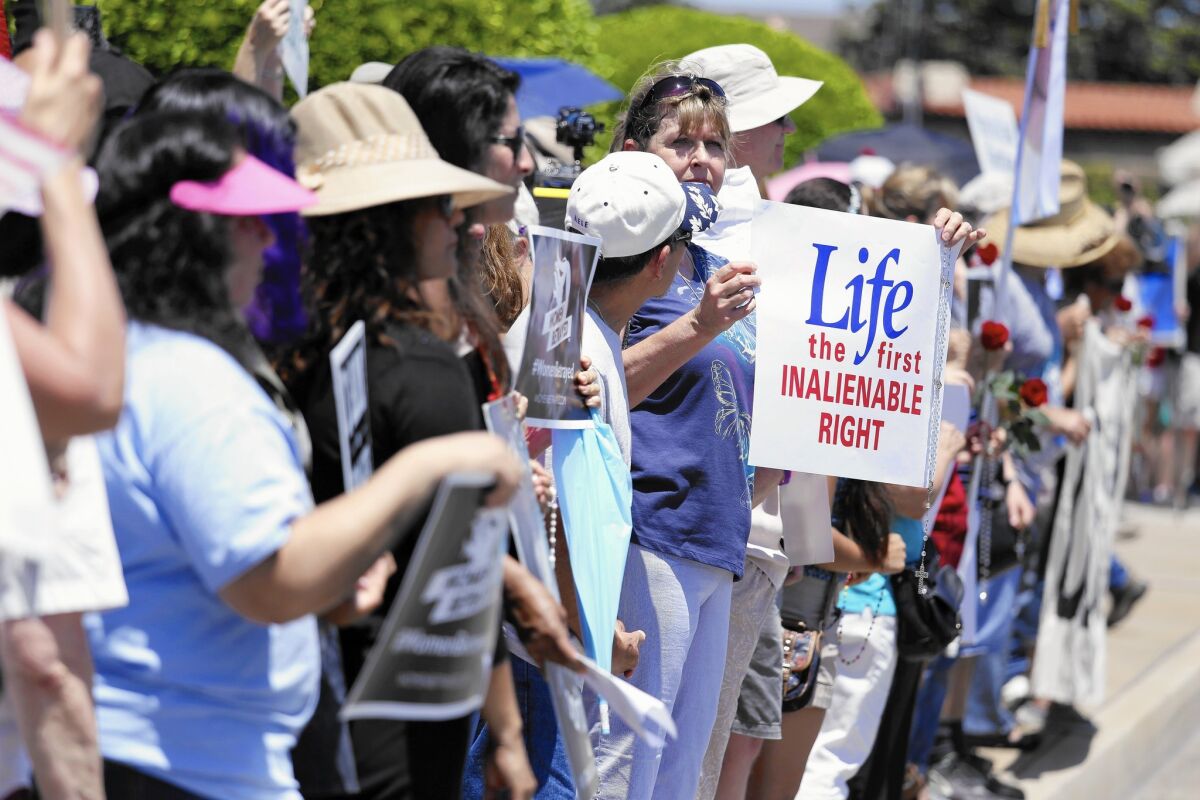 At the 2014 annual meeting of the National Abortion Federation, a network of abortion providers, officials from a company called Biomax Procurement Services checked in using their driver's licenses.
They handed out brochures at their exhibition booth and traded business cards with the hundreds of other attendees.
Their website said the business "provides tissue and specimen procurement for academic and private bioscience researchers."
But all of it was fake — even their names.
Biomax was a front for the Center for Medical Progress, the anti-abortion group that set off a political firestorm last month by releasing secretly recorded videos showing Planned Parenthood officials allegedly discussing the sale of tissue from aborted fetuses for research. Those recordings are a fraction of the undercover footage the anti-abortion group has said it gathered during a two-and-a-half-year infiltration into the world of abortion providers.
On Friday, a federal judge in San Francisco granted a motion by the National Abortion Federation to issue a restraining order heading off the release of videos from the San Francisco meeting as well as the conference in Baltimore this year.
The order also prohibits the anti-abortion activists from disclosing the names or addresses of federation members or dates or locations of future meetings.
Releasing that information and the videos would subject federation members to "harassment, intimidation, violence, invasion of privacy, and injury to reputation," District Judge William H. Orrick III wrote in his decision issuing the order.
In a statement Friday, the nonprofit Center for Medical Progress described the National Abortion Federation as "a criminal organization" and said it "will contest any attempt to suppress our First Amendment rights to free speech."
A hearing is scheduled for Monday to determine whether the restraining order will remain in place.
The court order was the second issued last week against the Center for Medical Progress. On July 28, a Superior Court judge in Los Angeles ordered the group not to publish footage from a May lunch meeting with leaders of Stem Express, a Placerville, Calif., company that provides fetal tissue to researchers.
The activists first released footage July 14 of a Planned Parenthood executive discussing sale of fetal tissue and have since put out three more videos of other employees. Planned Parenthood officials have denied that they broke any law and called the edited videos a "smear campaign."
The recordings have sparked a political showdown, with a growing number of Republicans in Congress threatening a government shutdown this fall if Planned Parenthood remains in the federal budget.
The organization receives more than $500 million a year in federal funding, mostly through Medicaid, the health program for the poor. By law, none of that pays for abortions.
The Senate could vote as soon as Monday on a bill introduced last week to defund the group. It has little chance of getting the 60 votes needed to advance, because nearly all Democrats object.
NEWSLETTER: Get the day's top headlines from Times Editor Davan Maharaj >>
California Atty. Gen. Kamala D. Harris is investigating whether the Center for Medical Progress violated any state laws in obtaining the videos. In California, it is generally illegal to record a confidential conversation without the consent of all parties.
In its motion Friday for the temporary restraining order, the National Abortion Federation explained how it was duped into letting the anti-abortion activists into its annual meetings.
In its application for an exhibitor booth, Biomax represented itself as a stem cell research and "biological specimen procurement" company. Its website described its chief executive, Susan Tennenbaum, as "a passionate entrepreneur with a vision to bridge the gap between routine medical practice and cutting-edge medical research."
She arrived at the conference with her assistant, Brianna Allen, who had corresponded with the organizers, according to the motion, and Robert Sarkis, who was really David Daleiden, head of the Center for Medical Progress.
All three presented fake driver's licenses at registration and signed non-disclosure agreements promising not to record meetings or discussions or release other information about the meetings, according to the court motion.
Those measures are aimed at protecting abortion providers, who have been targets of violence and intimidation, the filing said. The annual meetings bring together hundreds of providers and researchers, along with vendors.
Once inside the meeting, the Biomax representatives mingled with the crowd.
The two women wore loose-fitting scarves that meeting officials now believe were used to conceal cameras.
The filing said that Dr. Matthew Reeves, the federation's medical director, remembers being questioned by Daleiden at the San Francisco meeting and said that he was "pushy," asked "leading questions" and looked straight ahead and kept an "unusual stiff posture" as they spoke.
Contacted by email Saturday, Daleiden said he was traveling. He agreed to answer questions by email but had still not responded by deadline for publication.
In other interviews, the activist has acknowledged hiring actors to carry out the undercover operations, which he dubbed the "Human Capital Project."
He has described the effort as "investigative journalism" and said it includes hundreds if not thousands of hours of recordings of abortion providers.
Under federal law, it is illegal to sell fetal tissue, which is used in a variety of research. But Planned Parenthood officials have said they only charge to recover their costs of procuring the tissue — which is legal as long as the women who underwent abortions have consented to donate.
Twitter @AlanZarembo

ALSO
Neighbors push back against private schools' plans to expand
Little Tokyo monument honors Japanese immigrant activist Sei Fujii
Lightning, drought main culprits in Northern California wildfires
The stories shaping California
Get up to speed with our Essential California newsletter, sent six days a week.
You may occasionally receive promotional content from the Los Angeles Times.