Column: CalVet kitchen is cooking, but six years after West L.A. home opens to serve medical needs of vets, empty beds remain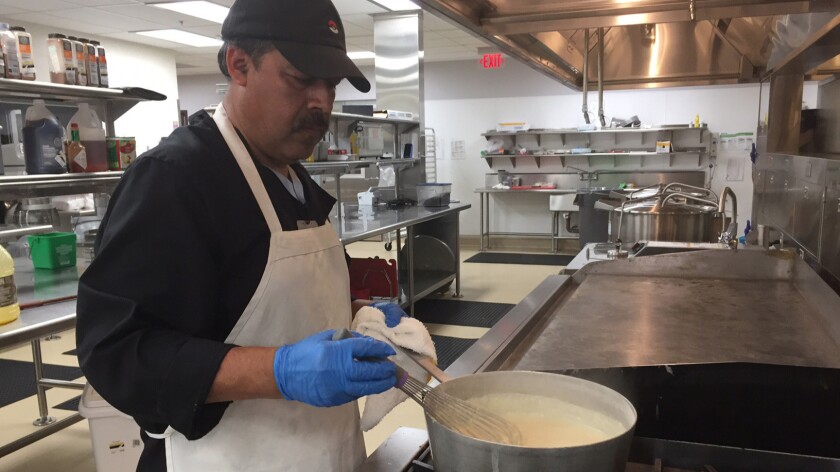 You remember the CalVet Kitchen Chronicles, right?
It's hard to believe, but two years have passed since my last installment.
I was reminded that it's time for an update after reading my colleague David Cloud's reporting on a much bigger snafu — the Pentagon's shameless attempt to steal back enlistment bonuses paid to National Guardsman.
Are they kidding?
If bonuses were inappropriately doled out because of Department of Defense or National Guard incompetence, and if congressional reps knew about this and have been sitting on their hands for two years, why are the guardsmen being asked to fix a problem they didn't create? Let's attach the wages of the loafers who tripped up, not the guardsmen who marched off to duty, some of them in Iraq and Afghanistan.
Bureaucracy. Such a beast.
Which brings me back to West L.A., where the California Department of Veterans Affairs home sits alongside the federal VA campus. The four-story, 396-bed facility, designed for veterans with medical needs, cost about a quarter of a billion dollars and opened in the fall of 2010. But by 2014, roughly half the beds were still empty.
Why, you ask?
Largely because the kitchen was too small to feed more than 200 people, and the feds and state officials could barely agree on the cause of the misfire, let alone a solution. Meanwhile, dozens of veterans were on a waiting list, hoping to get in before they died.
I almost died myself when I saw how long it was going to take to build a new kitchen. In March 2014, a CalVet official told an Assembly budget committee the kitchen would be in "the drawing phase through May of 2015."
I had kitchen contractors calling to tell me they could do it in two weeks. I had caterers telling me they could deliver meals; just fill up the empty beds already.
CalVet officials, under heat, vowed to "fast track" the kitchen project, and I had to question the word choice there.
But today, I have good news.
The kitchen was completed, inspected, licensed and finally ready to go early this year. It began turning out three squares daily in late March or early April, according to the home's deputy administrator, Christopher Walter.
I got a tour, by the way. Looks great. But I swear I could've gone in there with a few dozen donuts, five or six day laborers and the guy from Duarte who did my kitchen, and we'd have been serving roasted turkey inside of a week.
"The food is really good," said Paul Clement, 89, an Army veteran who has lived at the CalVet home since 2010.
Not only is the kitchen in business, said Air Force vet Ron Boethin, 83, but, in his opinion, the current management team doesn't drag its feet, like past administrations.
Interested in the stories shaping California? Sign up for the free Essential California newsletter »
"Let me give you a good example," said Boethin, who suffers from severe emphysema. "For four years, we wanted a copy machine...They said there's no reason you really need it. You can just run out and get copies made anywhere. Well a lot of us can't run out to make copies."
Boethin said they finally got the copy machine, but response time improved greatly after Julian Manalo was appointed last year to run the West L.A. home. The residents asked if they could have a computer room and an exercise room, and management came through quickly.
That all sounds good, but there's still a big, unresolved challenge at CalVet.
Although the head count is gradually growing, close to one-fourth of the beds are still empty a full six years after the home opened, even though there's still a list of veterans waiting to get into the place.
That's because CalVet has been working on the hiring and all the necessary licensing to serve veterans 55 and older who need skilled nursing care or have memory impairment.
Walter put the occupancy head count at 301 on Monday. That includes 64 formerly homeless veterans in transitional housing who don't need the special care and will be moved out when licensing and hiring are complete.
But the next wave of move-ins begins next week, as more vets take beds in the skilled nursing units.
"Between now and Christmas, or maybe mid-January or February, 42 beds that are now empty will be full," Walter said.
That sounds encouraging. But it's still going to be a while before the home is filled to capacity, not with transitional tenants, but the population the building was designed for.
"Fall of 2018," Walter said.
That would be eight years after the ribbon-cutting.
World War II didn't last that long.
Walter and others keep telling me they're making progress, but these things take time.
And I keep thinking:
Speed up the process, move the veterans in, get the job done.
Walters said it's hard to hire needed staff because the cost of living is so high, and traffic is so bad, prospective employees are discouraged from making long commutes to and from more affordable areas.
A certified nursing assistant job begins at $27,512 and goes up to $37,000. Decent money, with good extras and all for a great cause, but the same salaries are available at CalVet's seven other veteran residences, all of which are in regions with far lower housing costs.
Well, maybe a cost-of-living adjustment is the answer. And by the way, if you're interested in checking out jobs and salaries, the West L.A. CalVet has dozens of openings. Doctors, cooks, chaplains, nurses, dietitians, custodians, accountants, etc. To check the listings, go to www.calvet.ca.gov and click on CalVet Careers at the top of the page.
Apply today, don't delay.
To fill the last of the beds less than eight years after CalVet opened for business, it's going to take a village.
Get more of Steve Lopez's work and follow him on Twitter @LATstevelopez
To read the article in Spanish, click here
ALSO
Obama weighs in on plans to take bonuses from California Guard veterans
A housing fix for California veterans
Badly needed veterans home sits half empty; no kitchen is a problem
---
For reporting and exclusive analysis from bureau chief John Myers, get our California Politics newsletter.
You may occasionally receive promotional content from the Los Angeles Times.