Column: Civility on life support: Here's your Democracy in Action index as national mud bath enters final days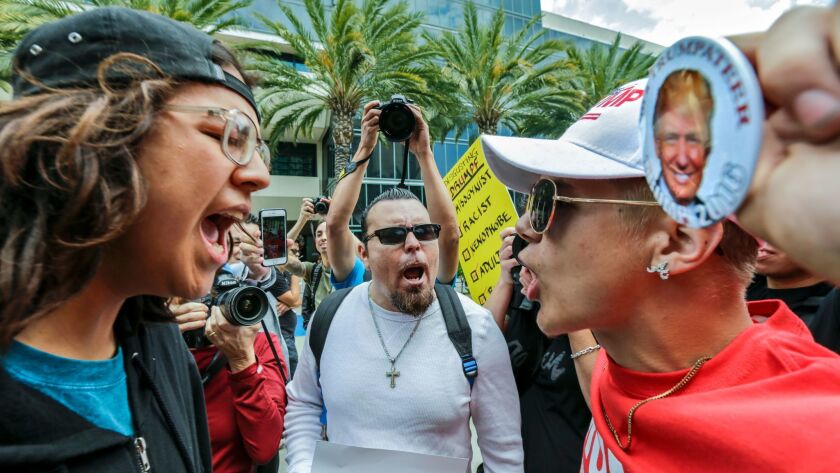 Almost.
We don't know what awaits us Wednesday morning and beyond. But we know that the most hostile, vulgar, sensational, depressing, divisive, racially charged and humiliating mud bath many of us have ever witnessed is about to leave a permanent stain on the history books.
The next president of the United States of America will either be someone under a constant cloud of inquiry or someone who, during nationally televised debate spectacles, boasted about the size of his manhood and said he doesn't pay taxes because he's smart.
It'll be a woman, or it'll be a man who has bragged about groping women.
Civility has been hit by a truck.
A child at a Trump rally yelled "take the bitch down!" when Trump mentioned Clinton.
In a dangerous world with complicated challenges, substantive debate has been virtually nonexistent, and constant cable coverage has illuminated nothing but our inability to look away from a spectacular wreck.
And let's be fair.
It's not just the presidential election that hangs over the republic like a toxic cloud.
Money is poison, and there's hemlock everywhere you look, thanks in part to the U.S. Supreme Court's support for the unlimited corrupting influence of cash.
California's billion and one ballot measures float on a rising tide of greenbacks.
A crack team of muckraking L.A. Times reporters — or scum of the earth, as Trump calls journalists — has just exposed what smells like a monstrous pay-to-play operation in Los Angeles.
And no one is particularly surprised, because Chinatown is everywhere you look.
In the last few weeks, I've been clipping headlines and circling statistics that jumped out at me for one reason or another. I'd like to borrow from the Harper's magazine model and share some of them with you.
Here now, my Democracy in Action index:
*
Amount of money spent on California ballot measures this campaign season: Nearly half a billion dollars, a record.
*
Amount spent by pharmaceutical companies on Proposition 61, which would cap what the state pays for prescription drugs: $126 million.
*
Amount spent by tobacco companies to oppose Proposition 56, a proposal to add a $2 tax increase to the price of a pack of cigarettes: $55 million.
*
Amount of National Rifle Assn. spending on presidential and Senate races: a record $36 million, including $21 million to aid Donald Trump and $12.6 million to attack Hillary Clinton.
*
Number of gun violence deaths so far this year in the U.S: 12,416, including 2,632 teenagers and 568 children 11 and under.
*
Biggest spender on California legislative races by outside (independent expenditure groups): $17 million by charter school proponents.
*
Annual shortfall of money needed to repair the nation's deteriorating schools: $46 billion.
*
Number of times Clinton and Trump were asked questions about education policy in three nationally televised debates: 0.
*
Dollar amount of donations between 2008 and 2013 from people with a link to the developer of a $72-million housing development near the Port of Los Angeles: More than $600,000.
*
Number of such donors who told Times reporters David Zahniser and Emily Alpert Reyes they did not write checks or could not remember doing so: 11.
*
Percentage of voters who say this presidential election is more important than most: 71%.
*
Unfavorable rating for Trump in latest Gallup poll: 63%.
*
Unfavorable rating for Clinton in latest Gallup poll: 55%.
*
Melania Trump's plea for more civility online: "Our culture has become too mean and too rough."
*
Number of people, places and things insulted by Donald Trump in Tweets, according to a New York Times tally: 282.
*
Number of Trump tweets calling someone a liar: 42.
*
Percentage of Trump statements judged half true, mostly false, false or "pants on fire false" by Politifact: 85%.
*
Percentage of Clinton statements judged half true, mostly false, false or "pants on fire false" by Politifact: 50%.
*
Number of emails deleted by Clinton from her personal server: More than 30,000 (she said they were personal or non-work-related).
*
Number of those emails the FBI said were indeed work-related: Thousands.
*
Average tax cut to the top 1% of earners under Trump's tax plan according to Tax Policy Center: $215,000.
*
Average tax increase to the top 1% of earners under Clinton tax plan: $118,000.
*
Politifact analysis of Bernie Sanders' claim that the top 1% of Americans with the highest income have as much wealth as the other 99%: Mostly true.
*
Percentage of Trump supporters who say the economy is very important to their support for him: 90%.
*
Number of Nobel laureates in economics, including the World Bank's chief economist, who signed a letter lamenting Trump for "fake and misleading" statistics, "reckless threats to start trade wars," and exaggerations on the negative effects of immigration: 19.
*
Impact of Clinton economic plan over 10 years, according to the bipartisan Committee for a Responsible Budget: a $200-billion increase in the national debt.
*
Impact of Trump economic plan over 10 years, according to the same group: a $5.3-trillion increase in the national debt.
*
I could go on, but I'm running out of space and we're running out of time.
What you need to know, dear readers, is that wherever you stand, and however optimistic or frightened you might be, you're not powerless.
You can scream.
You can march.
You can vote.
Get more of Steve Lopez's work and follow him on Twitter @LATstevelopez
ALSO
Our next president will inherit an extremely polarized electorate, California poll finds
Clinton is seeing early turnout among the women and Latinos she is counting on in crucial states
Feeling anxious about the election? Here's how to cope with election stress disorder
---
UPDATES:
12:25 p.m.: This story was updated to clarify the number of deleted emails involving Hillary Clinton.
Originally posted at 3 a.m.
---
The perils of parenting through a pandemic
What's going on with school? What do kids need? Get 8 to 3, a newsletter dedicated to the questions that keep California families up at night.
You may occasionally receive promotional content from the Los Angeles Times.