Border Patrol to test facial recognition and iris scans at Otay Mesa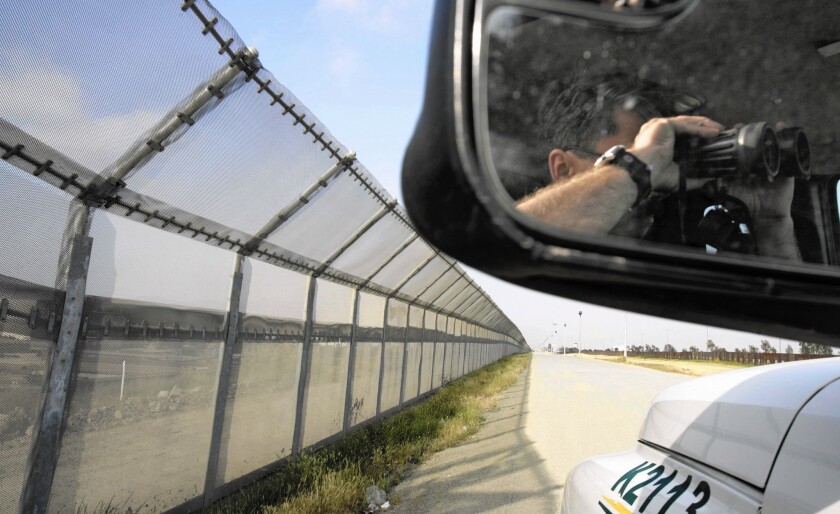 Reporting From SAN DIEGO —
Aiming to crack down on foreigners who remain in the country after their visas expire, the federal government is turning to biometrics — and Otay Mesa is scheduled to be a key test site.
The Pedestrian Border Experiment, expected to launch this year, will focus on non-citizens who enter and leave the United States on foot through Otay Mesa. It will involve the first use of facial and iris scans on the country's southern border, according to U.S. Customs and Border Protection.
Prompting the experiment is an effort by U.S. authorities to track non-immigrant visa holders who enter the United States legally but remain in the country after the permits have expired. A 2006 study by the Pew Hispanic Center estimated that visa overstays constitute 40% to 50% of people who are in the country illegally.
NEWSLETTER: Get essential California headlines delivered daily >>
"We want some system to determine that you've left the country, whether it's at an airport getting onto the jetway, or here at the pedestrian crossing," R. Gil Kerlikowske, the federal agency's commissioner, said during a visit to San Diego last month.
The program is a response to nearly two decades of congressional pressure to track exits as well as entries. A 1996 law imposed penalties on those who overstay their visas, including bans on reentering the country. But enforcing the law has been difficult without some method of certifying whether visa holders left before their visas expired.
Although the Border Patrol conducts southbound checks at the Mexican border, these usually have involved searches of vehicles for weapons, bulk cash and other contraband, and pedestrians walking into Mexico at Otay Mesa have not been the subject of much scrutiny — either by the U.S. or Mexican governments.
The test, to take place over two months, is expected to involve a sizable number of crossers: The Border Patrol counted about 183,000 northbound pedestrians at Otay Mesa in June, or more than 6,000 a day. Roughly the same number cross south, although there is no official count.
The experiment comes amid a mounting national debate over the use of biometrics by government agencies, a practice that has stirred fears over the potential for abuse. The experiment has also raised concerns over the possibility of long southbound pedestrian lines at Otay Mesa.
"We've been dreading this moment for many years. We knew it was bound to happen," said Alejandra Mier y Terán, executive director of the Otay Mesa Chamber of Commerce. "We understand that this was mandated. The better technology, the less the impact."
A Border Patrol statement on biometrics testing says the agency "is dedicated to protecting the privacy of all travelers," and that "the images will be stored in a secured local database and will be used for test purposes only and will not be stored or shared with any other party or system."
Still, Jennifer Lynch, senior staff attorney for the San Francisco-based Electronic Frontier Foundation said use of such data in the future remains uncertain. "It's less of a concern with this pilot project, but more of a concern if they adopt this going forward," she said. "What's going to happen to this data and how is it going to be used?"
Biometrics, which measure physical characteristics unique to an individual, can be used in verifying identity. The methods include fingerprinting, but also iris scans that focus on the unique characteristic of the colored part of an individual's eye, and facial recognition technologies that look at bone structure and curves around the eye socket.
Unlike fingerprinting, iris and face images can be taken at a distance of several feet, said James Wayman, a biometrics expert at San Jose State. But these methods "can be sensitive to lighting conditions and human factors, such as hats, glasses and contact lenses," he said.
The Otay Mesa trial "will determine if the available technical options for automated passenger recognition can be expanded to include iris and face imaging," he said.
sandra.dibble@uniontribune.com
Twitter: @sandradibble
Sandra Dibble writes for the San Diego Union-Tribune.
Interested in the stories shaping California? Sign up for the free Essential California newsletter >>
---
Get breaking news, investigations, analysis and more signature journalism from the Los Angeles Times in your inbox.
You may occasionally receive promotional content from the Los Angeles Times.