The Coliseum case is the latest embarrassment for D.A.'s corruption unit
The alleged bribes and kickbacks that prosecutors said flowed like honey between government officials at the Los Angeles Memorial Coliseum and people who did business at the venerable stadium exceeded $2 million — cash that belonged to the taxpayers.
Some of the money was funneled in regular installments through a Miami bank account, a detail redolent of a film noir script.
A grand jury returned a sweeping list of felony charges. Named in the indictments were three managers at the publicly owned Coliseum, two prominent promoters of rave concerts at the venue and a janitorial contractor who quickly became a fugitive. All were facing long prison stretches if convicted.
Now, however, the case that grew out of a Times investigation in 2011 has become the latest embarrassment for the Los Angeles County district attorney's office, which had already racked up a number of missteps and setbacks in other high-profile, government corruption prosecutions.
A series of blunders by two separate teams of prosecutors in the Coliseum saga, who have acknowledged twice mishandling evidence, forced them to the bargaining table with defense attorneys.
As a result, the concert promoters have been allowed to plead no contest to misdemeanor counts in deals that guarantee they will not spend a single day behind bars.
The main defendant in the case, former Coliseum events manager Todd DeStefano, who was accused of pocketing the bulk of the money, pleaded no contest to one felony count Friday. As part of a settlement with prosecutors, he will serve six months in county jail and pay $500,000 in restitution.
If convicted at a trial, DeStefano could have received a 10-year prison sentence.
"It appears that the prosecutors are cutting their losses," said Gerald Uelmen, a retired Santa Clara University law school professor. He said the bungling of evidence by the district attorney's Public Integrity Division likely caused the office to fear the case otherwise could get tossed out entirely due to prosecutorial misconduct.
In an unusually sharp rebuke, Superior Court Judge Kathleen Kennedy said the division seemed incapable of handling complex prosecutions involving large numbers of documents.
The main prosecutor, Dana Aratani, was removed from the case last year after he acknowledged inappropriately viewing emails between one of the defendants and his lawyer, a violation of attorney-client privilege rules. Last week, Aratani's replacement, Terrie Tengelsen, said she had contact with him about the case, despite a promise to the judge not to do so.
Stanford Law School professor Robert Weisberg said the prosecutors' error was "very rare and it's really bad — a real no-no."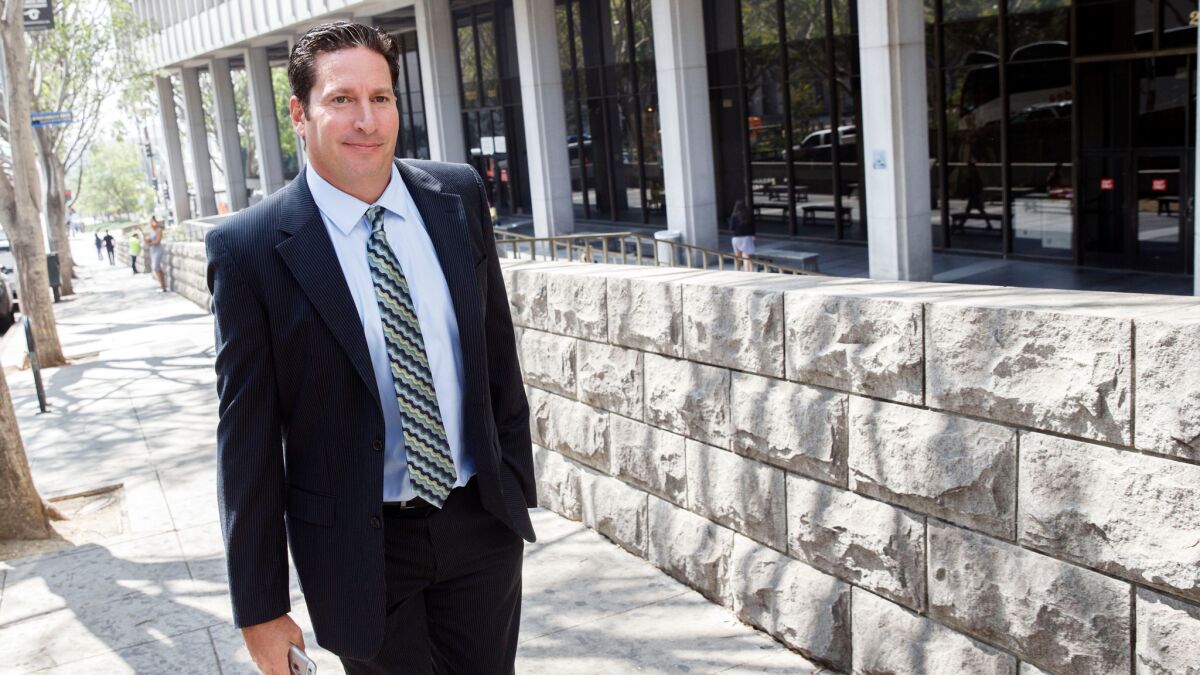 Plainly furious, Kennedy urged the district attorney's office to seek settlements with the defendants. "They have no justification for what they did," she said of the prosecutors.
Dist. Atty. Jackie Lacey declined to be interviewed, but issued a statement Friday praising the work of the anti-corruption division.
"The fact that we erred in our handling of voluminous evidence in one case does not mean that we are not capable of prosecuting these types of cases," Lacey said. "We handle thousands of complex cases successfully each year and will continue to improve our methods. The resolution of this case resulted in the defendants being appropriately held accountable for their actions."
The office noted that the defendants had agreed to pay more than $1 million to county taxpayers.
Earlier this year, a judge dismissed the district attorney's corruption prosecution of three city officials for Irwindale, who were accused of spending taxpayers' money on lavish dinners and trips to New York. That case was marked by an appellate court decision that found prosecutors had withheld evidence favorable to the defendants and a separate ruling that the district attorney's office missed a deadline to file certain criminal charges.
In March, in another defeat for the office, a jury acquitted a former L.A. City Council aide and his wife who were accused of scheming to help another elected official siphon thousands of dollars in public money for personal use. A third defendant had pleaded guilty in 2014.
The district attorney's office also has struggled with lengthy delays in the corruption case against John Noguez, the former Los Angeles County assessor charged in 2012 with taking bribes. He has pleaded not guilty, and the case has yet to reach the preliminary-hearing stage. Prosecutors have blamed the sluggish pace on the massive amount of evidence and the fact that Noguez and a co-defendant changed attorneys.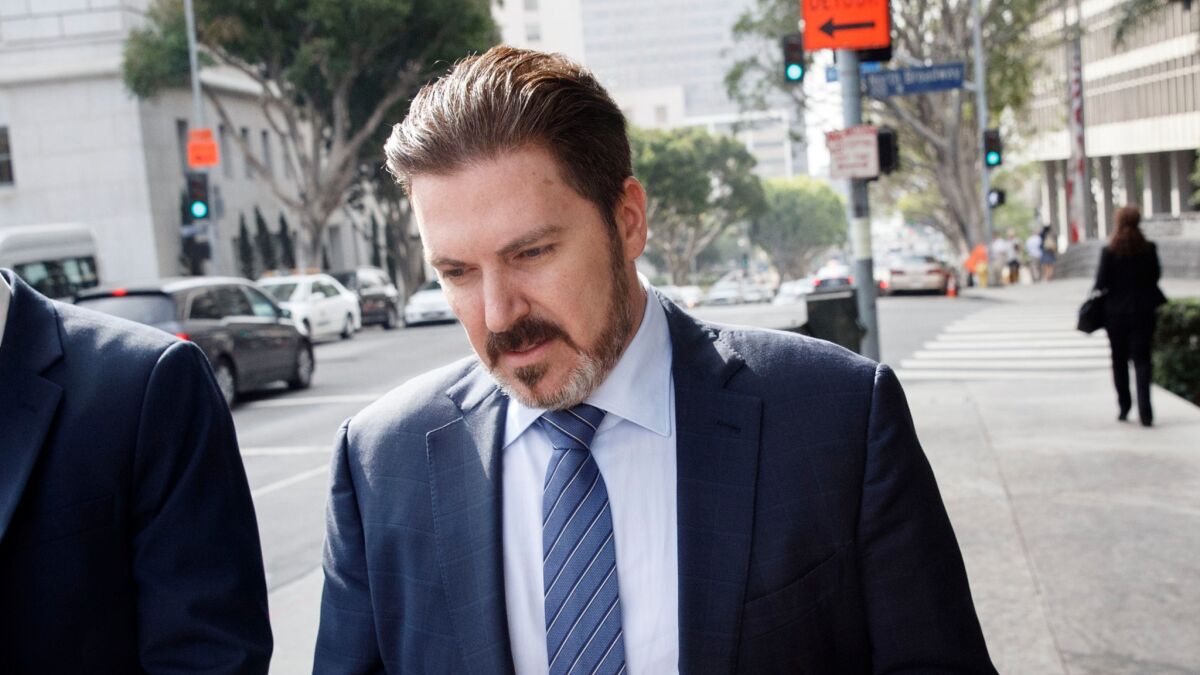 Even some of the district attorney's larger successes in corruption cases have been clouded. The office won a felony perjury and voter fraud prosecution of former L.A. City Councilman Richard Alarcon in 2014, but only after Kennedy initially threw out the charges after determining that the office failed to properly instruct grand jurors weighing the evidence.
A panel of appellate justices overturned Alarcon's conviction this year, ruling that the trial judge had given improper jury instructions.
One of the Public Integrity Division's big wins — the 2013 convictions of seven officials in the city of Bell scandal — came as Kennedy questioned why prosecutors did not file charges against the municipality's police chief, Randy Adams, who denied doing anything wrong.
The Bell case followed a series of Times stories in 2010 on the high salaries collected by city officials. The Times later reported that three Bell police officials said they had previously asked the district attorney to investigate corruption in their city, but the office dropped the matter.
In the Coliseum case, Kennedy suggested that the district attorney's office seek advice from federal prosecutors in managing difficult trials with reams of paperwork and extensive digital evidence. "The D.A.'s office has a serious problem in dealing with these huge paper cases," she said. "This problem is not going to go away. It's only going to get bigger."
Without a fix, the judge added, the office is "going to lose every one of these prosecutions."
Joseph N. Akrotirianakis, who once prosecuted corruption cases for the U.S. attorney's Los Angeles office, said he understood Kennedy's frustration. If the prosecution "loses the judge," he said, it must be prepared "to resolve a case on terms favorable to the defendant, or more favorable than the people believe justice requires."
Boston College Law School professor George Brown said the district attorney's office, like other county prosecution agencies, might be better off leaving public corruption cases to their federal counterparts.
"One of the themes you hear a lot is that the feds are more professional and proficient," Brown said. "The feds just do a better job. This case would seem to be a nice piece of evidence for that side of the argument."
This week's plea deals weren't the first that the district attorney's office extended to a Coliseum defendant. At the start of the case, prosecutors accepted a plea by the Coliseum's former general manager, Patrick Lynch, to a felony count in an arrangement that kept him out of jail. In exchange, Lynch returned $385,000 in suspected kickbacks — including the funds deposited in Miami — he received from the contractor, Tony Estrada, who remains at large.
The Lynch plea bargain predated the prosecution's troubles with the evidence, but it nevertheless raised eyebrows among legal experts, who considered it unusually favorable to the defendant.
Jennifer G. Rodgers, executive director of Columbia Law School's Center for the Advancement of Public Integrity, said in an email that the Coliseum case should be a warning to all corruption fighters.
"It is always a shame when those who sell their offices and violate the public trust avoid punishment due to prosecutorial mistakes, but that's how our system works," Rodgers said. "That's why prosecutors and investigators need to be vigilant in following the rules and proper procedures."
For more on the Coliseum scandal, follow us on Twitter: @PringleLATimes and @ronlin
Times staff writer Marisa Gerber contributed to this report.
ALSO
Lunada 'Bay Boys' surfer gang hit with another class-action lawsuit
Boyle Heights activists blame the art galleries for gentrification
Long Beach sees PCH as a hub for denser, resort-style development, but residents are wary
The stories shaping California
Get up to speed with our Essential California newsletter, sent six days a week.
You may occasionally receive promotional content from the Los Angeles Times.