L.A. County backs plan to ensure Internet access for seniors and the poor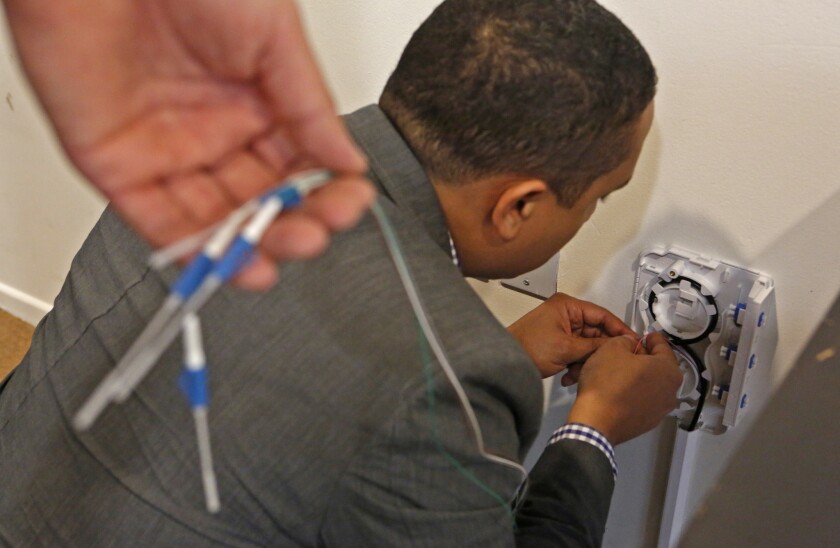 Recognizing how essential the Internet is for people looking for jobs and social services, the Board of Supervisors voted this week to push for affordable high-speed Internet access for Los Angeles County seniors, low-income residents and people with disabilities.
In a unanimous decision, the five-member board joined the California Emerging Technology Fund's campaign to urge the Federal Communications Commission to establish a comprehensive Lifeline program that lowers the cost of broadband and enhances overall digital literacy among disadvantaged communities.
The board's support comes as the FCC has been taking steps to revamp its original Lifeline program, which was established nearly 30 years ago to provide affordable phone service to low-income Americans. In recent months, commissioners have publicly committed to restructuring the program and focus on access to broadband, calling it "essential to participation in modern society."
Among the technology fund's recommendations that were backed by the board is lowering the price of broadband to $10 per household, with qualifying customers eligible for a $9.25 reimbursement. Eligibility could be based on current enrollment in low-income state and federal programs or an income below twice the federal poverty level.
Another recommendation is to have the FCC allow states to establish their own broadband lifeline programs that can field complaints and also work in tandem or supplement federal initiatives. Under current law, California's Public Utility Commission needs to be authorized by the FCC to resolve complaints.
Undergirding the county leaders' support for expanding the lifeline programs is the increasing prevalence of digital technology in the economy and social programs.
"Technology is a key component of our economy, and it is unconscionable that so many county residents lack access to broadband," said Supervisor Hilda Solis, who co-wrote the motion passed Tuesday by the board. "These individuals are being marginalized and ignored."
Of the more than 10 million county residents, 76% have broadband access at home, according to a 2015 survey of broadband usage conducted by Field Research Corporation for the California Emerging Technology Fund. Of those, 10% get broadband service through only smartphones, according to the survey.
In the demographic groups targeted by the Lifeline program, broadband usage is much lower, creating a barrier to socioeconomic mobility, county leaders have said.
About 44% of adults over age 65 and about half of those with disabilities lack broadband access at home, according to the survey.
The campaign backed by the supervisors calls for enrolling enough of those eligible for the program to bring overall broadband usage up to 90% of Americans by 2020.
"In today's widely wired world, it's virtually impossible to get a job or access healthcare information without an Internet connection," said Supervisor Sheila Kuehl, who co-wrote the measure with Solis.
Kuehl also highlighted the success of the Lifeline telephone program.
About 12 million households participated last year in the federal program, which began in 1985.
A small fee on consumers' monthly phone bills funds the program, which last year spent about $1.7 billion. The monthly subsidy goes to telecom providers and offsets the cost of a land line or wireless phone line.
As a supporter of the California Emerging Technology Fund's campaign, the board agreed to lobby the FCC to enact a comprehensive broadband program.
The technology fund was created as a condition of the state utility commission's approval of the mergers in 2005 of SBC with AT&T and Verizon with MCI. The companies committed to donating $60 million over five years to the nonprofit, which in addition to serving those with low incomes or disabilities also promotes broadband access in rural communities, such as the Central Valley.
---
For reporting and exclusive analysis from bureau chief John Myers, get our California Politics newsletter.
You may occasionally receive promotional content from the Los Angeles Times.