A freeway terror attack is the 'nightmare we worry about,' law enforcers say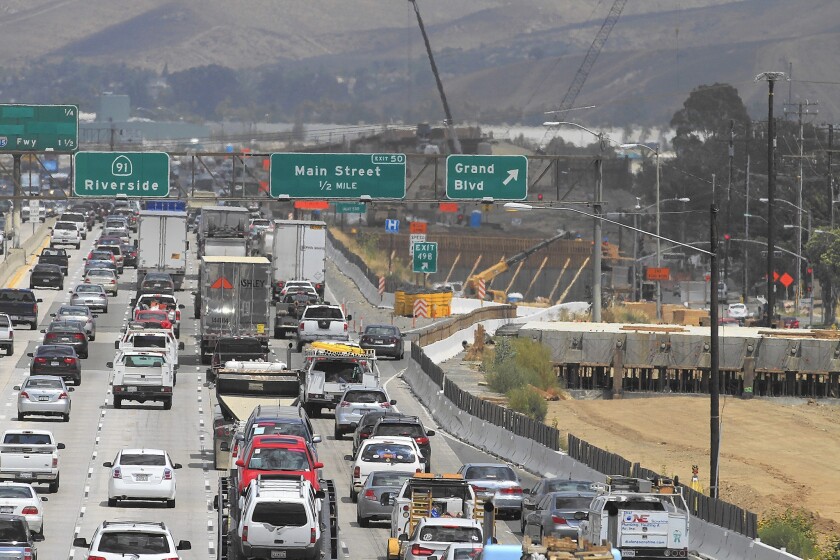 There are few places where Southern Californians feel more trapped than on a freeway in gridlocked traffic.
One of the San Bernardino shooters and his longtime friend talked about taking advantage of this vulnerability by launching a terrorist attack on a clogged freeway using guns and pipe bombs, according to court records released last week.
Syed Rizwan Farook and Enrique Marquez Jr. mapped out the attack plan of the 91 Freeway in detail and collected weapons and explosives in 2011 and 2012, only to abort the plot, the charges say.
Read the latest Essential California newsletter >>
Still, their outlandish alleged scheme has counterterrorism experts both alarmed and baffled. Experts say such an attack would be feasible, but some questioned the seriousness of the plot, given that there are so many easier ways for active shooters to cause mass casualties.
Officials said they had never uncovered an alleged terrorist plot involving freeways until now. But Los Angeles Police Department Deputy Chief Michael Downing, who oversees the counterterrorism bureau, said it's a scenario officials have discussed and tried to address with a response plan.
It is "a nightmare that we worry about," Downing said.
According to a criminal complaint filed against Marquez last week in federal court, he and Farook planned to target a location on the 91 Freeway during the afternoon rush hour.
The complaint does not specify the exact location but said the area lacked exits, which the pair believed would increase the number of targets. Marquez admitted to authorities that he would set up a position in the hills south of the freeway as Farook would throw pipe bombs into the eastbound lanes to stop traffic, the court papers said.
Farook would then move among the stopped vehicles, shooting motorists. Marquez said his plan was to shoot at stopped vehicles from the hill and watch for approaching police and emergency responders, prosecutors alleged. His priority, he said, was to shoot at police before opening fire on medical personnel.
The document said Marquez stopped plotting the attack in 2012 for several reasons, including the arrest of a group of men in Chino in an unrelated terrorism case.
Downing said that even staging an accident on a section of a freeway with few exits would give terrorists the ability to attack motorists stopped in traffic.
The key for law enforcement, he added, would be to send officers to the scene quickly to stop the attack.
Ambushes in narrow passages with no escape routes have long been a staple of warcraft. Such tactics have been used in the wars in Iraq and Afghanistan, where U.S. military convoys have been hit with improvised explosives, rocket-propelled grenades and gunfire.
Some experts are skeptical about the likelihood of a freeway terror attack, noting that there are other "soft targets" that could likely yield more casualties.
"It has not been in the jihadists' playbook," said Brian Jenkins, a senior advisor at Rand Corp. and a top official with Mineta Transportation Institute. "Active shooters look for folks in confined environments, not behind metal."
Farook and his wife, Tashfeen Malik, killed 14 people Dec. 2 at a holiday party in San Bernardino. They were later killed in a shootout with authorities. Both are said to have expressed support for Islamic radicalism. Marquez was charged last week with conspiring to provide material support to terrorists related to the 91 Freeway plan as well as another aborted plot targeting Riverside City College. He was also charged with illegally providing some of the weapons used in the massacre.
Both the San Bernardino shooting and the ISIS attack in Paris underscored the vulnerabilities of "soft targets." Both attacks occurred away from landmarks that officials have often considered the most likely terrorist targets and instead hit suburban areas with much more limited security.
"Terrorists are constantly looking for ways of not only hitting people at large symbolic targets and events, but also during everyday routine activities as well, where civilians are most vulnerable and least able to escape," said Brian Levin, a Cal State San Bernardino professor and director of Center for the Study of Hate and Extremism.
The alleged 91 Freeway plan is one of many plots uncovered in the United States that targeted transportation. According to the New York Police Department, plans included cutting the support cables of the Brooklyn Bridge, exploding bombs in the New York subway system and blowing up train tubes under the Hudson and East rivers.
"Transportation targets are fairly common with terrorists, but they usually involve mass transit, aircraft or bridges," Levin said. "A horrendous operation such as the one envisioned in the complaint not only confines civilians while they would be under vicious attack but obstructs and places first responders at risk from sniper fire as well."
Twitter: @LAcrimes
MORE ON SAN BERNARDINO
After massacre, Enrique Marquez made dramatic 911 call
Scrutiny of Tashfeen Malik's fiancee visa fell short, investigators say
In disrupting a radical group's 2012 plans, FBI may have foiled Farook's earlier plot
---
The stories shaping California
Get up to speed with our Essential California newsletter, sent six days a week.
You may occasionally receive promotional content from the Los Angeles Times.