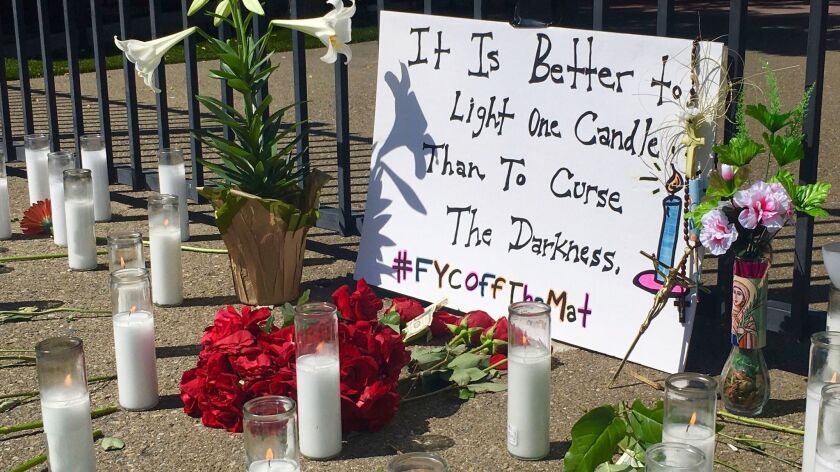 Reporting from Fresno —
This is not a city where people are likely to say, "I didn't think it could happen here." The aftermath of a series of shootings that left four dead in the last week held familiar ritual.
Fresno's police chief shed a tear Wednesday when he recounted talking to the family of one victim. He said he had presided over many similar news conferences during his 16 years leading the department.
This time, however, the sensational nature of the crime was magnified because of the national flashpoints it touched on: racism, fear of terrorism and backlash against Muslims.
Kori Ali Muhammad — a black man who, according to police, said that he practiced voodoo — had shouted in Arabic when police took him into custody in the slayings. His social media rants said he wanted a race war. Chief Jerry Dyer said Muhammad was intent on killing as many white men as he could.
"Kori Muhammad is not a terrorist, but he is a racist and he is filled with hate," Dyer said.
On Wednesday, police identified the victims of the seemingly random attacks.
Zackary David Randalls, 34, of Clovis had been on his first ride-along Tuesday for a new job with Pacific Gas & Electric Co. when he was shot.
Last year, the father of two — a 3-year-old daughter and a 4-year-old son — had helped two children escape from an overturned minivan, according to the local newspaper. It was recalling a conversation with Randalls' wife, Katie, that brought Dyer to tears.
There's always violence in this neighborhood. But something like this? What was he doing? He just wanted to eat.
Veronica Estrada, neighbor of victim David Martin Jackson
Jonathan Gilbert, who had been a groomsman at the couple's 2008 Pismo Beach wedding, said Randalls was excited about his new job because of what it would mean to his family.
"They were his whole world," Gilbert said. "They were his everything."
Mark James Gassett, 37, of Fresno had been out looking for work Tuesday and was carrying free groceries home from Catholic Charities when he was shot and killed.
He had two sons, 8 and 14.
His stepfather, Harold Wagner, said Gassett had been staying in a rehabilitation center. "He has had problems, but he was doing good," Wagner said. "He loves his kids."
David Martin Jackson, 58, of Fresno had been sitting at a bus stop with two other men when a shot rang out. Jackson ran and, according to police, Muhammad chased after him and fired two more times.
Jackson collapsed and died in the parking lot of Catholic Charities.
His neighbor Veronica Estrada said that "there's always violence in this neighborhood. But something like this? What was he doing? He just wanted to eat."
On Tuesday night, after the shootings, members of On Ramps Covenant Church canceled their regular meeting and walked the few blocks to pray at Catholic Charities.
Their parish is in one of Fresno's most concentrated areas of poverty, where the median income is less than $13,000 a year. The multiethnic church describes its mission as embracing the tensions that can come with diversity, because "God is greater than anything that divides us."
On Wednesday, the yellow police tape came down, and Catholic Charities went back to work.
People drove in to donate items; others walked in to ask for groceries or help paying their electricity bills.
Ky ("like Kentucky," he said) Allen came to bring lunch to his wife, Christina.
The day before, she had been at work and texted him that she was on lockdown during a shooting.
"When I picked her up blocks from here, she was in tears. I held her so tight. My heart was racing," Allen said.
"I just want to see if she's alright today," he said. "She said she was OK, but women can say one thing and feel another."
Last week, Allen said, one of the customers at the 7-Eleven where his son-in-law works had been killed while working security at a local Motel 6.
According to police, Muhammad shot the security guard, Carl Williams, 25, at close range on Thursday after Williams said he couldn't visit a female customer without checking in at the motel office first.
Before delivering his wife's sack lunch, Allen thanked a nearby police officer for his work and paused to speak to two teary-eyed women who said they knew Gassett.
"Not well," one said. "But we always said hello, and it hurts."
They bowed their heads in front of a memorial of dozens of white candles and a sign that read, "It is better to light one candle than to curse the darkness."
All three said they were not shocked by the violence.
"The haters are always there feeding off one another," Allen said. "The only question is if we lift each other back up."
Marcum reported from Fresno and Rocha from Los Angeles. Times staff writer Joseph Serna in Los Angeles contributed to this report.
ALSO
Man is fatally shot in the Leimert Park area
Another set of fossils discovered at Metro subway excavation site
UC Berkeley cancels Ann Coulter appearance, citing safety concerns after violent protests
---