Ninja immigrants: How big sea turtles from central Mexico found new homes on a Long Beach river
Somehow, a community of the federally endangered species usually found in tropical waters is thriving in the San Gabriel River's murky flows.
When scientists confirmed their existence in the San Gabriel River in 2008, the green sea turtles were thought to be oddballs or lost wanderers.
The federally endangered species usually is found in tropical haunts — amid coral reefs or on the sandy beaches where they lay eggs. But this colony was cavorting in the southern end of the river, where the flood control channel's tainted urban runoff mixes with tidal flows in the shadows of electric power plants and the 405 Freeway.
With each massive turtle that poked its grapefruit-size head above the murky water for a gulp of air came questions.
How many were there? What were they eating? Were they adapting to the challenges the two-mile-long, 100-yard-wide channel between the cities of Long Beach and Seal Beach presented: fishing hooks, motorboats, illegal dumping and tons of garbage that washes in every time it rains?
After years of monitoring their behavior and tracking their movements, federal scientists — assisted by a small army of volunteers organized by the Aquarium of the Pacific and the Los Cerritos Wetlands Authority — are coming up with answers to some of the riddles the turtles pose.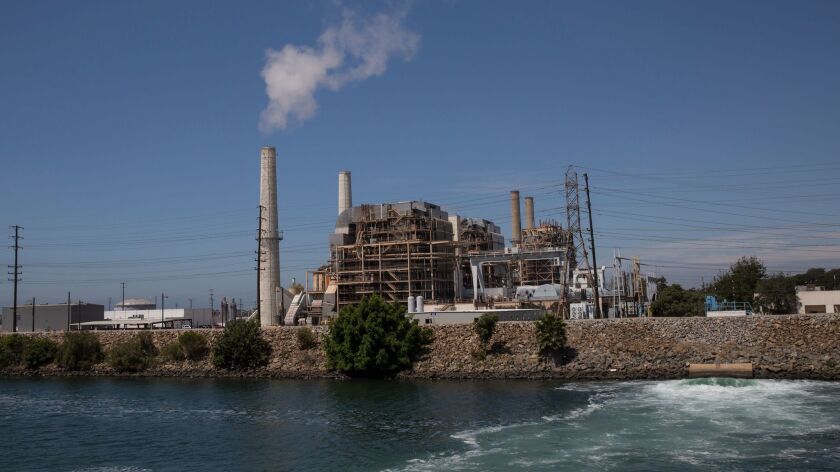 "The green sea turtles in the San Gabriel River are thriving," said Dan Lawson, a biologist with the National Marine Fisheries Service. "Over the past decade, we've seen about 100 of them in the river and in nearby Alamitos Bay, Anaheim Bay, Huntington Harbor and the Naval Weapons Station.
"But they'd be a lot happier if our regulatory agencies did a better job of controlling trash in the river," he said.
The colony, according to experts, is composed of juveniles hatched off central Mexico, where the population is increasing thanks to nesting beach protections and a reduction in poaching. Exactly when they arrived, or if they traveled together or as individuals, remains unknown.
The turtles range in size from a sheet of notebook paper to 100-pounders and eat almost anything they can clamp their mouths on — including snails in the river and eel grass in the estuaries of the Naval Weapons Station.
An analysis of tissue and shell samples conducted by Arthur Barraza as part of his graduate work in marine biology at Cal State Long Beach showed relatively low levels of toxic heavy metals and carcinogenic substances.
"These turtles are fairly healthy, at least right now," he said. "Contaminants accumulate in their tissues over time, and their harmful effects can initially be subtle and hard to detect."
The good news about the turtles' health is offset, however, by the sight of them having to navigate through rotting garbage, discarded shopping carts, tires, plastic bottles and bags.
Mike Kaspar, a spokesman for the Los Angeles County Department of Public Works, said the agency was "in the process of cleaning up that portion of the river right now."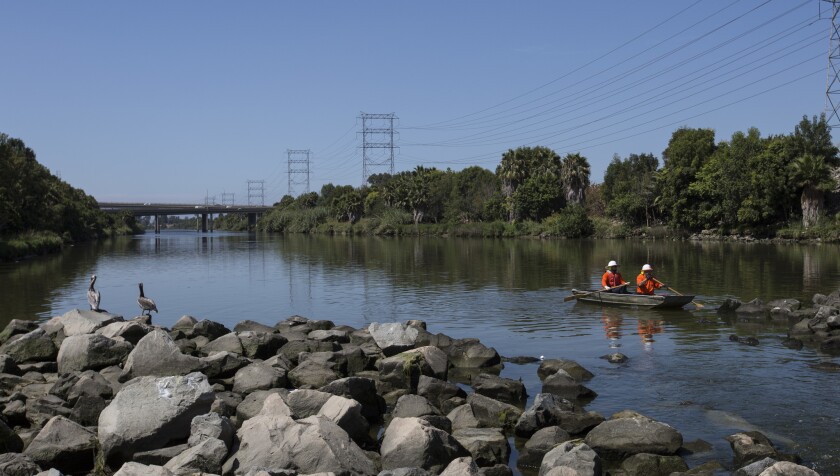 Standing recently on a slanting concrete wall as sea turtles surfaced in the foamy current and county crews picked up trash onshore, Cassandra Davis of the aquarium's San Gabriel River Sea Turtle Monitoring Project was hopeful.
"We have the ability to transform this unlikely habitat into an urban oasis for wildlife, including Los Angeles' resident sea turtles," she said. "So we ought to do that, because they deserve better than this."
ALSO
Man held after deadly king cobras smuggled into U.S. in potato chip cans
A Riverside County mountain lion sired 11 kittens, but that won't fix weak gene pool
Conservationists and tribes denounce U.S. plan to remove Yellowstone grizzly bears from endangered species list
---
For reporting and exclusive analysis from bureau chief John Myers, get our California Politics newsletter.
You may occasionally receive promotional content from the Los Angeles Times.