Authorities say the 2009 killing of a prominent L.A. lawyer could be linked to another slaying in Whittier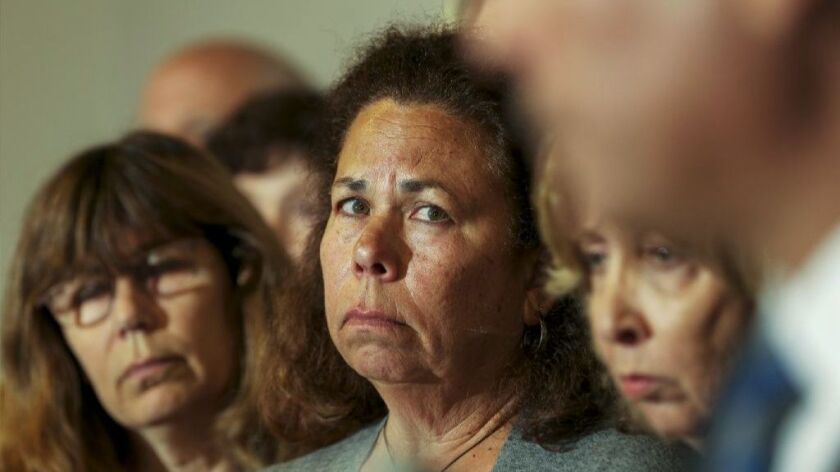 For nearly eight years, the slaying of prominent attorney Jeffrey Tidus has remained a mystery.
But in recent months, Los Angeles County sheriff's detectives have been running down fresh leads in the killing, which occurred outside the civil litigator's upscale Rolling Hills Estates home.
On Friday, investigators named a new "person of interest" in the slaying: a Whittier business owner who was sued by one of Tidus' clients.
Authorities are looking to find Richard Wall, 64, who they say may have information about Tidus' killing and the 2011 slaying of one of Wall's former employees in Whittier.
So far, police have not been able to find Wall, who owns Welded Fixtures in Whittier, said sheriff's homicide Det. Joe Espino.
"We want to speak with him," Espino said.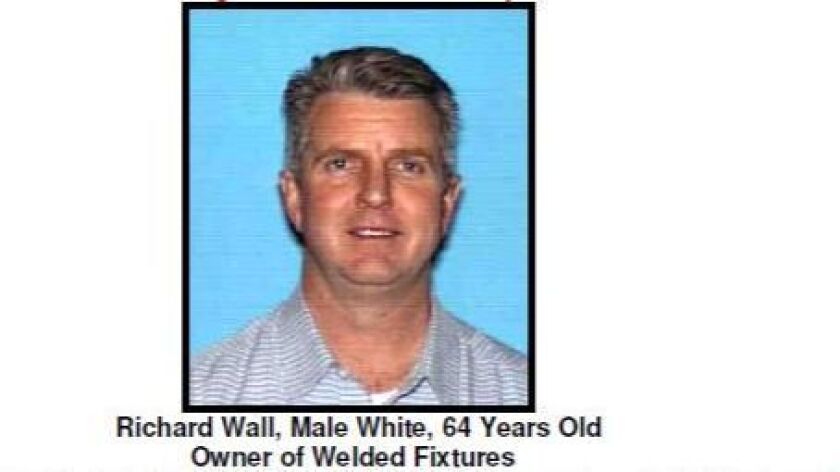 Detectives noticed similarities between the killings of Tidus and Juan Mendez, 35, who was shot and killed at his apartment in Whittier on Feb. 26, 2011, in front of his young daughter, Espino said.
In both "execution-style" killings, Espino said, robbery was not the motive. They both looked like "hits" done by a professional, he said.
Authorities also noticed that Tidus and Mendez had been involved in legal actions involving Wall. About a month ago, investigators served search warrants at Wall's home and business, Espino said. Since then, detectives have been told that Wall is on vacation.
"We're not sure where he's at," Espino said.
Mendez had settled a class-action lawsuit filed in 2009 against Wall's business alleging that workers were not compensated for overtime and made to take short meal breaks or none at all, according to court records. Mendez worked for Wall's company, which manufactures and designs retail display racks, from September 2007 to December 2008. It's unclear how much money was owed to Mendez.
The gunman in Mendez's killing was described as about 6 feet tall, between 170 and 180 pounds, and wearing blue jeans and a black coat with a hood, police said. The man was seen fleeing the apartment complex after the shooting.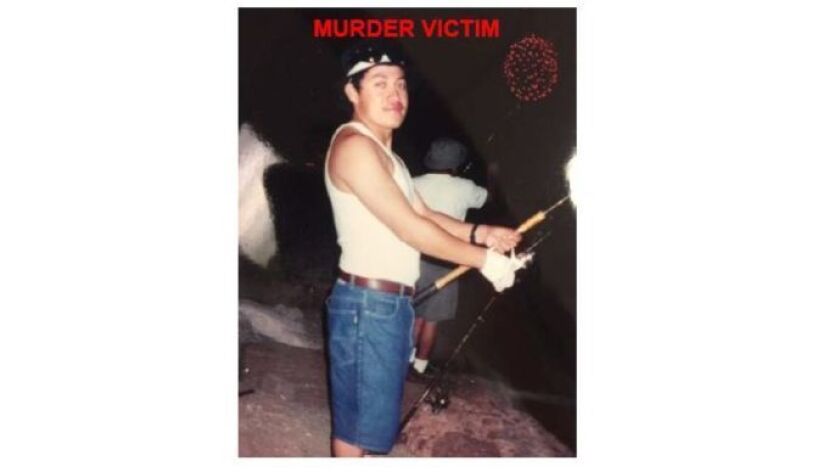 Just over a year earlier, Tidus had walked outside his Rolling Hills Estates home to grab a laptop from his car about 8:30 p.m. when his wife, Sheryl, heard a pop, then a car driving off, officials said. When she walked outside, her husband was on the ground, shot. He died the next day.
The Dec. 7, 2009, killing shocked the wealthy community on the Palos Verdes Peninsula. Tidus had worked with a number of well-known clients, including New Century Financial, Isuzu Motors, California Federal Savings and Tokai Bank. Shortly before his death, he had won a number of large settlements, his wife previously told the Los Angeles Times.
Among them was a $11.2-million judgment against a friend and business associate of Wall's, a former L.A. tax attorney named Christopher Gruys.
During a pretrial deposition in the case in 2005, Gruys pulled out a camera and took a photograph of Tidus, then made what the attorney interpreted as a threat, according to court documents. Tidus subsequently obtained a restraining order against Gruys.
Tidus' client attempted to collect on the judgment, but was unable to recover all of the money. The client then filed another suit against Gruys and Wall, alleging that Gruys was transferring money to Wall's business to avoid paying the money he owed, according to court documents. Gruys had been the best man at Wall's wedding, records say.
I think ultimately they will catch the people who murdered my brother.
Michael Tidus, whose brother Jeffrey, a prominent attorney, was slain in 2009.
In April 2007, the State Bar placed Gruys on interim suspension after he was convicted of possession of an assault weapon. He stopped practicing law that year.
Attempts by The Times to reach Wall were unsuccessful. Gruys' attorney did not return a call seeking comment.
Espino said Gruys has not been excluded as a person of interest in Tidus' death. In addition, authorities are looking for another man they have described as a person of interest; they released a sketch of him in May. Neither man — nor Wall — is considered a formal suspect in the killings, Espino said.
Based on new leads, detectives in April publicized a $100,000 reward for information in Tidus' killing. Tidus, who had a daughter, was active within the legal community and served on several professional organizations, including the board of governors for the State Bar of California. He sometimes took on cases pro bono and was an avid runner.
His wife said Friday she has always held out hope that her husband's killers would be found. She said she didn't know Wall and can't remember her husband mentioning the man.
"It's very surreal," she said.
The victim's brother, Michael Tidus, said he thinks about bringing his brother's killers to justice each day and is hopeful about the recent developments in the investigation.
"I think ultimately they will catch the people who murdered my brother," he said.
For more news on homicide in Los Angeles County, follow me on Twitter: @nicolesantacruz
---
UPDATES:
8:10 p.m.: This article was updated with additional details about the killings and comments from Tidus' wife and brother.
This article was originally published at 5:15 p.m.
---
The stories shaping California
Get up to speed with our Essential California newsletter, sent six days a week.
You may occasionally receive promotional content from the Los Angeles Times.