A forgotten corner of California gets its 'Rocky' with Andy Ruiz Jr.'s underdog win
Reporting from Imperial, Calif. —
Ringed into the southeast corner of California by mountain ranges, deserts, Baja California and the Colorado River, the Imperial Valley has historically been regarded a little like California's appendix: mostly quiet and forgotten until it flares up to cause a hell of a pain.
Unemployment here is the worst in the Golden State. The Salton Sea, a man-made lake that became a postcard-worthy exemplar of cabana living during the 1950s, is now a much-cited case study in environmental degradation.
People who live here take pride in a kind of pugnacious, underdog spirit. But until hometown boy Andy Ruiz Jr. walloped the heavyweight champ at Madison Square Garden, this wasn't a place you'd find as the setting for a Rocky Balboa tale.
Boxers of Mexican descent have had a storied history in the sport, but never before had one done what Ruiz, 29, accomplished: becoming the first fighter of Mexican descent to hold a belt in the sport's prestige division. Making the victory more improbable was the stark contrast between Ruiz — big, beefy, like someone who just stepped out of a Fernando Botero painting — and his immaculately sculpted foe.
It was an improbable fairy tale. And they don't make a lot of movies about the Imperial Valley.
When Hollywood comes calling, it's usually because there's a dystopian vision that needs a place to call home. The sun-blasted buildings and stark wilderness here help re-create everything from the Sahara to war-torn Iraq to post-apocalyptic Earth. When the president shows up, it's to boast about building an impenetrable U.S.-Mexico border wall on the ragged southern edge of the Imperial Valley.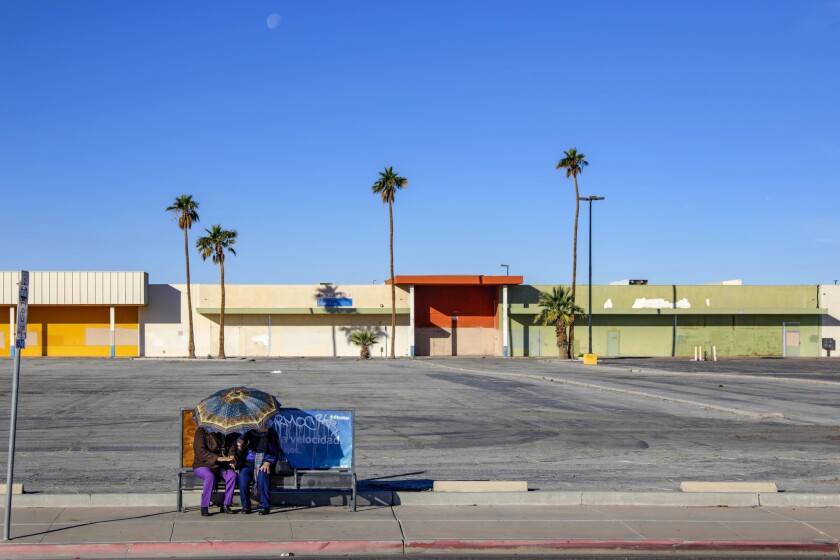 Far from home in Boyle Heights, Imperial Valley native Ernesto Yerena watched Ruiz pummel Anthony Joshua. He stood in front of the TV for most of the bout and screamed when Ruiz scored his seventh-round technical knockout.
"If it was the Dodgers winning, there would've been fireworks," the artist said. "But it was silent outside. That's fine. Because next time, all the Mexicans around are going to be watching."
In a state with longstanding Mexican American communities, each with its own culture and traditions that get national attention — the Mission burritos of San Francisco, East Los Angeles' distinctive Chicano accent, the farmworker activism of the Central Valley or cholo-goth subculture of San Diego — those in the Imperial Valley remain among the most ignored or misunderstood.
"We're known for agriculture, Mexicans and poverty," said Hector Rodriguez, who lives in Yuma and is originally from Calexico. "The border. Drugs. That's really it."
The most widely known book about the region, William T. Vollmann's "Imperial," is a 1,300-page doorstop published in 2009 that sums up the valley as offering the "promise of paradise and the reality of hell."
Longtimers get it. They're well-versed in fielding clueless questions and comments about where they're from.
But the cross to bear is heavier when you're of Mexican descent — which according to the U.S. census is basically everyone in Imperial County (OK, 85%).
"Nobody knows where the valley is, so I always have to do a geography lesson for my L.A. and O.C. friends," said Maricela Jauregui, a Norwalk school counselor from Brawley who still has a 760 area code cellphone even though she hasn't lived there in 20 years.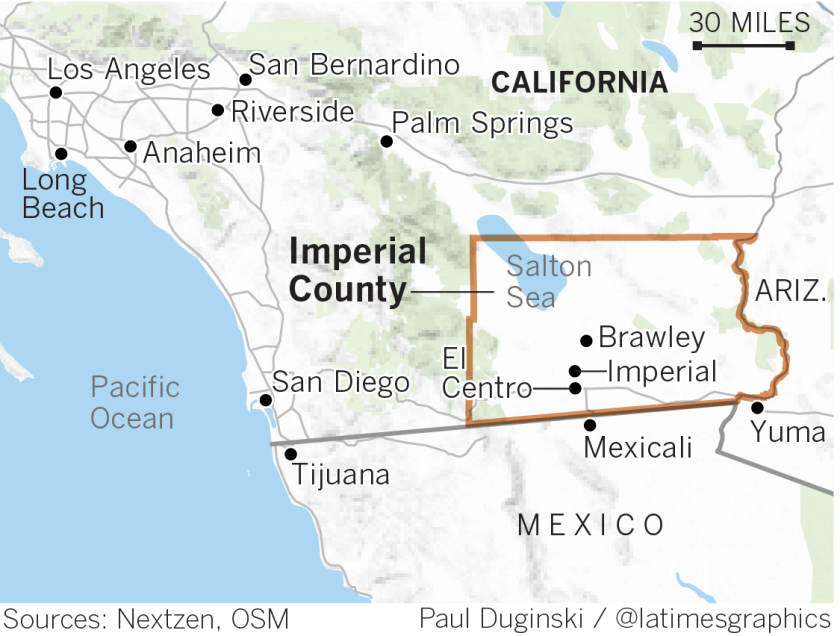 "My friends from the coast always say: 'How do you guys live down there? It's too hot!'" added Ruby Palomino, owner of Johnny's Burritos, a beloved Imperial Valley chain.
Ruiz's Mexican heritage and improbable rise — a high school dropout, he got the fight against Joshua with only four weeks' notice after the original opponent failed a drug test — have been the main story lines chronicled by the national and international press. They're important to valley residents, of course.
But many around here want outsiders — and that includes other Californians — to consider something else they say Ruiz personifies: the hard knocks in which Imperial Mexicans not only endure but thrive.
Especially when no one seems to know who they are.
The last time so much positive outside attention fell on the Imperial Valley was 2012, when another Mexican American athlete, baseball reliever Sergio Romo of Brawley, helped the San Francisco Giants win the World Series.
Brawley gave Romo the key to the city during a high school football game.
On June 22, Imperial gave Ruiz a parade and rally. Those expecting to see an outpouring of cultura — say, Aztec dancers, or a deafening banda sinaloense — were left wanting.
Though there was a mariachi accompanied by baile folklorico dancers and charros, the event could've been a high school rally out of "Grease."
People feasted on French fries with melted white cheese and a tangy avocado sauce, a valley dish so iconic that a bobblehead of the Johnny's Burritos mascot holds a container of them. Imperial High School's cheer squad did routines; El Centro's Central Union High School's drum line pounded out football standards. DJs leaned more on Lil Nas X and Bruno Mars than Los Tigres del Norte or Vicente Fernandez.
The few flashes of the Mexican tricolor flag were mostly on the multiple styles of Andy Ruiz T-shirts that fans wore.
For Yerena, who drove down from Los Angeles to see the parade, the muted mexicanismo on display was quintessential Imperial Valley.
"Most of the folks here are going to be very friendly and nice, but very apolitical," he said. "They just want to survive and hang out with their family and drink some beers and make some carne asada. Chicanismo is, like, for other places."
Even Border Patrol agents on bicycles from the El Centro station zipped around the fiesta with smiles. No one booed or made a fuss about it.
"People are going to know where we're at now," said Adrian Guillermo-Barrera, who set up lawn chairs for his family three hours before the start of the parade and rally. "We're not just between San Diego and Arizona."
Outside Donut Avenue, where the owner tacked a picture of Ruiz to a box of Takis chips, 17-year-old nationally ranked lightweight Yahaira Valenzuela said that Ruiz's triumph would help change the attitudes of young people like her.
"People from outside always say how the valley is not known, so those of us from here would feel down," she said. "But not after this."
Such a new narrative especially excites Martha Garcia. The daughter of migrant workers who toiled in the Imperial Valley's fields, she was the first in her family to earn a doctorate and is the first female superintendent-president of Imperial Valley College, from which she graduated.
"We're known for all these barriers that hinder our [Mexican American] youth," Garcia said. "But I think what's important to convey to others is that they're drivers for a community like this one to thrive."
Although the Mexican and American national anthems were played during the rally, nearly all of the words spoken by politicians, Ruiz's relatives and others were in English. Ruiz himself didn't offer much beyond platitudes about never giving up and following one's dreams.
No bold defense of Mexican immigrants, the way Romo did in 2012 when he wore a T-shirt during a San Francisco parade that read "I Just Look Illegal." No verbal grenades against President Trump.
It didn't matter.
"I love all the Imperial Valley, man," Ruiz told his fans.
Afterward, some attendees dreamed out loud about how the valley might build off Ruiz's triumph.
Sergio Garcia, 33, imagined a tourism industry based on what Philadelphia established from the "Rocky" franchise. He dreamed of money from it being used to train homegrown fighters and establish the Imperial Valley as a boxing mecca.
"It creates opportunities for us," he said. "The moment right now is great, but it's the future that has me excited."
As Ruiz walked away, Imperial Mayor Robert Amparano — who just minutes before had presented the boxer with the keys to the city — looked on and beamed. The valley had a champ.
"People can't look at us as just a hot place anymore."
Twitter: @GustavoArellano
---
The stories shaping California
Get up to speed with our Essential California newsletter, sent six days a week.
You may occasionally receive promotional content from the Los Angeles Times.