Memo to prosecutors in Camp fire: Convicting a company of murder is easier said than done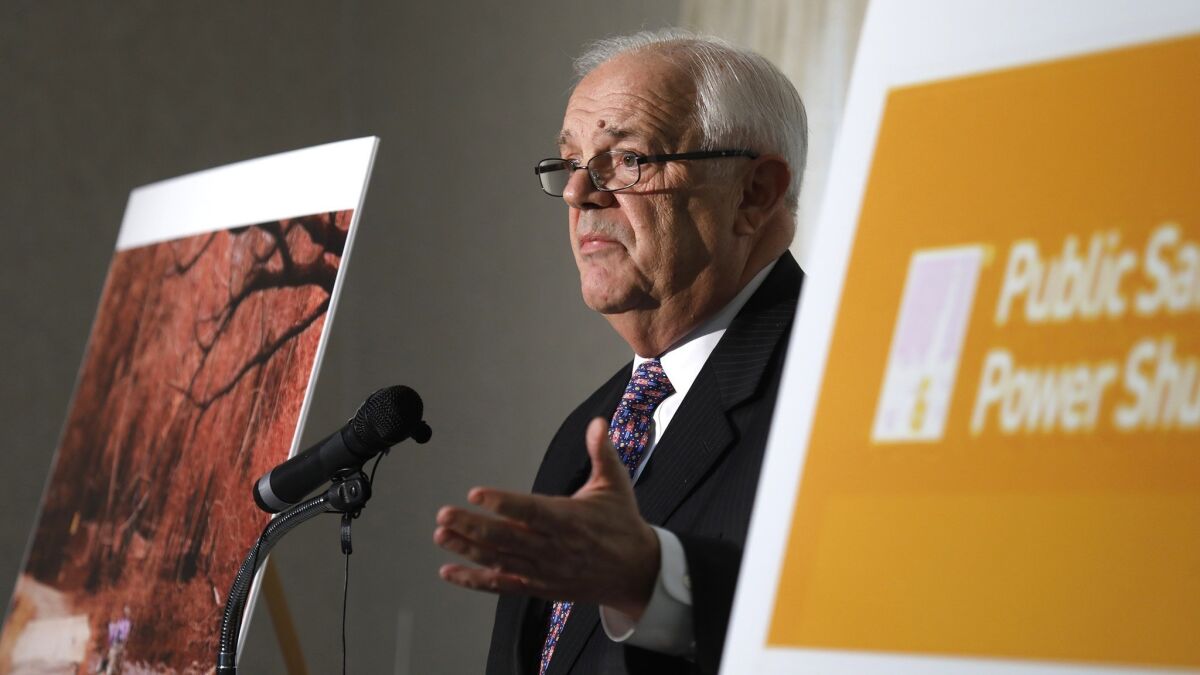 How hard is it to convict a company of murder?
Hard enough that a Riverside County judge in 2016 tossed out a murder indictment against a drug and alcohol rehab corporation in the death of a patient.
Hard enough that three Chicago-area executives found guilty in the 1985 on-the-job cyanide poisoning death of a worker had their convictions thrown out.
Hard enough that the owners of a nightclub where the worst fire in Rhode Island history occurred were allowed, in 2006, to plead no contest to 100 counts of involuntary manslaughter.
And now California prosecutors must decide whether to file murder charges against Pacific Gas & Electric Co. in the Camp fire, which killed 86 mostly elderly men and women and decimated the Sierra Nevada city of Paradise.
In a court filing Dec. 28, Atty. Gen. Xavier Becerra's office outlined the charges that the utility could face if it were found responsible for California's deadliest wildfire. Murder, the most severe option, is at one end of a legal spectrum that includes involuntary manslaughter and has, at its other end, "misdemeanor offenses related to vegetation and power lines."
The cause of the Nov. 8 blaze, which displaced 52,000 people and destroyed more than 13,900 homes, is under investigation. More than a score of civil lawsuits have been filed against the San Francisco-based utility as a result of the fire. Many more are expected.
In addition to the Camp fire litigation, PG&E is defending itself against civil suits stemming from more than 20 other wildfires that have ripped through Northern California since 2015 — killing an additional 46 people.
PG&E officials would not comment on possible charges stemming from the Camp fire. Spokesman James Noonan said in an email that the utility's "most important responsibility is public and workforce safety, and our focus continues to be on assessing our infrastructure to further enhance safety and help protect all of the customers we serve from the ever-increasing threat of wildfires."
But three weeks after the Camp fire, the California Public Utilities Commission ordered PG&E to implement a list of recommendations to "improve its safety culture and operations." The recommendations stemmed from the 2010 gas pipeline explosion that killed eight people and leveled a San Bruno neighborhood. In that case, PG&E was found guilty of five felony counts of pipeline safety violations and one felony count of obstruction. The company is still on probation.
"We continue to have concerns about whether PG&E truly is changing its culture or is just trying to 'check the boxes,' " the PUC's Nov. 29 order said. "The Commission wants PG&E to have a genuine and effective safety culture that permeates the organization, not just a thin veneer or window dressing that superficially looks good but fails under stress."
On Dec. 14, the PUC began considering penalties against PG&E after a staff investigation showed the utility had falsified gas pipeline safety records between 2012 and 2017.
The independent San Bruno incident report in particular "is very bad for them," said Rena Steinzor, a professor at the University of Maryland School of Law and author of "Why Not Jail? Industrial Catastrophes, Corporate Malfeasance, and Government Inaction."
In an interview, Steinzor noted a similar case in which an independent panel headed by former Secretary of State James A. Baker III in 2007 found oil and gas giant BP had a failed corporate culture that put profits before safety.
The report came out between a 2005 refinery explosion in Texas City, Texas, that killed 15 workers and the 2010 Deepwater Horizon explosion that killed 11. BP pleaded guilty to manslaughter in 2013 and agreed to a record settlement of nearly $20 billion paid to the states affected by the oil spill, as well as record fines.
"I'm not pretending this is easy," Steinzor said of prosecuting corporations and their executives after disasters."Defendants look like the judge. Prosecutors don't like to lose. And the cases are tricky, not least because you have a battalion of suits on the other side."
Defense attorneys, Steinzor said, "would be throwing themselves all over the place about how outrageous [the prosecution] is; these people are working so hard to keep the lights on."
Andrea Roth, a professor at UC Berkeley's law school, said it was unusual for prosecutors to file a murder charge in cases where a fire was unintentional. Involuntary manslaughter is much easier to prosecute because it is not necessary to show intent, or to prove the company was aware of any risk a fire could occur.
Still, Roth said, she is not surprised that the attorney general's office would consider filing a murder charge.
"When 86 people die and we don't yet know the extent of the corporation's knowledge," she said, "it seems completely predictable that the AG would keep murder charges in the mix as a possibility.
"The concept of 'usual' is meaningless in this context," Roth added. "Some of this is uncharted territory."
One thing is clear to Frank Pitre, an attorney who was involved in the San Bruno litigation and filed suits against PG&E after the Camp fire.
"A corporation that's a six-time convicted felon on probation that has continuing issues with complying with the law, and now you have the Camp fire cases and 86 dead," he said. "If there's ever going to be a case where there's going to be a prosecution — and it's still early — boy, this is the one that will stick."
The only question, he said, is whether prosecutors, when considering charges, will be able to pinpoint a particular decision and the specific person who made it. In that case, an individual could be charged and ultimately jailed if found guilty.
"That's the critical inquiry if you're going to send someone to jail," Pitre said. "If it's fines, penalties, that's a no-brainer. There will be a significant, monumental fine against PG&E. There is no question in my mind."
The stories shaping California
Get up to speed with our Essential California newsletter, sent six days a week.
You may occasionally receive promotional content from the Los Angeles Times.