Tour bus crash that killed 13 underscores gaps in safety regulations
Jennifer Ruiz, 26, attends a vigil in Los Angeles for her mother, Rosa "Rosalba" Ruiz, who was one of 13 people killed in the tour bus crash in Desert Hot Springs.
(Gary Coronado / Los Angeles Times)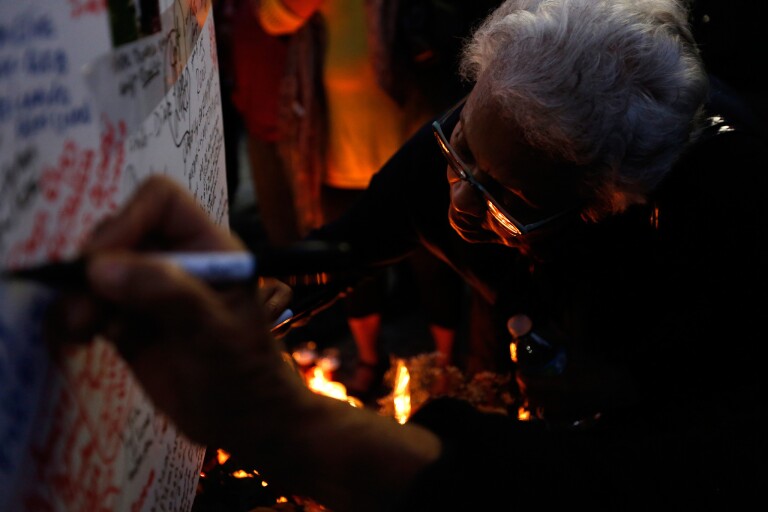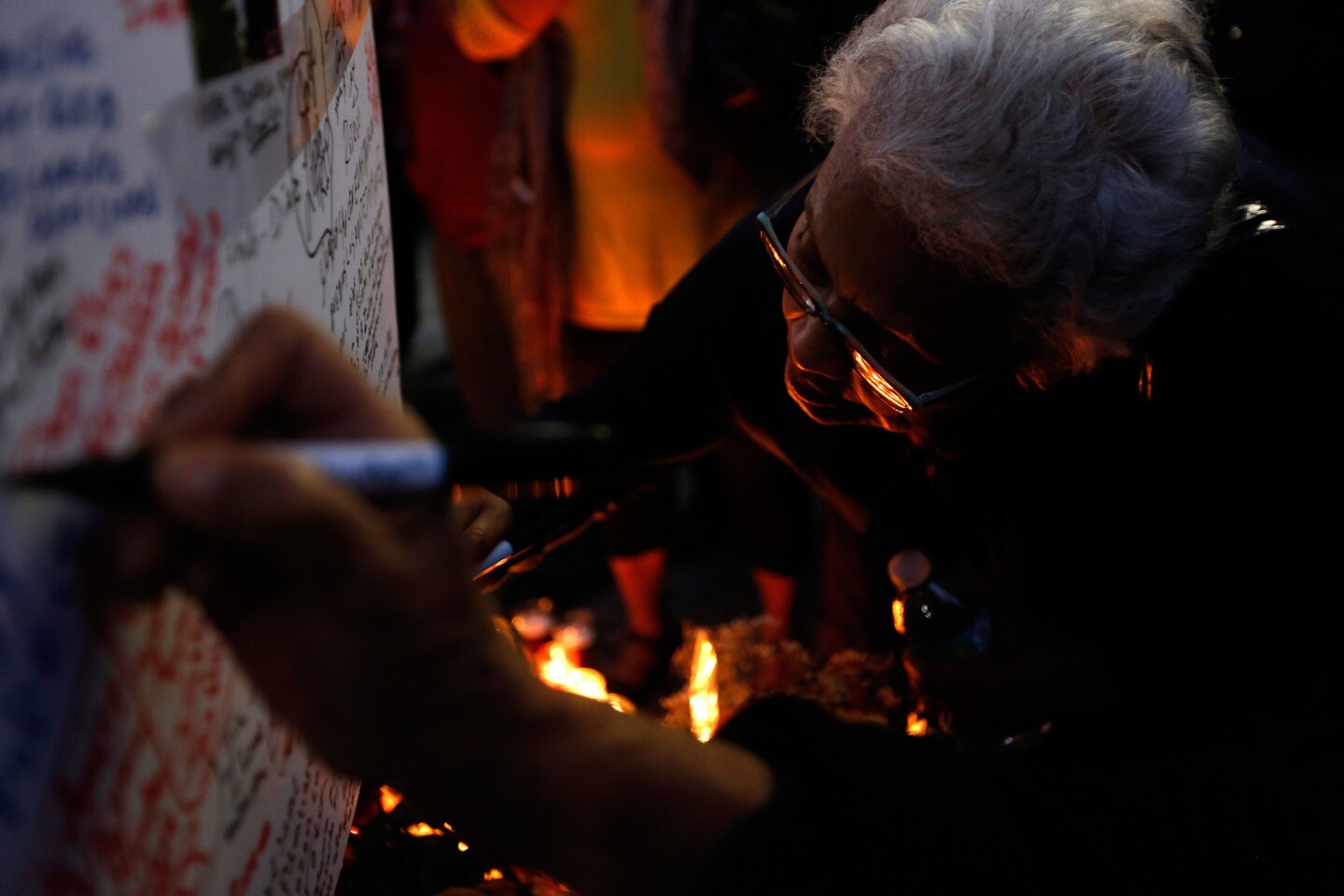 Felipa Martinez leaves her condolences while attending a Los Angeles vigil for the victims of the tour bus crash in Desert Hot Springs.
(Gary Coronado / Los Angeles Times)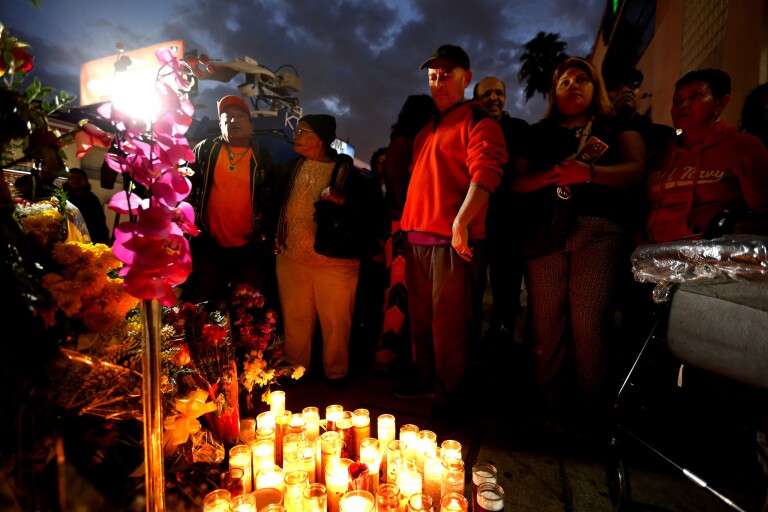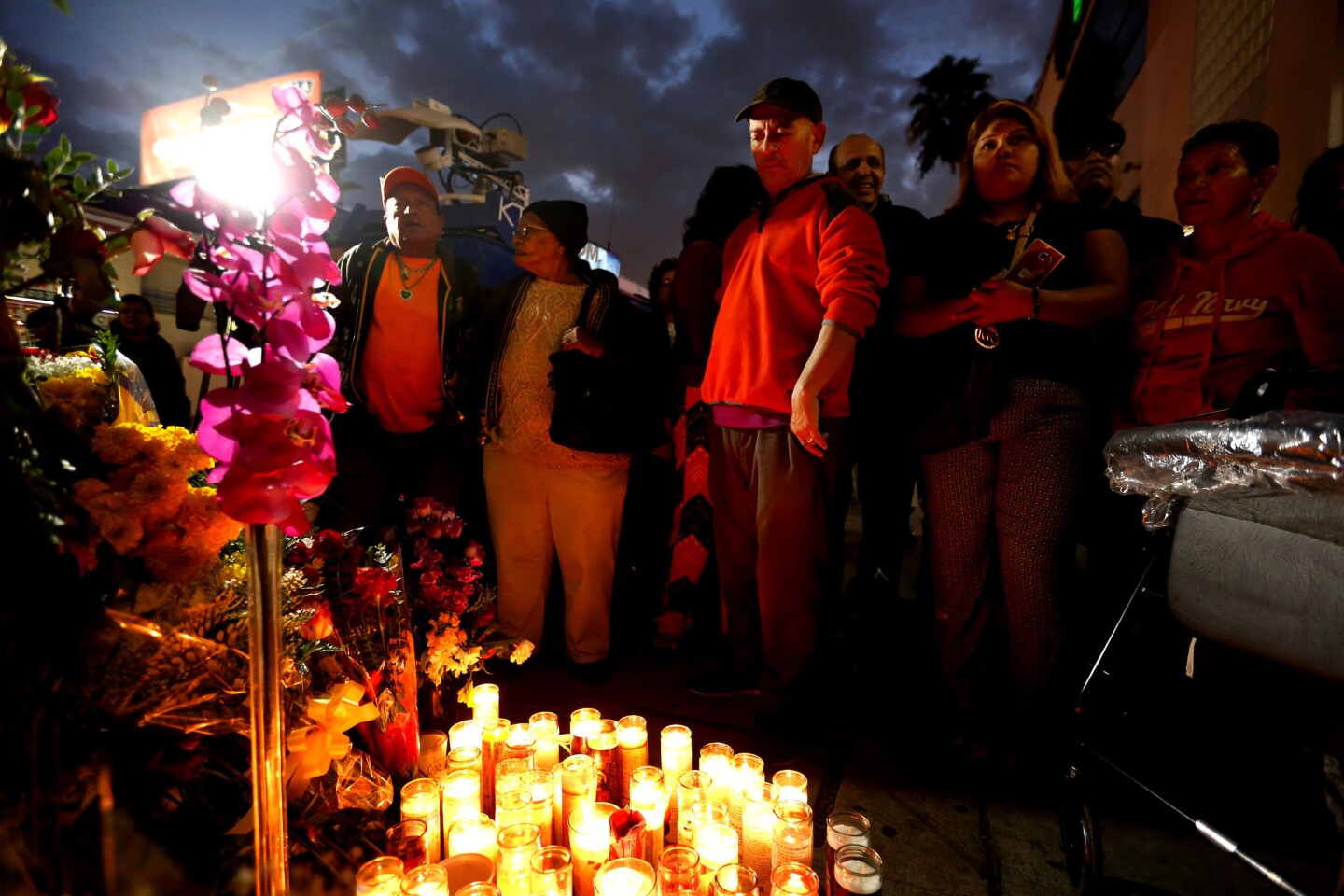 Friends and neighbors attend a vigil for the victims of the tour bus crash at the corner of Olympic Boulevard and Vermont Avenue in Koreatown, where the bus was supposed to return.
(Gary Coronado / Los Angeles Times)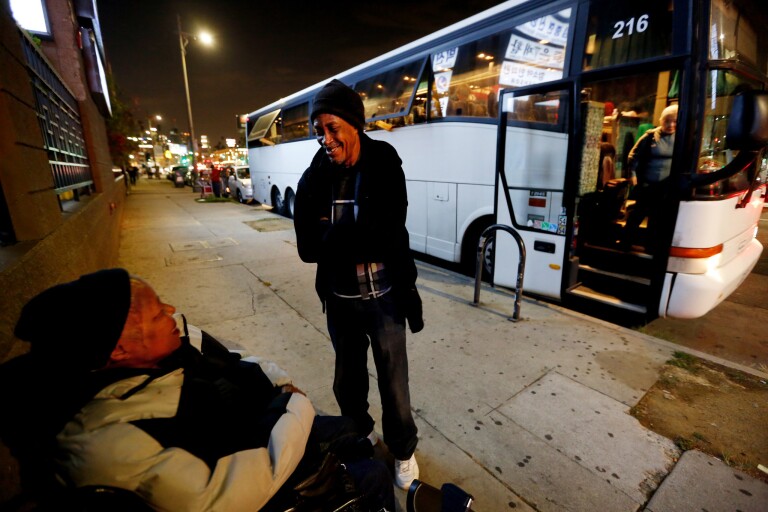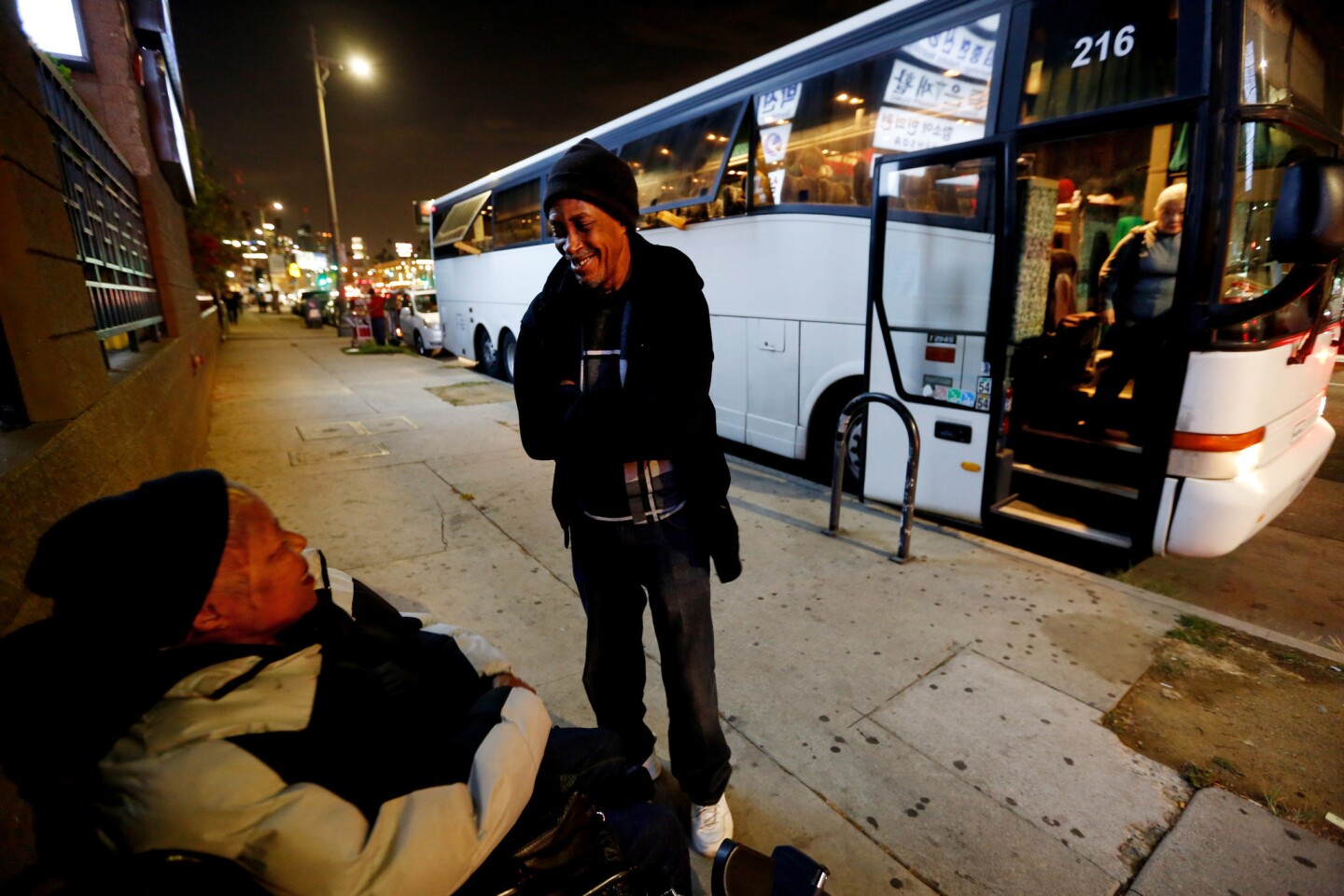 Rita Roden, left and fiance Darryal Molett, wait to board a QH Express bus headed for Pala Casinoas a vigil for the crash victims is held nearby.
(Gary Coronado / Los Angeles Times)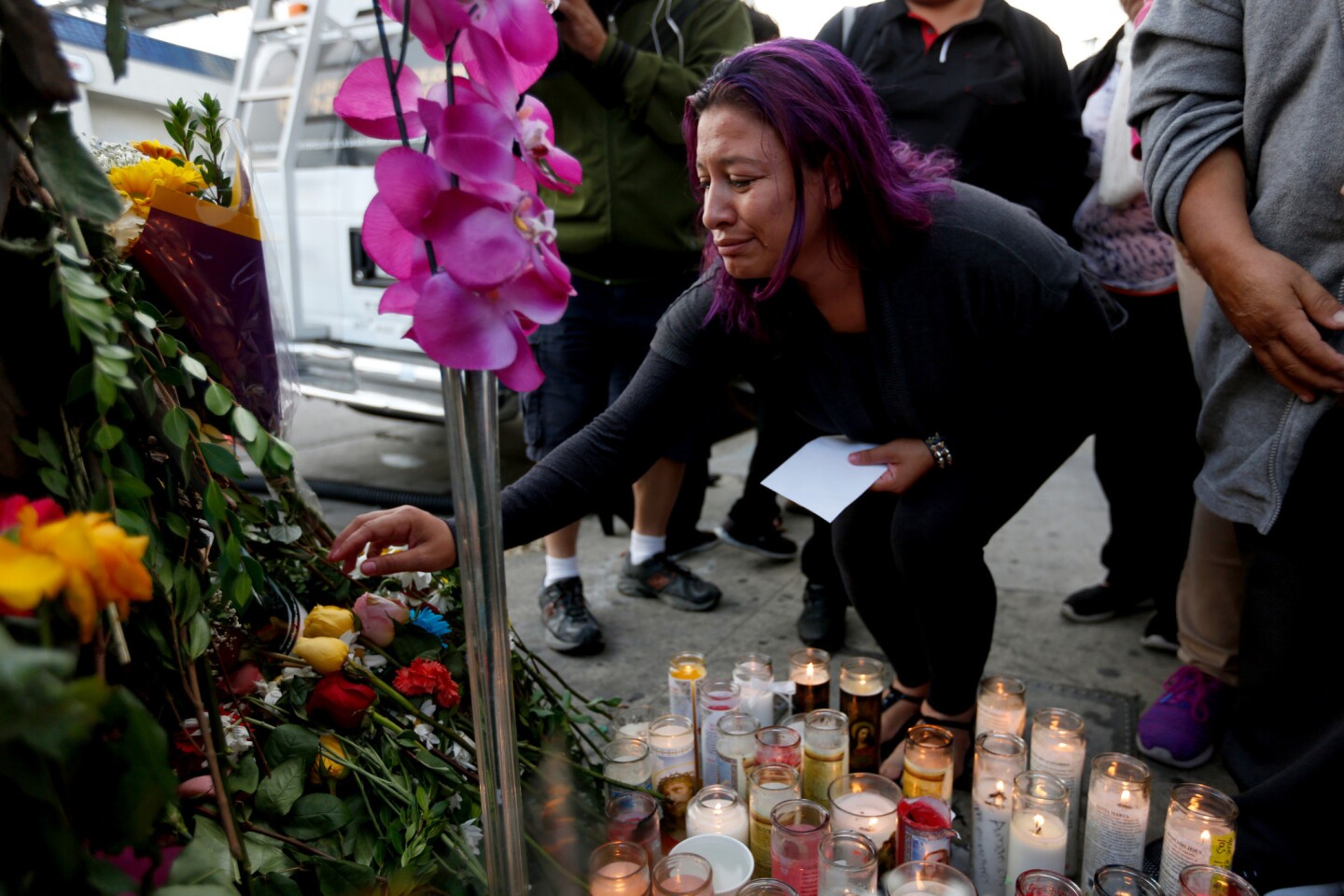 Jennifer Ruiz, 26, attends a vigil for her mother, Rosa "Rosalba" Ruiz, a victim of the crash.
(Gary Coronado / Los Angeles Times)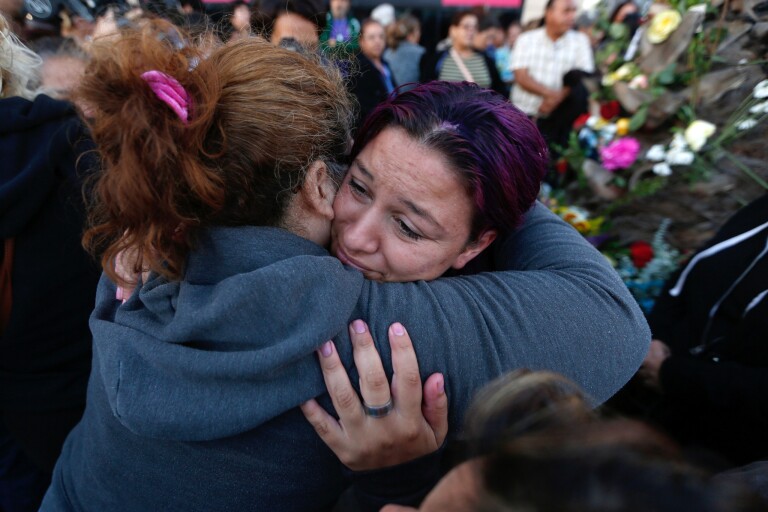 Jennifer Ruiz, 26, hugs a supporter at a vigil for her mother, Rosa "Rosalba" Ruiz, and the other victims of the bus crash.
(Gary Coronado / Los Angeles Times)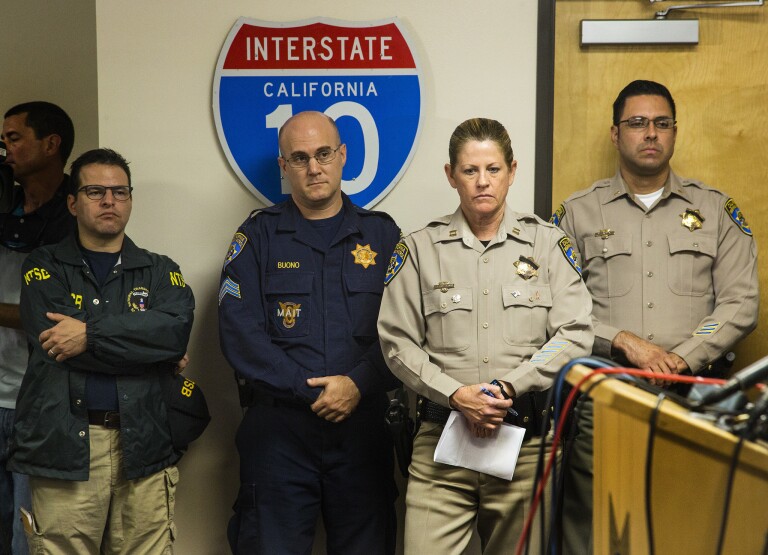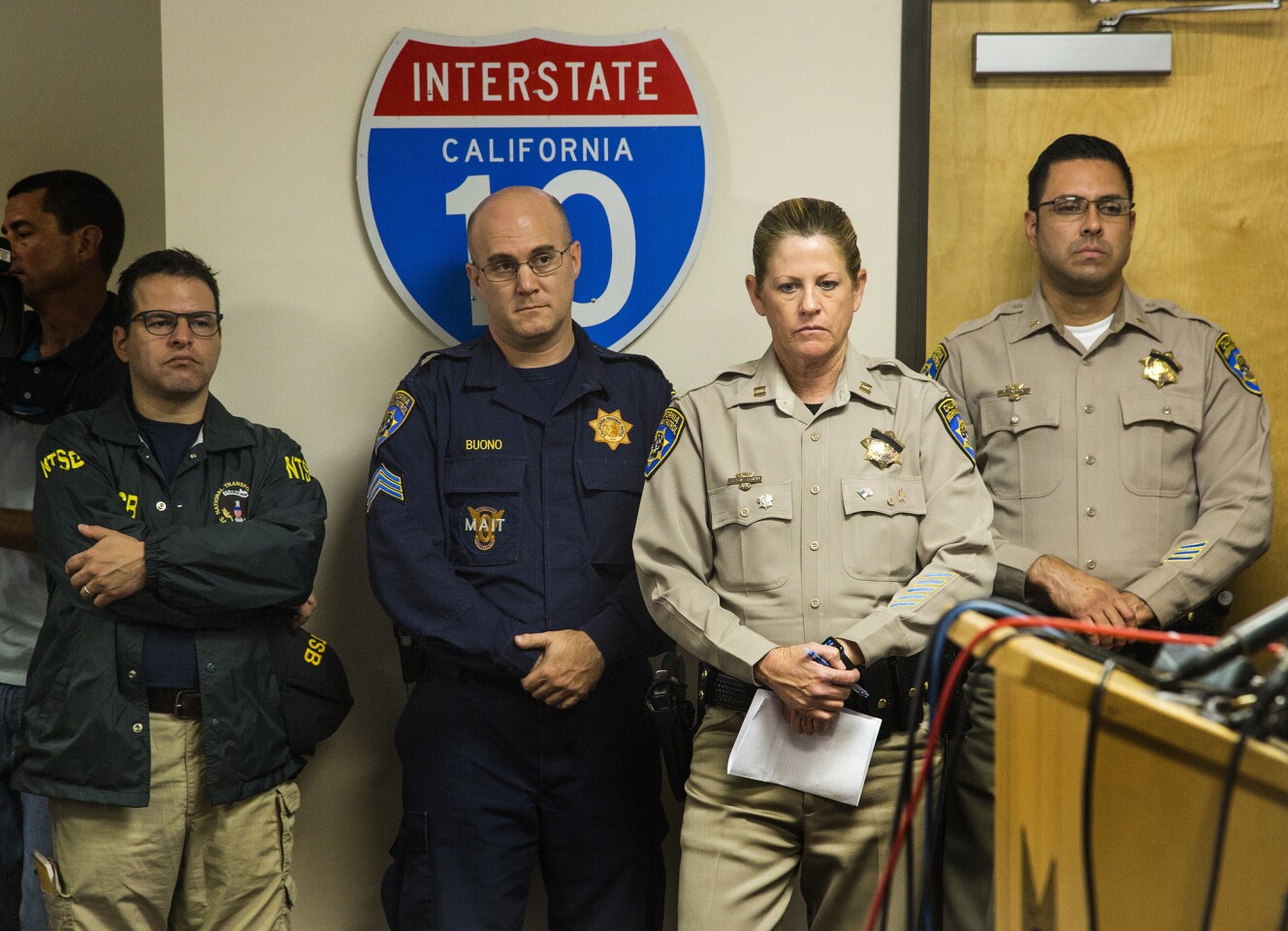 California Highway Patrol and National Transportation Safety Board officials at a news conference Monday about the crash investigation.
(Gina Ferazzi / Los Angeles Times)
California Highway Patrol Border Division Chief Jim Abele, right, and Earl Weener of the National Transportation Safety Board speak at a news conference Monday.
(Gina Ferazzi / Los Angeles Times)
Jose Ramirez, who said he had planned to go to the casino on the USA Holiday tour bus but changed his mind, visits a memorial for the crash victims.
(Al Seib / Los Angeles Times)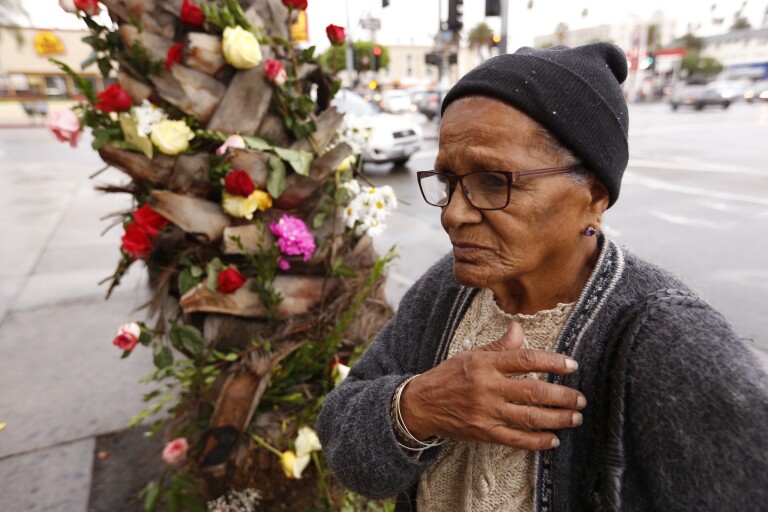 Rosa Cabello crosses her heart as she says a blessing at a memorial for the crash victims.
(Al Seib / Los Angeles Times)
Gabriel Urano, who drives an 18-passenger van to the casinos, places a St. Christopher medal on a memorial for the victims of the tour bus crash.
(Al Seib / Los Angeles Times)
Authorities said 13 people were killed and 31 injured Sunday morning when a tour bus crashed into the back of a big rig near Palm Springs.
(Gina Ferazzi / Los Angeles Times)
The bus struck the rear of a tractor trailer in Desert Hot Springs.
(Gina Ferazzi / Los Angeles Times)
The front of the bus was crumpled and the first few rows of seats were completely crushed, a witness said.
(Gina Ferazzi / Los Angeles Times)
Broken bus seats and other debris is removed from the scene.
(Gina Ferazzi / Los Angeles Times)
A tow truck driver drags a broken bus seat away.
(Gina Ferazzi / Los Angeles Times)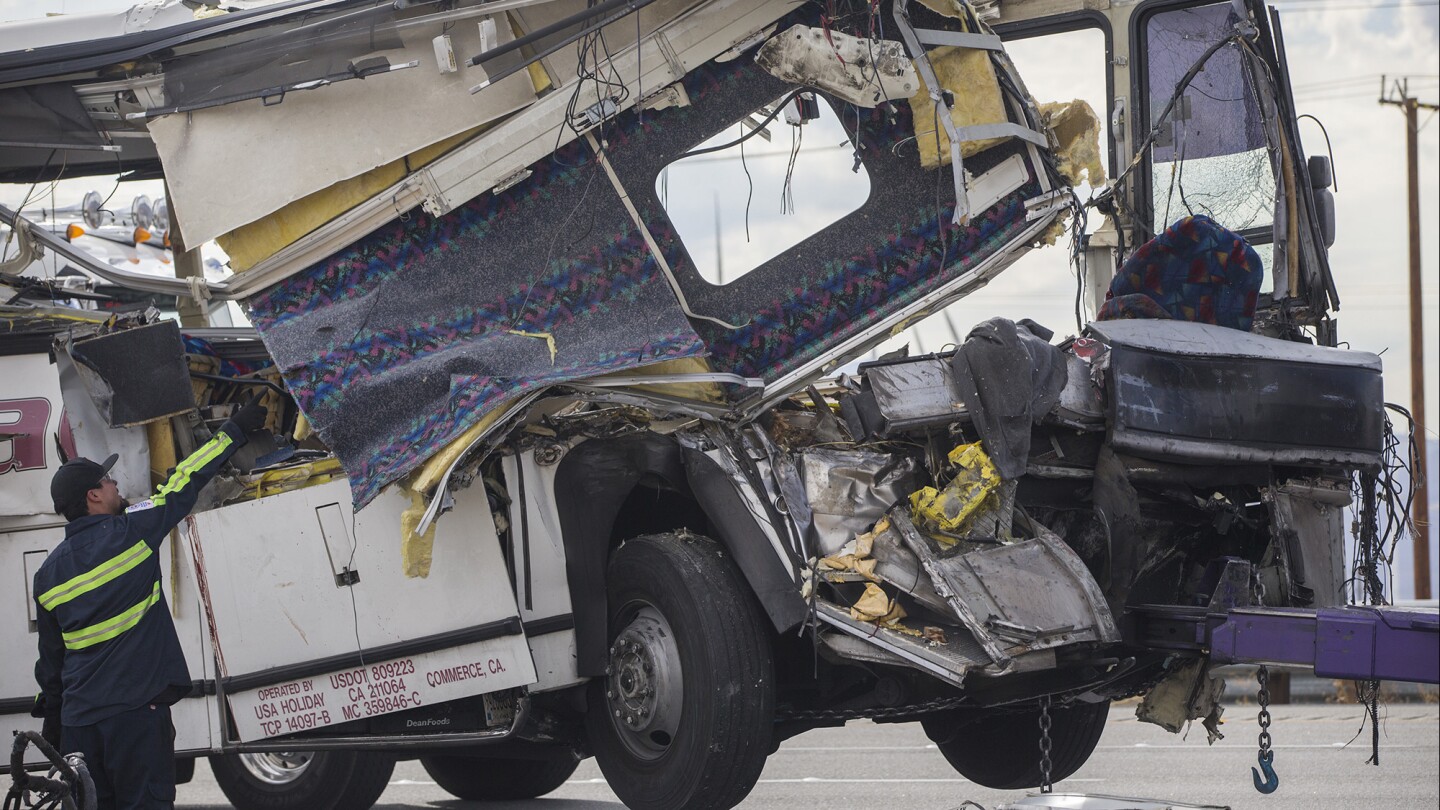 Shortly after the wreck, which occurred just after 5 a.m., firefighters used ladders to climb into the bus to search for bodies and survivors.
(Gina Ferazzi / Los Angeles Times)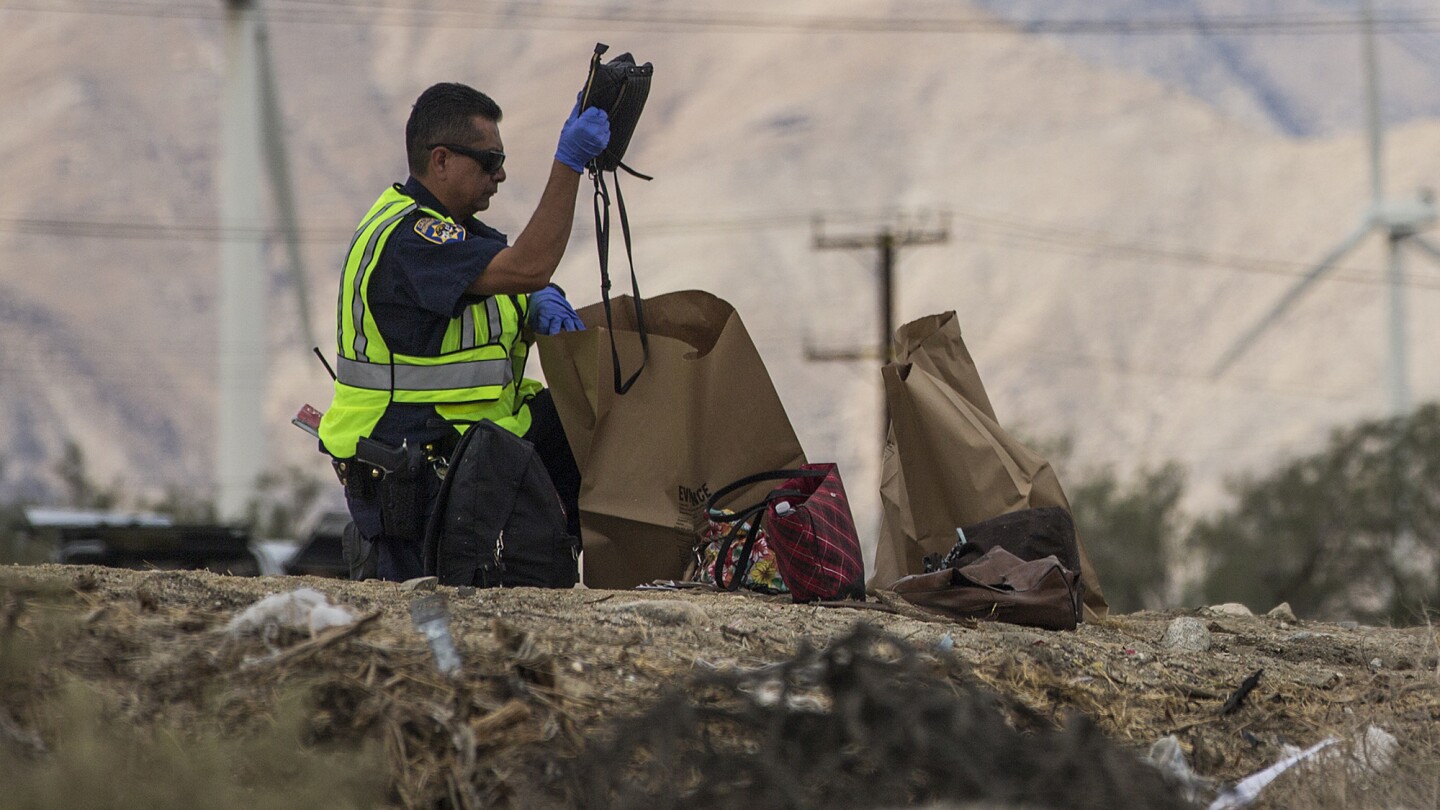 A CHP officer packs purses and backpacks into brown paper bags.
(Gina Ferazzi / Los Angeles Times)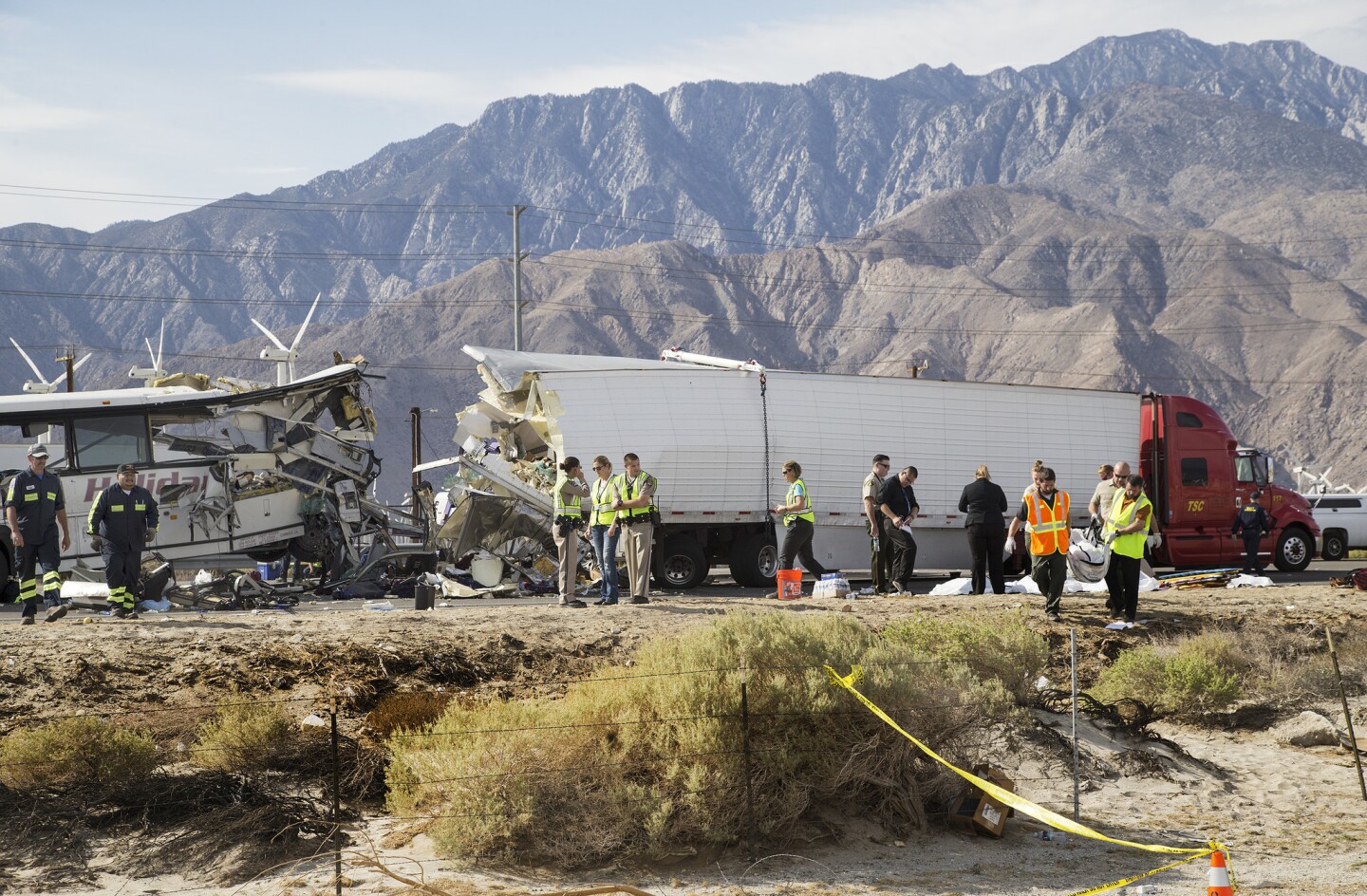 Bodies of victims are removed from the scene.
(Gina Ferazzi / Los Angeles Times)
The 43 people who headed out on a motor coach earlier this week to play slot machines at a Salton Sea casino likely had no idea they were betting their lives on what some consider an inadequate patchwork of federal and state protections.
These low-cost bus services have seen explosive growth as more casinos opened around the nation. But some safety experts argue that regulations and safety oversight have not kept up.

For the record:
3:53 a.m. June 30, 2022A previous version of this article said the bus driven by Teodulo Vides was on its way to a casino when it crashed. It was returning from a casino.
Even the most basic improvements are often slow in coming.
A rule requiring seat belts on newly manufactured buses that will go into effect next week, for example, was first proposed by safety experts after a horrific 1968 bus crash on I-15 near Baker that took 19 lives.
The bus that crashed into a truck on the way back from a casino on Sunday, killing 12 passengers and driver Teodulo Vides, did not have seat belts. Nor do thousands of other buses that will be on the road for years to come, because there is no requirement to install them.
"We don't invest into doing an adequate job to protect people from incidents like this," said Jim Hall, former chairman of the National Transportation Safety Board. "That individuals who ride buses are at lower income levels of our society concerns me. We should ensure that we have the same safety standards for everyone.
"There are two standards of safety for transportation in our nation, one for aviation and one for ground transportation. The level of safety for buses is inadequate."
The federal agency that regulates buses and trucks, the Federal Motor Carrier Safety Administration, has 1,140 employees to oversee 525,000 companies across the nation, relying largely on state law-enforcement teams to conduct inspections and hand out citations. About half of the agency's $600-million budget is sent to states to help pay for truck and bus inspections.
The U.S. Transportation Department's inspector general launched an audit of truck and bus safety last year, saying that investigations into a series of fatal crashes had disclosed that the motor carrier administration had failed to uncover any problems even though safety reviews had been conducted prior to the accidents, including one just five days earlier.
NTSB member Earl Weener disclosed this week an ongoing investigation into accidents involving casino buses, though the agency has yet to publish any data.
Representatives of the bus industry say such tragedies remain rare.
"The industry is highly regulated and well looked at," said Peter Pantuso, president of the American Bus Assn. "The tragedy we saw in California was unnerving for the industry to see. It is those one or two operators who slip through the radar and need more scrutiny."
Even small companies that have been family operated for generations pay close attention to safety, he said. As for the others: "It is hard for me to understand how they are allowed to still be on the road."
In 2014, 44 occupants of buses were killed in crashes, similar to other years over the past decade, according to motor carrier administration data. An additional 233 people in other vehicles or walking were killed in crashes with buses.
By contrast, although the two industries carry roughly the same number of passengers annually, no airline passengers were killed in the U.S. that year and few accidents involving major U.S. airlines have occurred over the last decade.
California accounts for some of the worst accidents in history. The worst case involved the 1963 crash of a freight train into a truck carrying migrant laborers in the Salinas Valley town of Chualar. Classified as a bus accident, it killed 32 and injured 25.
In the East Bay area in 1976, a bus carrying members of a school choir had a brake failure and plunged 22 feet, killing 29. In Northern California in 2014, a FedEx truck struck a tour bus carrying Los Angeles high school students, killing 10. In August, a bus was split in half after it struck a sign post in the Central Valley, killing 5.
The state's regulations on bus safety are nearly identical to the federal rules, except the state requires more frequent "self inspections."
State lawmakers this year approved a raft of bus safety bills in response to the state's bus accidents, including one in 2015 in which 20 people were injured when a tour bus crashed in San Francisco.
That bus had not been inspected by the CHP since a major retrofit and was not properly registered with the California Public Utilities Commission, according to Sen. Jerry Hill (D-San Mateo).
The CHP has been inspecting a sampling of each bus company's fleet once a year, meaning only about 30% of buses get inspections in any one year, he said. A new law written by Hill steps up surprise inspections by the CHP, requiring follow-up inspections within 90 days of unsatisfactory ratings.
Lt. Brian Goldhammer said the CHP has conducted routine annual inspections of 10,300 buses over the last 2½ years at bus terminals (including the homes that some small bus companies list as their terminals) and placed 341 of them out of service.
When a special CHP strike force does unannounced inspections, the number of problems discovered shoots up, he said. In that same period, roughly, 261 of the 2,966 buses inspected were out of compliance.
"With the terminal inspections, they know we are coming," he said. "They want to keep operating."
If any of the state's bus accidents had been aviation crashes, each would likely have triggered intense and long-lasting national scrutiny, said Katherine Harvey-Lee, an attorney at Baum Hedlund who has handled lawsuits against bus operators who haul gamblers to casinos.
"I don't think there is the political will to deal with bus safety," she said, adding that "the poor immigrant communities that use buses put less intense political pressure on the government for tough regulations."
The tour bus involved in the weekend crash in Desert Hot Springs had not failed an inspection since 2010, though NTSB accident investigators quickly found after the crash that some of the bus' tires were worn down below federal standards.
Vides, the owner of the bus, had been previously sued at least twice for negligence after collisions with vehicles, one of which resulted in three deaths. His company received at least six "unsatisfactory" ratings from the California Highway Patrol. Vides had also been cited in several counties for traffic violations.
Weener, the NTSB board member leading the investigation, said in an interview that determining a cause of the accident could take a full year and that so far no potential cause has been discarded, including mechanical problems, such as brake failure, or Vides — who was driving the bus and died in the crash — falling asleep, being distracted, or having a medical emergency.
Whatever the cause of the accident, it is already focusing attention on the cutthroat competition in the tour bus industry that shuttles patrons to casinos.
"In the commercial vehicle industry, there isn't a lot of profit, and to make money you have to do something different than everybody else," said Bill Focha, an accident reconstruction expert. "You do your own maintenance or drive more hours than you should, or use your tires long. If you can haul everybody to a casino for $5 a head and everybody else is charging $6, you'll get all the business."
The casinos essentially become partners with the bus drivers, in some cases paying them incentives for dropping off the gamblers, attorney Harvey-Lee said.
Weener of the NTSB noted that Vides provided the Red Earth Casino with a passenger manifest when he arrived.
Vides owned one bus, which he operated himself out of his home.
Vides' bus was a 1996 MCI. Such vehicles are offered for sale for about $25,000. Vides was charging $20 for the 322-mile round trip from Koreatown to the Red Earth Casino, operated by the Torres Martinez Cahuilla Indians.
Vides' federal registration indicates that in 2013 his bus was driven 68,780 miles — enough to make more than 200 trips out to the distant casino or many others that operate nearby.
Times staff writer Patrick McGreevy contributed to this report.
Follow me on Twitter @rvartabedian
---
The stories shaping California
Get up to speed with our Essential California newsletter, sent six days a week.
You may occasionally receive promotional content from the Los Angeles Times.