California fire: Mourners gather at Chico church to pray for Camp fire victims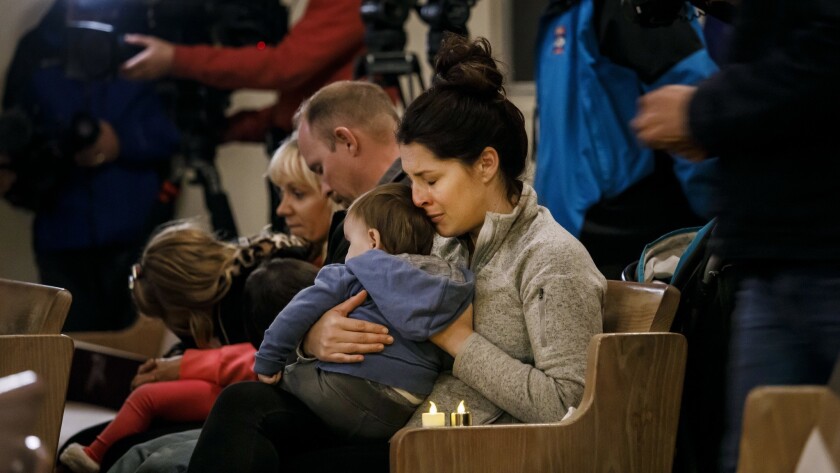 Reporting from Chico, Calif. —
They came to pray and mourn and connect, to sing hymns and hug friends and cry.
For three hours beginning late Sunday afternoon, survivors of the ferocious Camp fire filed into the First Christian Church of Chico to grieve as one.
At first they numbered around 50, with more arriving as the vigil continued.
They prayed for the dead, a list that stood at more than 70 and grows every day, as more remains are identified.
Also for the first responders — the thousands of men and women who put themselves in the path of danger even as many lost their own homes in the deadliest wildfire in California history, noted Jesse Kearns, pastor of First Christian.
"We ask for their continued strength, as they are growing weary," Kearns prayed. "When they do get sleep, their sleep is disturbed by the memories of the things they have seen. We lift up those who are in search of bodies in the Paradise area."
Some mourners walked to the altar to place mementos of those who died, or the battery-powered candles they were given as they walked in.
Jacob Kliebe, pastor of Calvary Chapel Chico, prayed that the region's broken hearts are healed.
"As we reflect upon the last week and a half, our hearts are overwhelmed," he said. "And Father, we look to you now to guide us ... for those of us who are grieving incalculable loss, strengthen us and give us wisdom for the days ahead."
Those days promise to be long and difficult.
Paradise Mayor Jody Jones, who attended the vigil, said authorities have estimated that it will take at least two years for her city to begin to bounce back — one year to clear debris from the thousands of structures that burned and another to build.
She and her husband are now living in their motor home. So they can have a base of operations as the city comes back, they made an offer on a home in Chico on Tuesday, she said, and it is now in escrow.
"We've hugged and tried to support each other," Jones said as she left the vigil. "We're all in this together."
Michelle Rader, who lives in hard-hit Magalia, said that as far as she knows, her home is still standing. But she came to the vigil because a house is not the only thing destroyed in a fire.
"Many of my friends and co-workers and colleagues have lost their homes," she said. "I lost my workplace, which is something dear to my heart."
Rader is the office manager and a board member of the Gold Nugget Museum, which burned in the conflagration. One of the museum's docents died in the Nov. 8 disaster.
John Sedwick, she said, "was an amazing storyteller and historian. It is quite a loss. ... He grew up in Old Magalia and had many amazing stories to tell."
Twitter: @marialaganga
---
The perils of parenting through a pandemic
What's going on with school? What do kids need? Get 8 to 3, a newsletter dedicated to the questions that keep California families up at night.
You may occasionally receive promotional content from the Los Angeles Times.