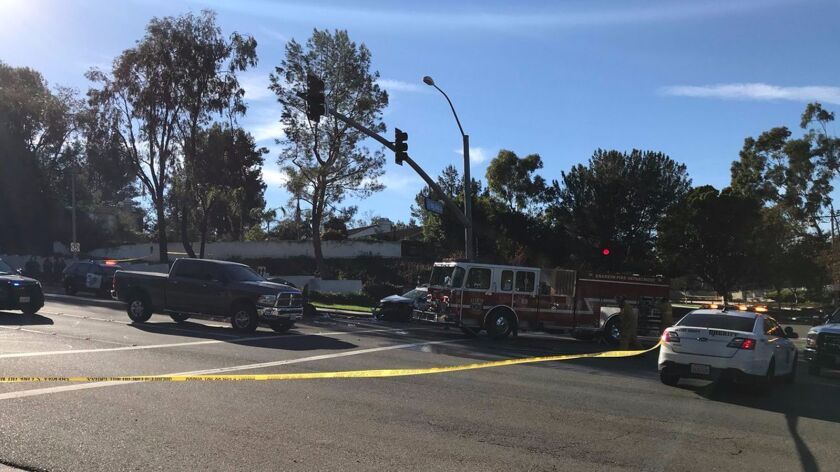 Two male suspects were killed Thursday afternoon when a pursuit involving Orange County sheriff's deputies ended in a collision at Imperial Highway and Big Sky Lane in Anaheim, authorities said.
Deputies responded about 12:40 p.m. to a report of suspicious activity in the 19000 block of Ridgeview Road in Villa Park, said Jaimee Blashaw, a spokeswoman for the Sheriff's Department.
The deputies made contact with the suspects, who fled in a gray Ford Focus, Blashaw and Anaheim Police Sgt. Daron Wyatt said.
During the four-minute pursuit, one of the suspects threw out a pillowcase that contained laptops and jewelry, Blashaw said.
As the suspects' vehicle headed north on Imperial Highway, it crossed into the southbound lanes and collided head-on with a Kia SUV, Wyatt said.
The driver of the Ford was pronounced dead at the scene. A male in the rear passenger seat was taken to a hospital, where he died. A female in the front passenger seat suffered non-life-threatening injuries.
Wyatt said the female driver of the Kia was taken to a hospital with minor injuries.
The names and ages of the suspects were not given.
No deputies were injured, Blashaw said.
The danger of police pursuits has received renewed attention in recent years. The Los Angeles County civil grand jury in recent months released a report emphasizing the importance of training for law enforcement in reducing the likelihood of crashes during pursuits.
A Times data analysis showed that 1 in 10 car chases initiated by the Los Angeles Police Department from 2006 to 2014 resulted in injuries to bystanders.
Times staff writer James Queally contributed to this report.
---