Yuli Gurriel's offensive gesture unleashes World Series debate about racism and political correctness
Reporting from HOUSTON —
The world was watching when Yuli Gurriel made a racially charged gesture during Friday's World Series game.
It came after a moment of triumph: The Houston Astros first baseman had just hit a home run off of Dodgers pitcher Yu Darvish. He returned to the Astros' dugout, where he put his fingers to the sides of his face and lifted the corners of his eyes — a "slanted eyes" gesture widely regarded as a racist mockery of Asians.
Gurriel also used the word "chinito," or "Chinese boy," in reference to Darvish, who is of Iranian and Japanese descent.
The episode, caught on video and repeated endlessly on television and social media, opened up a new heated conversation about race and identity in professional sports, which has already been grappling with NFL players taking knees during the national anthem.
Many found Gurriel's antics as juvenile and insulting as they were sadly familiar.
"It just felt like, 'Man, again?' Like, we're so used to this," Jason Chu, a Chinese American rapper based in Los Angeles. "People don't even pause. They think that this is acceptable, socially, to target Asian Americans in this way, or Asians in general."
Chu said trash talk is a routine part of competition, but Gurriel's behavior was offensive because it mocked Darvish for being Asian.
Well-known Asian Americans, including Los Angeles chef Roy Choi and actor Daniel Dae Kim, spoke out against Gurriel. Kim pointed out that the Gurriel incident was not the first time that slurs and stereotypes have been used against players in Major League Baseball.
"Maybe Gurriel will change that," Kim said in a tweet to a Times reporter.
On Saturday, Gurriel apologized for his behavior, saying in a statement that he made " an offensive gesture that was indefensible…. I deeply regret it. I would particularly like to apologize to Yu Darvish, a pitcher that I admire and respect."
Major League Baseball acted swiftly: Gurriel will be suspended without pay for five games at the start of the 2018 season and will have to undergo sensitivity training. He won't miss any games in the World Series.
Commissioner Rob Manfred announced the suspension Saturday after he met with Gurriel before the Astros were to play the Dodgers in Game 4 of the World Series. There is precedent for such a suspension: Matt Joyce of the Oakland Athletics and Kevin Pillar of the Toronto Blue Jays each were suspended two games this season for using anti-gay slurs.
The controversy resonated in both Los Angeles and Houston, which are among the most racially diverse cities in the nation and have prided themselves as being melting pots that welcome immigration and celebrate tolerance. There was debate in both cities about how seriously Gurriel's behavior should be taken.
In Koreatown, Maria Rizo, who is Cuban American, said she didn't see anything wrong with it. "It's like saying African American or Hispanic," she said.
In Houston, Britny Cuellar and her husband said the gesture made them groan because they worried it would overshadow all the team has accomplished. Cuellar, a 27-year-old schoolteacher, was pushing their 2-year-old daughter in a stroller outside Minute Maid Park on Saturday, decked out in Astros gear.
"I just think he was being childish," she said of Gurriel. "I don't think he meant any harm from it."
Edmond Dair, a 55-year-old engineer who is Chinese and immigrated to the U.S. at age 10, stood outside the fan festival at Minute Maid Park in an Astros jersey. He said Gurriel's actions were "all in good fun" and that it wouldn't be a baseball game without controversy.
"It's a sports venue," he said. "We're not into political correctness."
Across the street from the park, two white men working for a Houston sports radio station who were broadcasting live said they were annoyed by the outcry. They said it was fueled by the national media.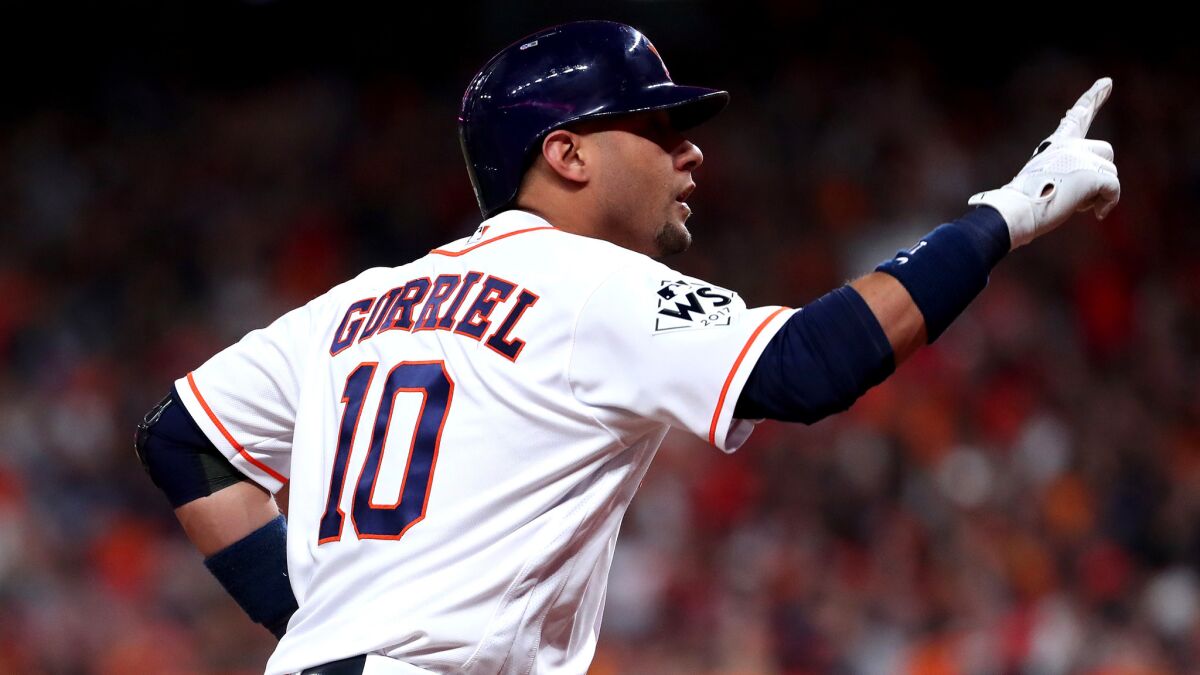 But for some people, what Gurriel did was something that couldn't truly be appreciated unless you were on the often barbed end of such actions.
In Little Tokyo, Kei Kuroyanagi, a native Angeleno who is Japanese American, said he was also called "chinito" growing up and learned to let it go. He said that as a professional athlete, Gurriel should be more educated about other cultures. But, he added: "Everyone's racist."
Nearby, Stephanie Cabrera, 28, said Gurriel should pay the price for his behavior.
"In 2017 everyone is a little sensitive -- or a lot sensitive," she said. "He should know better."
Darvish was born in Japan, to an Iranian father and a Japanese mother. He grew up in Japan and played there before coming to Major League Baseball in 2012.
Gurriel was born in Cuba and played there. He also played in Japan in 2014 before coming to Major League Baseball last year.
Darvish was widely reported to have called Gurriel's actions "disrespectful." Times columnist Dylan Hernandez, who speaks Japanese, said Darvish did not use that adjective in speaking with English-language reporters and that the translation had been improper.
Darvish said he saw Gurriel's gesture but was not angry with him about it. Instead, he said, he hopes the moment can be used as a lesson and a step forward.
"Personally, it doesn't really bother me," Darvish said. "But I'm sure the Astros have Asian fans, and there are a lot of Asian people all over the world, and to those people, from a humanistic perspective and as a baseball organization, I thought the Astros' image might suffer as a result."
After Darvish spoke with reporters on Friday, he posted a note on social media, expressing the hope that the Gurriel incident could serve as a learning experience.
"What he had done today isn't right, but I believe we should put our effort into learning rather than to accuse him," Darvish wrote about Gurriel. "If we can take something from this, that is a giant step for mankind. Since we are living in such a wonderful world, let's stay positive and move forward instead of focusing on anger. I'm counting on everyone's big love."
Some argued that for Gurriel, the gesture and epithet don't carry the same level of animus as they do in the U.S., with its record of violence against Asian Americans and other people of color.
Chu, the rapper, brushed that explanation aside.
"I like to give people credit, that they can be smart enough and empathetic enough and good enough human beings that they can figure out what hurts people and what doesn't," he said.
As for Gurriel, Chu added: "I'm sure he knows what it's like to be made fun of or stereotyped."
In explaining the incident, Gurriel said he was relieved to have hit the home run since he previously had struggled to hit Darvish.
"I was commenting how I hadn't had much luck with Darvish," Gurriel said. "I said I thought maybe they saw me as they did see themselves and I wanted to see if they would throw me a pitch like that."
Gurriel said he was aware that "chinito" is regarded as a slur among the Japanese.
"In Cuba and in various places, you don't say Japanese, you call all Asians 'chinitos,' " Gurriel said. "But I was in Japan and I know they are offended by that."
The Los Angeles Dodgers in the 2017 World Series
Branson-Potts and Shaikin reported from Houston, Khan and Castillo from Los Angeles.
ALSO
Dylan Hernandez: Some look askew at Yuli Gurriel's dugout squint
Bill Plaschke: Baseball, Manfred strike out on Gurriel's delayed suspension
Yuli Gurriel suspended five games, in 2018, for actions in World Series Game 3
---
UPDATES:
8:45 a.m. This story was updated with addition quote from Darvish.
Originally posted at 5 a.m.
The stories shaping California
Get up to speed with our Essential California newsletter, sent six days a week.
You may occasionally receive promotional content from the Los Angeles Times.