Hundreds gather to honor Noel Sparks, killed in Thousand Oaks mass shooting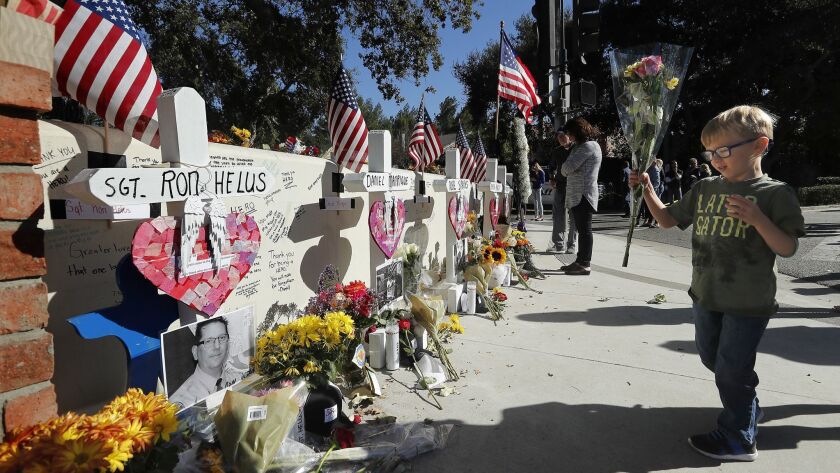 When Noel Sparks was born, in the summer of 1997, her parents decided to name her after her father's sister.
Sparks' aunt, Colette Noel Sparks, had died at age 16 in a house fire in Westlake Village. So in her memory, they called the baby Noel Colette Sparks.
Her mother, Wendy Anderson, immediately "felt like there was something unique and special about Noel," said Pastor Shawn Thornton at a memorial service held Tuesday at Calvary Community Church in Westlake Village.
On Nov. 7, Sparks, who was 21 at the time, was gunned down in a mass shooting in Thousand Oaks. She was one of 12 people slain that night at Borderline Bar and Grill.
Her parents, who sat in the front row of the service, want people to remember not how their only child died, said Pastor Gary Dickey, "but to remember how she lived in love."
Sparks' funeral, which drew hundreds of people, was particularly personal for church leaders: She sang at the church and led church youth groups and other activities.
Several pastors remembered Sparks as someone who volunteered to help with every activity. She was a church camp counselor. She baby-sat for church members. She always showed up.
"This life, 21 years long, it had a 200-year impact that ripples and lasts," Thornton said. "This is a life that I will not soon forget."
During the service, a slideshow displayed pictures of Sparks, who had bright blue eyes and curly hair. A little girl wearing angel wings, a kid lying on the floor smiling at a sleepover, a young woman belting out a song in the church choir.
Boxes of Kleenex had been placed at the end of the rows before the service began. Many were nearly empty by the end of the first hour of the funeral.
Sparks, a student at Moorpark College, loved singing, dancing, playing cello and making pottery. She never missed a chance to line dance at Borderline. Every speaker told of how giving she was, an "old soul," Dickey said.
She was especially kind to children and older adults. She wanted to sit with people and listen to their perspective, not change it.
Dickey wore a kilt to the service because Sparks always liked his kilts, he said. But she teased the pastor about playing the bagpipes.
Five years ago, she sent him a cartoon of a street musician who played the bagpipes. The sign in the cartoon behind the musician read, "Pay or I play." He had collected a lot of dollar bills.
"She said I could make more money not playing and that she was willing to start the fund," Dickey joked.
Deena Metzger, a writer who was friends with Sparks and her mother, said Sparks, who was home-schooled by her mother, was a gifted writer who could hold her own in discussions with published authors. Sparks believed in empathy and peace, she said.
Metzger said she thinks things could have turned out differently if Sparks had met the man who fired those shots Nov. 7. Ian David Long, who took his own life after killing 12 others, was a man who "went to war and suffered injury that drove him mad," Metzger said.
Sparks would have listened to him and known how to lead him to solace, she said. She would've brought him back to nature, encouraging him to swim and climb rocks.
"She would've listened to his unspeakable story and helped him heal," Metzger said.
At the end of the service, Dickey played his bagpipes, the nasal tone ringing loudly across the chapel.
While the rest of the room stayed seated, Sparks' parents and closest family and friends filed out of the chapel. The song Dickey played was called "Going Home."
soumya.karlamangla@latimes.com
Twitter: @skarlamangla
---
UPDATES:
3:30 p.m.: This article was updated with additional editing.
This article was originally published at 2 p.m.
---
The perils of parenting through a pandemic
What's going on with school? What do kids need? Get 8 to 3, a newsletter dedicated to the questions that keep California families up at night.
You may occasionally receive promotional content from the Los Angeles Times.