Pomona home where 8-year-old boy was killed was targeted in three other shootings, authorities say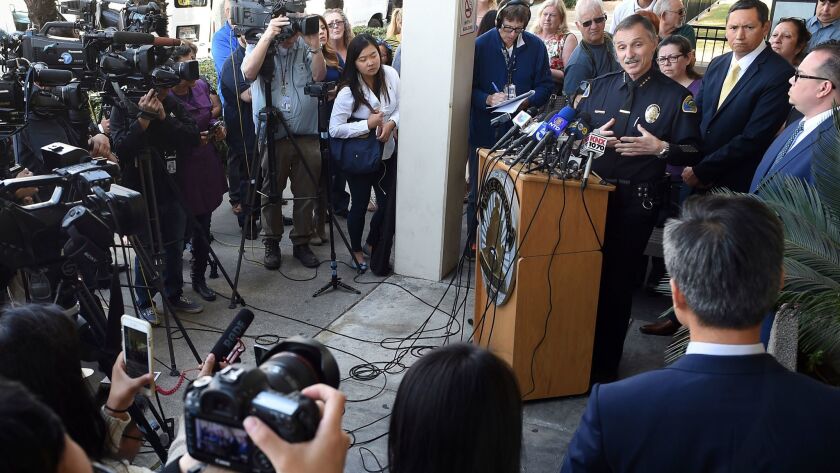 A day after a suspect was arrested in the fatal drive-by shooting of an 8-year-old Pomona boy, authorities said that the home where Jonah Hwang was killed had been the target of three other shootings this year.
"We believe they're connected just by evidence that we have collected," Pomona Police Chief Paul Capraro told reporters Monday. He declined to specify the type of evidence that had been gathered and said that it was still early in the investigation.
"I want the community to know that the members of this Pomona Police Department poured their hearts and souls into solving this crime," Capraro said. "We're a long way from getting to the end of things. We're going to see this through."
On Feb. 20, Jonah and his family were invited to dinner by friends who live in the 1100 block of West 11th Street. The adults and children were sitting in the living room when, just after 6:30 p.m., a car pulled up outside. Several gunshots were fired. Jonah was struck in the head.
In January, the homeowners found bullet holes at their residence. Drive-by shootings also took place March 7 just before 7 p.m. and March 25 about 7:15 a.m. The house was empty all three times.
After Jonah was killed, Capraro said his department "put resources in place designed to identify and capture the people or the person responsible." He would not comment on whether surveillance cameras were used but thanked multiple agencies for their help, including the FBI.
The investigation led officers to the vehicle believed to have been used in all four shootings.
Pomona police stopped the driver of that vehicle Sunday as he was leaving his home in an unincorporated area of Pomona.
Sengchan Houl, 35, was arrested without incident on suspicion of killing Jonah. He had a firearm in his possession that authorities believe was used in the shootings, Capraro said. Houl is being held on $2-million bail and is scheduled to appear Tuesday in L.A. County Superior Court in Pomona.
Capraro said Houl does not appear to have an extensive criminal history, and that the agency will release his photograph after talking to witnesses. Authorities are also trying to determine whether others were involved in the shootings.
Pomona Mayor Tim Sandoval cautioned that every individual has the right to due process, but said the city could rejoice knowing that someone had been arrested.
"Pomona lost a son," Sandoval said. "We lost a child, Jonah Wang, to a senseless shooting that left our city deeply saddened and pained.… We never lost hope in ultimately finding who committed this heinous crime."
Jonah was adopted about three years ago from an orphanage in Taiwan, according to a statement from his parents, Johnny and Karen Hwang.
They described their son as playful and loving, with an infectious smile.
"The devastation that we feel from this loss is unfathomable," they said. "Jonah was a light and joy in our household, and we cannot imagine our family without him."
The Hwangs said a fundraising page initially started by a family member to help with funeral costs will also be devoted to a scholarship fund in memory of their son.
ALSO
Bay Area highway shut down after drivers 'almost hit a flock of wild horses'
47 sickened at Christian campground in Yucaipa
Sanctuary city leaders vow to remain firm, despite threats from U.S. attorney general
---
The stories shaping California
Get up to speed with our Essential California newsletter, sent six days a week.
You may occasionally receive promotional content from the Los Angeles Times.