Stay away from romaine. A third of those infected in U.S. outbreak are in L.A. County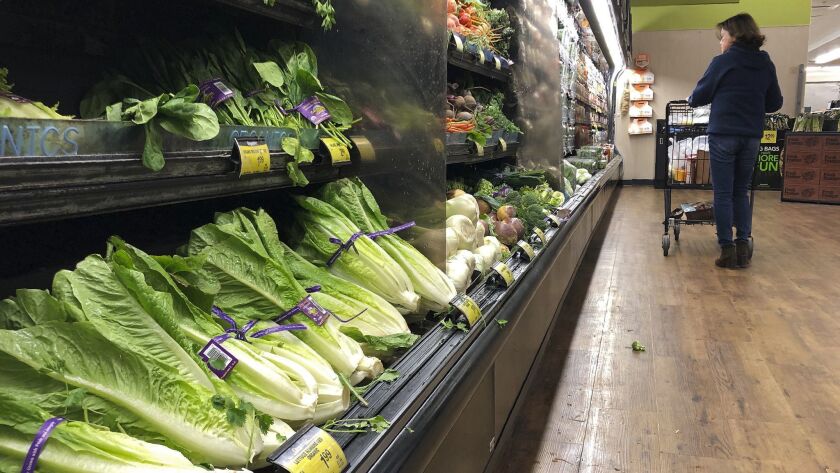 National health officials are telling Americans not to eat any romaine lettuce this Thanksgiving weekend — and for the forseeable future — because of a nationwide E. coli outbreak.
The advice is particularly urgent in Los Angeles County. According to local health officials, nine of the 32 E. coli cases diagnosed in the U.S. since October have been in L.A. County. There have been 10 cases total in California.
The U.S. Centers for Disease Control and Prevention is still searching for the cause of the outbreak. The L.A. County Department of Public Health is "working closely with CDC to investigate any possible connection between cases," according to a statement from the county health department.
Eight months ago, another outbreak of E. coli linked to romaine lettuce infected hundreds and killed five people. Officials believe that outbreak was caused by contaminated lettuce grown in Yuma, Ariz.
The CDC advised Americans this week to "not eat any romaine lettuce, and retailers and restaurants not serve or sell any, until we learn more about the outbreak." The warning applies to any form of romaine — whole heads, hearts, or chopped and mixed.
Most people who contract E. coli recover within a week. Symptoms typically begin three to four days after exposure and include severe stomach cramps, diarrhea and vomiting, but some victims can suffer kidney failure. Officials recommend contacting a doctor if the symptoms are particularly severe.
soumya.karlamangla@latimes.com
Twitter: @skarlamangla
---
The perils of parenting through a pandemic
What's going on with school? What do kids need? Get 8 to 3, a newsletter dedicated to the questions that keep California families up at night.
You may occasionally receive promotional content from the Los Angeles Times.