Winds put hundreds of homes in Montecito area in danger as Thomas fire rages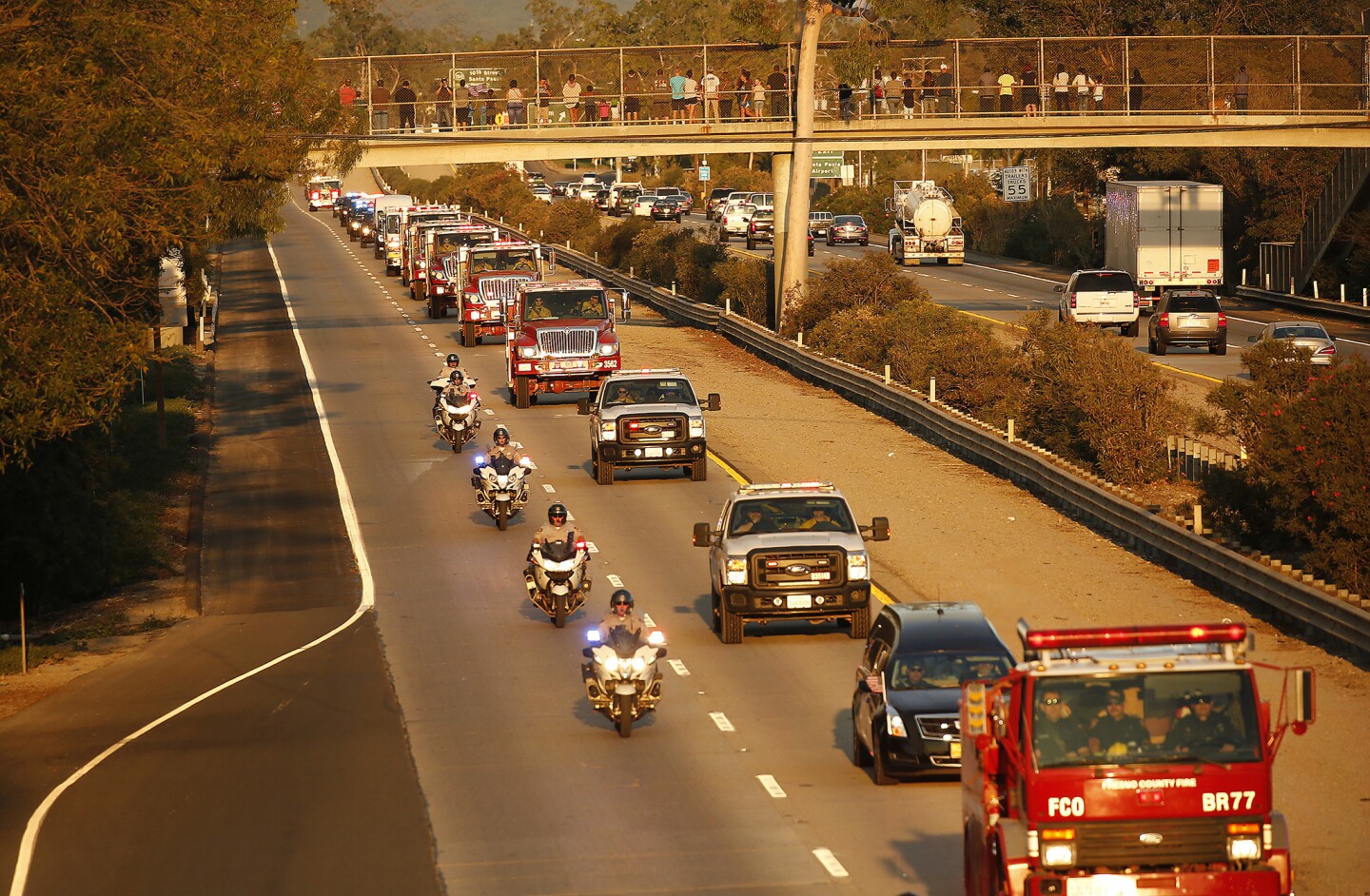 A motorcade proceeds down Highway 126 in Santa Paula carrying the body of firefighter Cory Iverson, 32, who died Thursday morning while battling the Thomas fire outside Fillmore.
(Al Seib / Los Angeles Times)
Santa Paula city officials, police and firefighters salute from a bridge as the motorcade passes on Highway 126 carrying the body of a fallen Cal Fire engineer.
(Al Seib / Los Angeles Times)
Santa Paula Police Chief Steven McLean, right, joins city officials, police and firefighters as the motorcade passes on Highway 126.
(Al Seib / Los Angeles Times)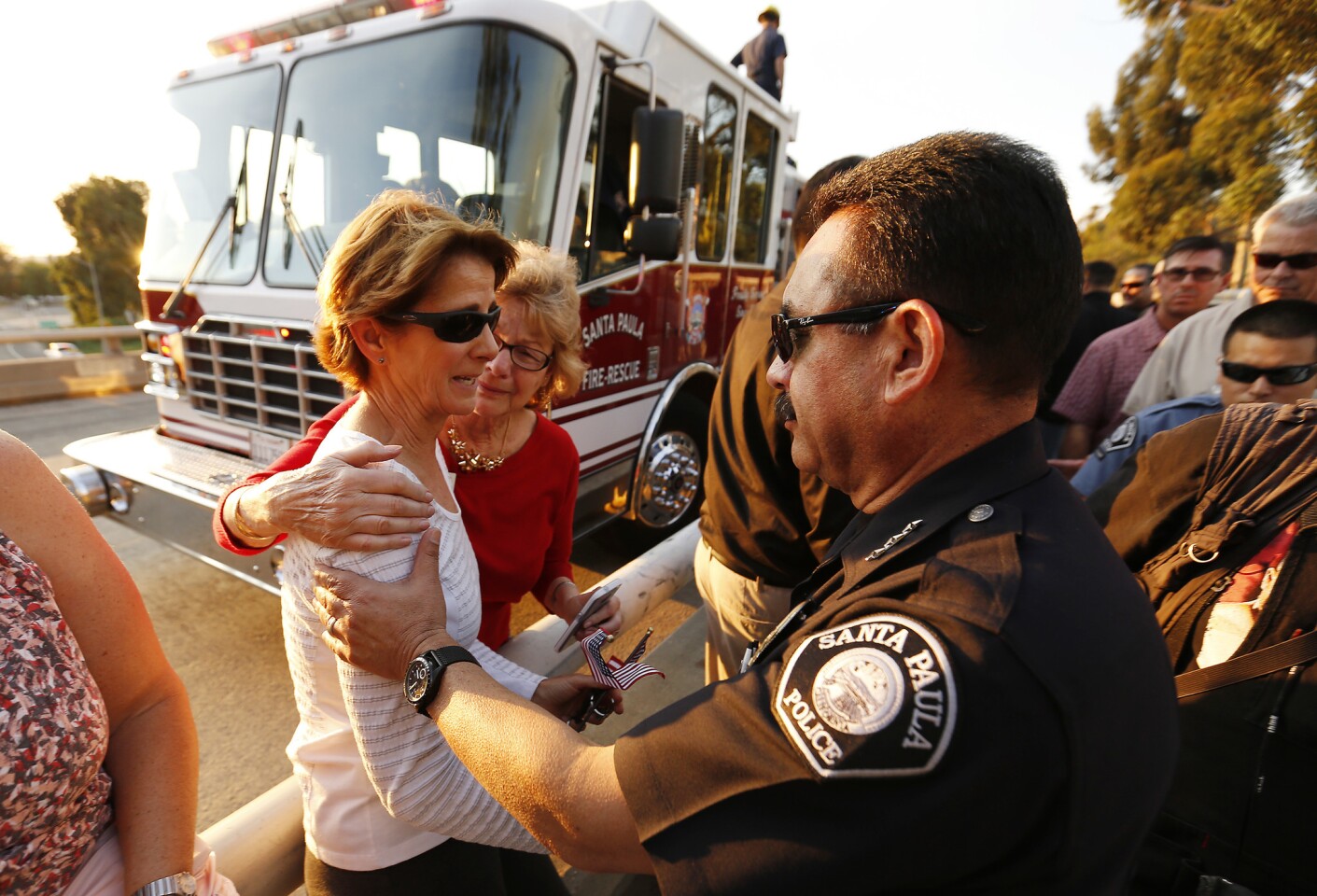 Gena Mathwin, left, is comforted by Debbie Moorman and Santa Paula police officers and firefighters as the motorcade passes on Highway 126.
(Al Seib / Los Angeles Times)
A hearse arrives at the 1700 block of Grand Avenue in unincorporated Fillmore, where Cal Fire engineer Cory Iverson died Thursday morning battling the Thomas fire.
(Al Seib / Los Angeles Times)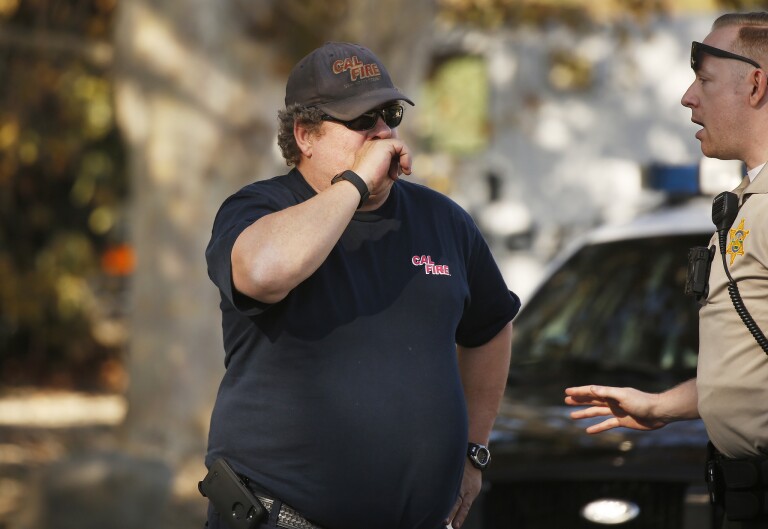 Cal Fire personnel are emotional as they arrive at the scene near Fillmore where Cal Fire engineer Cory Iverson died battling the Thomas fire.
(Al Seib / Los Angeles Times)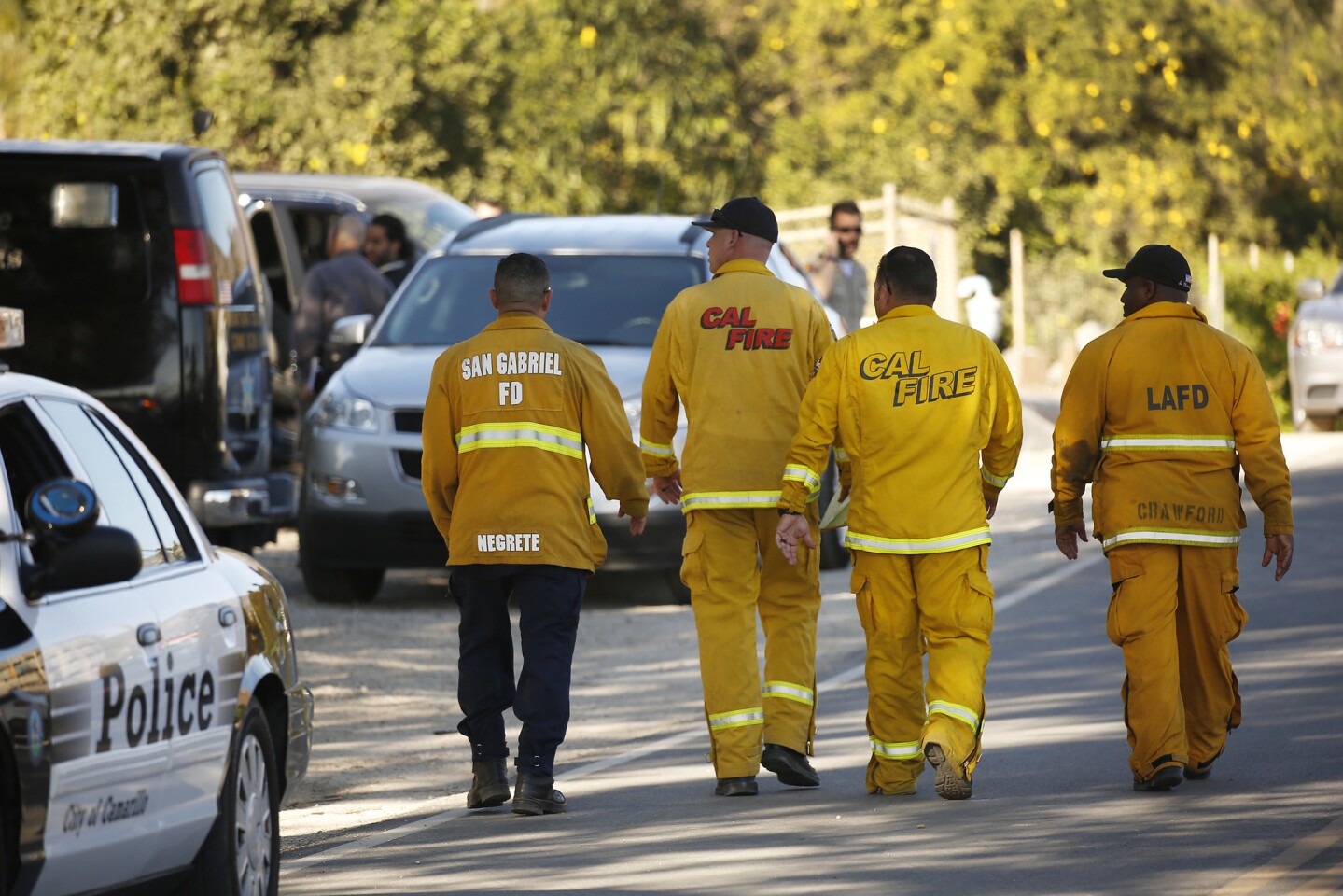 Frefighters arrive at the scene where Cal Fire engineer Cory Iverson died Thursday morning.
(Al Seib / Los Angeles Times)
Reporting from SANTA BARBARA —
Officials battling the massive Thomas fire said the next 24 hours will be crucial as powerful winds return, threatening hundreds of homes in Montecito and other areas of the Santa Barbara coast.
With red flag conditions expected between 2 a.m. and 10 p.m. Saturday, buoyed by 30- to 40-mph gusts that will blow directly south toward the ocean, there is nothing to stop a finger of the Thomas fire on the western edge from running south through a canyon along San Ysidro Creek and into foothill homes, said Mark Brown, a fire operations commander.
Firefighters have smothered the hills in hundreds of thousands of gallons of fire retardant in an attempt to keep embers from igniting spot fires and to keep flames at bay, Brown said.
Some hillsides have been burned deliberately above Montecito, Summerland and Carpinteria, including in Romero and Toro canyons, to limit the potential damage. The fire is out in much of those areas and protected by containment lines, he said.
A drive up Toro Canyon Road in Carpinteria reveals how methodically firefighters are working to protect homes on this side of the mountains ahead of winds that could bring the Thomas fire this way in the next 48 hours.
The roads are sprinkled with shards of tree branch and flakes of dead grass. The bushes and trees on the south-facing hill on Viola Lane got a buzz to within inches of the soil.
Deeper in the canyon, the dirt is a charred black and gray, bare of any of the flashy fuels that flames would sweep through in seconds. Off the shoulder, a chopped branch continued to burn with a tiny flame.
Friday was the 12th consecutive day of red flag fire warnings Friday — the longest sustained period of fire weather warnings on record.
"We put out plenty of red flag warnings, but we haven't seen them out 12 days in a row. That's unusual," said National Weather Service meteorologist Curt Kaplan. "This has been the longest duration event that we have had a red flag warning out without any breaks."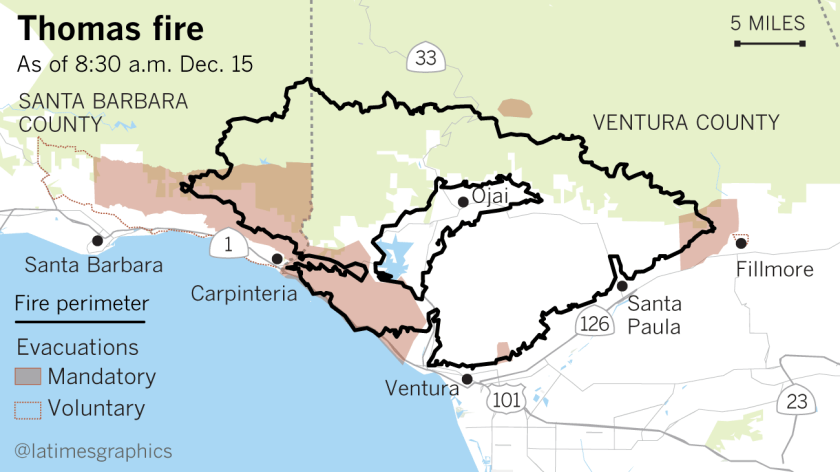 The winds died down a bit Friday morning. And officials are hoping calmer winds tonight could ease the danger even more.
Red flag warnings were instituted by the weather service in 2004 and are intended to alert fire agencies to hot, dry and windy conditions that foster wildfires.
Winds blowing through Southern California continue to be temperamental, posing challenges for firefighters battling the Thomas fire, which claimed the life of apparatus engineer Cory Iverson, 32, on Thursday.
Eleven days after the fire began near Thomas Aquinas College, the wildfire has scorched 252,500 acres and is now the fourth-largest since the state began keeping formal records in 1932.
The fire, which straddles the border of Santa Barbara and Ventura counties, is so large that its eastern and western fronts are influenced by entirely different wind patterns and terrain. In many ways, it's as if firefighters are battling two separate fires some 40 miles apart.
The fire grew roughly 3,000 acres overnight, fire officials said Friday.
Roughly two-thirds of that growth was north of Ojai in the Rose Valley east of Highway 33, where flames are feeding on chaparral and dead vegetation, said Jude Olivas, a spokesman for the Thomas fire from the Newport Beach Fire Department.
The rest of the fire's spread was either north, deeper into Los Padres National Forest, or to the west — where it is crawling along canyons near the wealthy enclaves in Summerland, Montecito and Santa Barbara.
Winds are going to shift back to a Santa Ana direction by Saturday night into Sunday, and they are expected to get fairly strong by Sunday morning, Kaplan said.
Los Angeles County and Ventura County mountains could see sustained winds from 20 to 40 mph on Sunday, with gusts up to 55 mph. There could be some isolated gusts up to 60 mph, Kaplan said.
"It's looking pretty strong," Kaplan said.
Authorities worry that wind gusts will push the fire south, toward billions of dollars' worth of property. Because of this, crews from the California Department of Forestry and Fire Protection have worked alongside firefighters from 10 other western states to scrape containment lines that would serve as a fire break before winds shift Friday night. Streaks of red fire retardant dropped by aircraft or sprayed by tanker trucks line the hillsides as well.
Firefighters also are conducting small, controlled burns that destroy fuel for the wildfire. Crews ignite backfires using either a flaming, fuel-filled drip torch or a "stubby" — a pistol that launches flares 20 to 40 feet into the brush. Water tankers and firefighters continually monitor these fires and douse them if they grow too large, Olivas said.
Even when forecasters say the winds will blow south, swirling gusts at lower elevations could drive the blaze in another direction, Olivas said. The lack of uniformity to the winds in the forest north of Santa Barbara is what makes fighting a fire there so difficult, he said.
The Thomas fire has destroyed more than 900 structures in Ventura and Santa Barbara counties since it began Dec. 4 in Santa Paula. In its first day, the fire spread southwest, toward Ventura, and northwest, eventually hugging Ojai before pushing to the Santa Barbara coast.
For more California news, follow @brittny_mejia
---
UPDATES:
7:30 p.m.: This article was updated with new forecast, top.
4:55 p.m.: This article was update with more on winds.
3:20 p.m.: This article was updated with new scene from fire lines.
1:40 p.m. This article was updated with wind conditions.
10:55 a.m.: This article was updated with comments from Olivas.
This article was originally published at 7:55 a.m.
---
For reporting and exclusive analysis from bureau chief John Myers, get our California Politics newsletter.
You may occasionally receive promotional content from the Los Angeles Times.