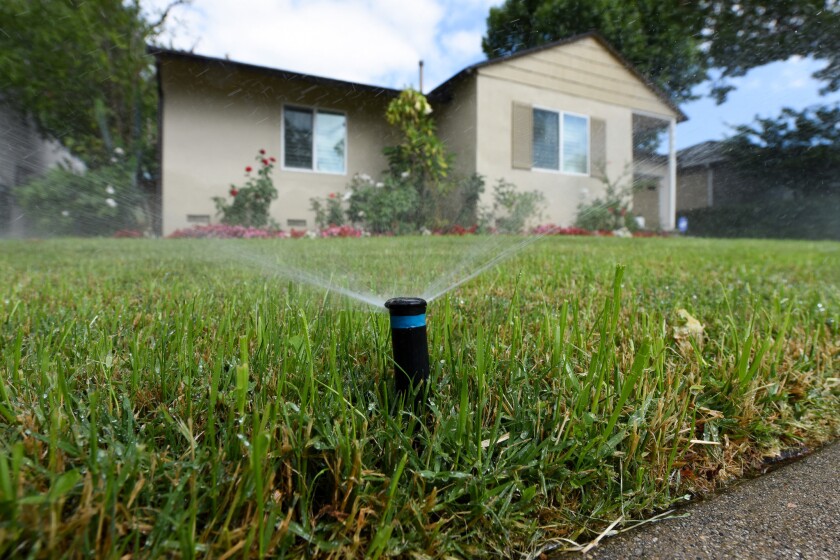 California enjoyed one of its wettest Octobers in recent history and its residents responded by reducing their water use, state officials announced Tuesday.
People in cities and towns cut their water consumption by 19.5% during the first month of the "water year," compared with the same month in 2013.
The savings marked an improvement from September, when urban Californians saved 18.3%, compared with 2013.
"Californians' continued commitment to conservation shows they don't take water for granted anymore," said State Water Resources Control Board Chairwoman Felicia Marcus. "It's good to see improvement in conservation in areas that had slipped, particularly in Northern California, whether that was because of rain or other reasons."
Indeed, officials said Tuesday that the increased water conservation was likely related to the weather. Residents tend to turn off their lawn sprinklers after it rains, driving down their consumption.
A series of storms pummeled California in October, filling some with hope that the state's five-year drought could soon end.
One index that measures precipitation at eight stations in the northern Sierra Nevada recorded 12.6 inches of rain in October — more than four times the average for the month.
Last week, weather officials also announced that the northern part of the mountain range had profited from its wettest first two months of the water year since 1984.
That's good news, because the northern Sierra region is a major source of California's water supply. The state's climatologist Michael Anderson told The Times, "Certainly, up north, we've satisfied the drought debt, so to speak."
But in Southern California, the situation remains dire.
At their meeting Tuesday, state water board staff members displayed color-coded maps to illustrate the stark contrast between the wet north and the dry south.
"This is California," said the water board's Jelena Hartman. "The variability is vast."
According to the U.S. Drought Monitor, about 73% of the state remains locked in drought with the most severe conditions persisting in Central and Southern California.
Perhaps as a result, water consumption in October increased compared with the same month in 2015 across most parts of Southern California, but decreased in most northern regions.
The 19.5% savings was also a weaker showing than in October 2015, when Californians saved 22.2% during the heart of the drought.
So, on Tuesday, water board staff members had to walk a fine line between cautious optimism about the improved conditions and uncertainly about what lies ahead.
The state's major reservoirs, they noted, are still only filled to about 86% of average for this time of year.
"Conditions are much improved by every metric," Hartman said, "but we remain in deep drought."
Officials will monitor the state's hydrology closely in the coming weeks and months as they consider the next step in the state's drought response.
The current emergency regulation expires in February, and officials said Tuesday that they plan to consider whether to extend the rules at a workshop on Jan. 18. They have signaled that their decision will be heavily influenced by how much it rains and snows during the critical start to the wet season.
Twitter: @bymattstevens
ALSO
L.A. subway commuters encounter bag searches, heavily armed deputies as city responds to terrorism threat
Ex-LAPD sergeant broke city rules by leaking recording of 'Django Unchained' actress, ethics group says
Oakland warehouse manager mournful but defiant after 36 die in fire at artists collective
---
UPDATES:
2:50 p.m.: This article was updated with additional details about California's current drought conditions and comments from a state water board staff member.
This article was originally published at 1:40 p.m.
---