L.A. County reports 2017's first case of West Nile virus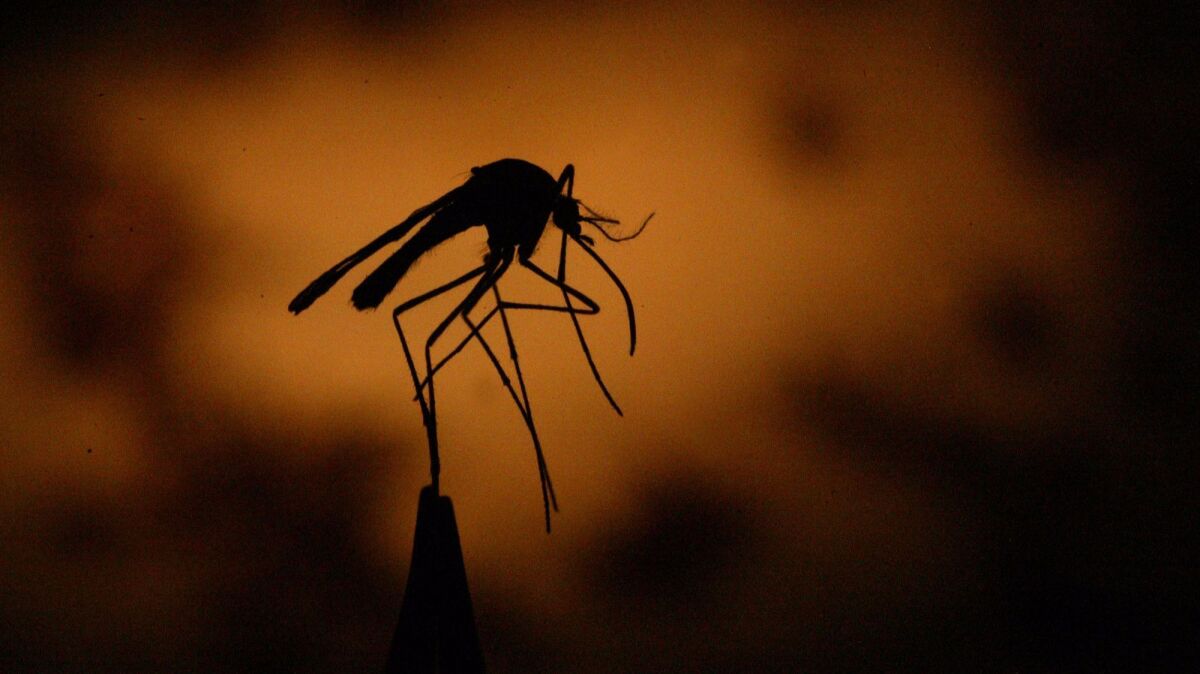 A San Gabriel Valley resident was hospitalized with West Nile virus in what health officials say is the first case in Los Angeles County this year.
The patient ended up in the hospital in March and has since recovered, officials announced this week.
West Nile virus is transmitted by mosquitoes, and officials say this winter's heavy rains could breed more mosquitoes and lead to a higher chance of infection statewide.
West Nile virus can be fatal, and there's no vaccine to protect people from it.
Health officials warn people to avoid the insects, check for holes in window screens, wear mosquito repellent and dump out standing water in yards where mosquitoes might breed. That advice also protects against Zika virus, which is also spread by mosquitoes and can cause stillbirths and birth defects if a pregnant woman is infected.
West Nile virus killed five people in L.A. County last year and infected an additional 148. Most people who get the virus don't become very sick, but a small number develop meningitis or paralysis.
Birds carry West Nile virus, and mosquitoes that bite them then start carrying the virus. Humans contract the virus when they're bitten by those infected mosquitoes. Humans can't get the virus from each other or from birds.
There's been at least one other case of West Nile virus in California this year. State health officials reported in April that someone in Kings County had contracted West Nile.
"West Nile is a serious illness spread by mosquitoes in Los Angeles County," said Dr. Jeffrey Gunzenhauser, the county's interim health officer, in a statement Thursday. "There is currently no vaccine or treatment for West Nile virus. Elderly persons and other people with weak immune systems are at highest risk of developing severe illness."
soumya.karlamangla@latimes.com
Twitter: @skarlamangla
ALSO
Torrance Memorial hospital receives $32-million donation
A simple test is helping thousands of diabetics in L.A. County who face an increased risk of going blind
Health officials urge meningitis vaccination amid L.A. Pride festival
---
Life is stressful. Our weekly mental wellness newsletter can help.
You may occasionally receive promotional content from the Los Angeles Times.