L.A. County death toll from West Nile virus climbs to 17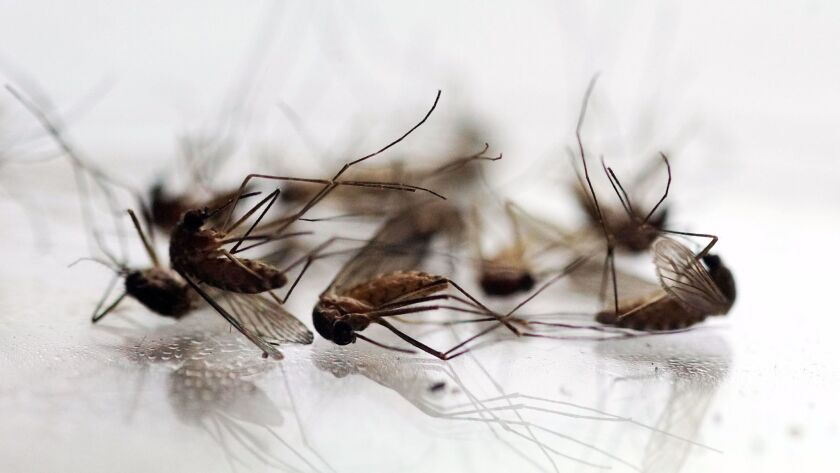 Amid a heat wave that could make West Nile virus more likely to spread, the number of people infected with the disease in Los Angeles County continued to climb this week.
At least 230 people in L.A. County have fallen sick with West Nile this year, and 17 of them have died, health officials said Friday. The number of people infected is already the third-highest ever in the county, according to health officials — and the season has yet to end.
"We typically see cases until the end of November," said Dr. Aiman Halai, head of the vector-borne disease unit at the Los Angeles County Department of Public Health. "West Nile virus is a risk in all areas of the county."
Though most people who get West Nile don't have any symptoms, one out of every 150 people infected develops serious problems that can include meningitis (swelling of the brain), vision loss, coma and weeks-long or even permanent paralysis.
People 50 and older or whose immune systems are compromised are most likely to suffer from these severe consequences, but every year a few younger people also experience them, experts say.
How to protect yourself from West Nile virus
Wear bug spray
Repair tears and holes on window screens
Wear pants and long-sleeve clothing at dawn and dusk, when mosquitoes are most active
Clear out standing water in yards

Sources: California public health department
Jill Cordes, who lives in Silver Lake, first became concerned about the virus when a kindergarten teacher at Ivanhoe Elementary became paralyzed after she was infected last year. Cordes' 5-year-old and 7-year-old children both attend the school.
This year, two people who live within blocks of Cordes have fallen seriously ill with the virus. She bought DEET bug spray to put on her kids if they want to leave the house near dawn or at night, when the mosquitoes are out.
"I basically don't want them outside if they're not completely slathered in DEET," Cordes said. "I think it's really scary, and I don't think people know that we're at such an epidemic level."
Across California, more than 430 people have fallen sick with West Nile virus, and 24 have died this year.
Dr. Benjamin Schwartz, deputy director of the L.A. County public health department's acute communicable disease program, said cities that have already had cases are likely to have additional cases in the following month. In L.A. County, Glendale, Los Angeles and Burbank have had the most cases so far, along with neighborhoods across the San Gabriel Valley and the San Fernando Valley.
"If you live in one of those cities, it's a warning," Schwartz said.
Too hot to handle?
The hotter the weather, the faster the West Nile virus replicates within mosquitoes, making it more likely to be passed on to humans, said Levy Sun, spokesman for the Greater Los Angeles Vector Control District.
Sun said mosquitoes sometimes can't survive very hot and dry weather such as Southern California experienced this week, but when vector control workers recently checked traps to see whether mosquitoes were indeed affected, that did not seem to be the case.
"Unfortunately we're not seeing the die-off we're hoping for," he said. He said mosquitoes might have stayed cool by hiding in backyards, vegetation, or storm drains.
Until it gets too cold for the mosquitoes, West Nile season won't end, he said.
"Once we hit our first couple cold snaps in the winter, that's when we'll start seeing a lot less activity," he said. "I'm crossing my fingers that'll happen really soon."
soumya.karlamangla@latimes.com
Twitter: @skarlamangla
ALSO
How a mosquito bite led to paralysis — and turned this teacher's life upside down
California declares state of emergency over deadly hepatitis A outbreak
Wildfires stressed wine country's healthcare system, creating a crisis and a warning for future
---
The stories shaping California
Get up to speed with our Essential California newsletter, sent six days a week.
You may occasionally receive promotional content from the Los Angeles Times.