Column: Checking in on some of the secrets to life, love and a bright future
One thing I don't do often enough is let readers in on developments in the lives of people I've written about.
Please accept my apologies, as well as today's penance — three updates.
A few years ago, I wrote about having flat-lined after surgery and got an email from a downtown Los Angeles character who said the same thing had happened to him.
Morrie Markoff, 99 at the time, suggested we grab a cup of coffee to talk about having risen from the dead.
When he was 100, the onetime appliance repairman and sculptor had his first art show.
So what else is new with Morrie?
He and his wife, Betty, just celebrated her 100th birthday. The Markoffs' son Steve and daughter Judy threw her a bash Saturday at Steve's home in Pacific Palisades.
Betty told me that she and Morrie have slowed down a bit the last couple of years. But Morrie, at 102, is working on yet another draft of his autobiography. And he's still a wiseguy. He cracked a joke about trading his wife in on two 50-year-old women. But he knows the day he met Betty was the luckiest day of his life. They've been married 77 years.
So what's the secret to a long life?
Maybe there are no secrets, and maybe nothing is more important than luck and good genes. But Judy suggested her parents' longevity might have something to do with the fact that they were always engaged in civic affairs and personal pursuits. They were tirelessly curious about the world and too busy to get old.
::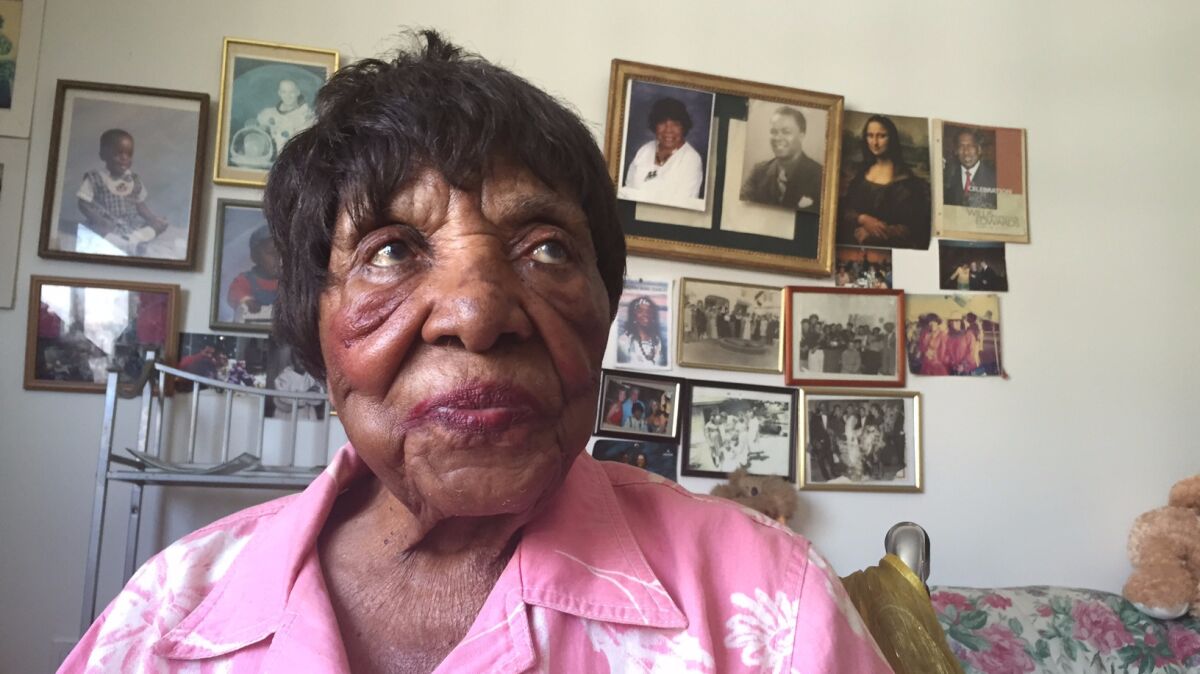 Maurice Prince seconds that idea.
I wrote about Prince in 2004, when her Snack 'N Chat home-cooking restaurant on Pico closed after a 26-year run. Her joint was a hangout for nobodys — and a destination for stars including James Brown and Gladys Knight.
Prince was 87 when she retired. On Sept. 9 she'll turn 100, and she can't wait for the party.
"We're going to dance, eat, sing, do funny jokes," she said.
Dance?
She's had her right knee replaced three times, she told me during a visit in her downtown L.A. apartment, but she's going to try a move or two with the good leg.
It's all in God's hands, says Prince, who goes to church every Sunday. And if her health allows it, she'd love to work the polls in November as she has for every election over four decades.
Voting is a sacred act to Prince, whose apartment walls are covered with photos going back to her youth in Arkansas, where her parents were sharecroppers and the Ku Klux Klan struck fear in her heart.
She fled to California in 1940, got to know Count Basie and Duke Ellington while the Central Avenue jazz scene was boiling hot, and outlived three husbands — not all of whom were honorable men, in Prince's opinion. Especially the one who fell under the spell of another woman.
"The woman told me, 'He doesn't love you, he loves me.' I wanted to put my fist in her face," Prince says.
But she came up with a better idea.
"I said, 'You can keep him.'"
Before I left her apartment, I asked Prince if I could take her picture. She fixed her blouse and twisted her torso.
"Let me shake myself up," she said, "so I look younger."
::
Speaking of, remember Eduardo Lopez?
He's the Glendale Community College student who got a $197 ticket for crossing a downtown L.A. intersection against a flashing light in the spring of 2015.
It was news to Lopez, 22 at the time, and to me, that it's illegal to step off the curb after the countdown has begun. I thought it was OK to walk if you could make it across before the clock ran out. But the LAPD was on a tear, having written 17,000 pedestrian citations in downtown L.A. over four years.
Why have a countdown at all? The sign should either say "walk" or "don't walk." And $197 is a ridiculous cost for an honest mistake. Lots of readers agreed, and sent money to help with the ticket.
As I reported at the time, Lopez was working a graveyard shift loading pallets for an export company near LAX. In the morning he would take the train downtown, where he'd catch a bus, racing to make his first class at Glendale Community College. He later showed me where he lived, and said he and his older brother were scheming to get good enough jobs to move their family of five out of the tiny apartment in a crime-ridden part of South Los Angeles.
For Lopez, that meant hitting the books and hoping his success in soccer might win him a scholarship from a four-year school. He was all-conference as a defender at Glendale.
With the start of the new school year, I decided to see how it all had worked out for Lopez.
"I actually have a wonderful update," his Glendale coach, Laura Matsumoto, said in an email.
Lopez had scholarship offers from Kansas Wesleyan University and Adams State University in Colorado, she said; he chose the latter.
When I got ahold of Lopez by phone, he told me he had gotten offers from several colleges. And he had liked Adams and the community of Alamosa so much that he decided to forgo the partial scholarship, which would have required him to live on campus. It was cheaper to live off campus and take out a student loan.
Lopez had money left over from readers who wanted to pay his ticket, so he was able to buy his college books and a Greyhound ticket to Colorado. He's not a starter on the soccer team, he said, but the coach told him he'll see some playing time if he keeps working as hard as he has.
The small college town is much quieter than his old neighborhood, Lopez said, making it easier to focus.
"No helicopters and police going by all the time," he said.
He's carrying a full load, has a campus job lined up for when soccer season ends and is two years away from a degree in finance.
Oh, to be young. Or not so young, but still full of life.
Get more of Steve Lopez's work and follow him on Twitter @LATstevelopez
ALSO
Inspired by accusations against Bill Cosby, California lawmakers move to lift time limits on rape cases
Hahn may have run afoul of campaign finance rules in L.A. County supervisor race
Surreal standoff ends with Chris Brown under arrest, but the R&B singer says he's the victim
The stories shaping California
Get up to speed with our Essential California newsletter, sent six days a week.
You may occasionally receive promotional content from the Los Angeles Times.