Column: In a season of suffering and loss, small gestures of goodwill at Agoura Hills donation center on eve of Thanksgiving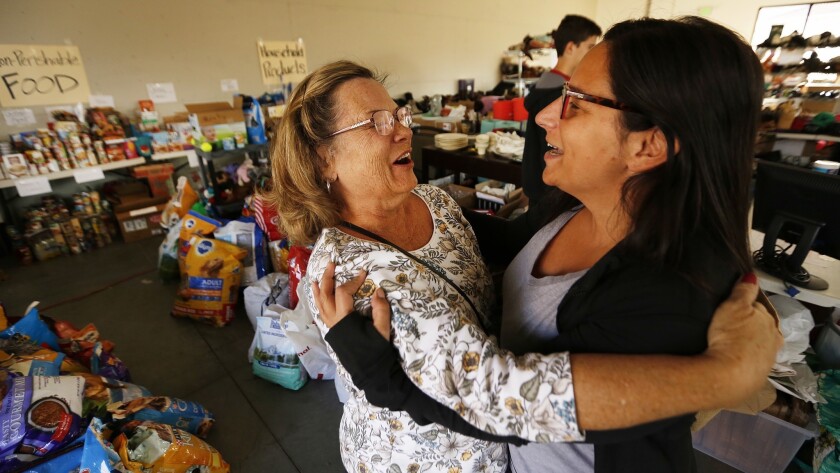 Carol Erickson needed a pair of shoes, so she dropped by the emergency donation center in Agoura Hills. All she had when she left her home in the Santa Monica Mountains were four pairs of pants, four shirts and the sandals on her feet.
As the Woolsey fire began its destruction, Erickson drove to the Ventura marina and slept in her car.
"The marina lady came out and gave me a quilt," said Erickson, who found out soon enough that she was one of the unlucky ones.
Her house of 23 years, east of Malibu, was gone. Her paint brushes, pencils and canvases were dust. She did animal portraits for a living. That, and a couple of renters, paid her bills, but they were gone now too.
"I'm looking around for a good pair of shoes, so I can go rooting through the ashes to see if anything is left," Erickson said.
She found a pair of sneakers that would work just fine, and she wasn't the only fire victim who filled a basic need and discovered something even more valuable at the donation center.
"Everyone is so helpful and nice," Erickson said. "I'm usually on the other end, helping out."
On Sunday, the steady foot traffic at the Las Virgenes Fire Relief Center was split between those in need and those doing a good deed. The volunteer signup sheet was full, but people kept coming anyway to pitch in. Nonperishable foods filled a couple of tables, jugs of water were stacked against the wall, and there were rows of clothing, along with kitchen and bathroom supplies.
LIVE UPDATES: The latest on the California wildfires »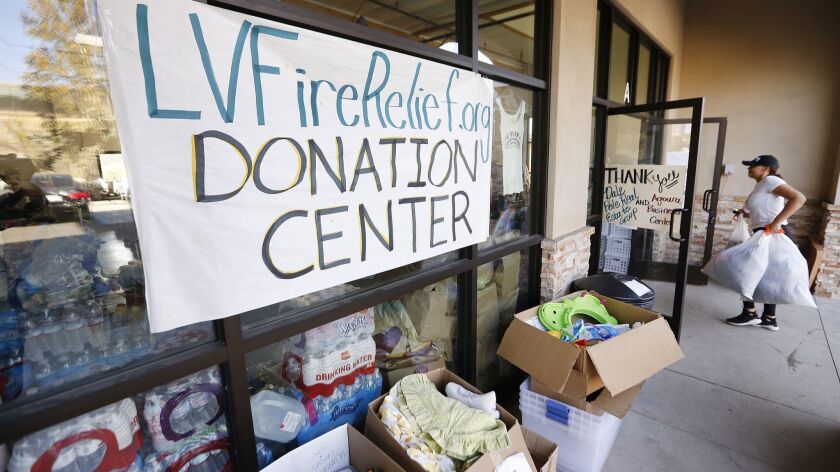 "Within 24 hours of the fire, this was up and running," Jenn Kurtz said. She's one of those people you find in every community, the people who step up and lead the way.
Kurtz dialed other parents of Las Virgenes Unified School District students (she has three), and within hours, Dale Poe real estate company had donated use of a vacant storefront in Agoura Hills. The donations from businesses and residents began pouring in.
At one of the worst times in the state's history, the best in people was coming to the surface. The fires were still spreading, and funeral arrangements were being made for the 12 people shot and killed just up the road in Thousand Oaks, but a community jolted without mercy was coming together.
In Thousand Oaks, a lemonade stand run by students raised tens of thousands of dollars.
In Agoura Hills, Kim Prince stepped in to run communications and social media for the Las Virgenes donation center (I learned about the place via @lvfirerelief). Shawna Davis began setting up a charitable organization, and Megan Glynn of Southeast Ventura County YMCA was able to link her agency as the monetary donation portal.
"We raised $20,000 the first day," Kurtz said.
"And we just passed $40,000," Prince said midmorning Sunday.
Word got out that the center had plenty of clothes, so people were bringing food that doesn't have to be cooked because so many people who lost homes are in hotels and don't have kitchens. The organizers were hoping to get donations of luggage and bins because of the number of people on the move, with clothing and gear to pack.
Some volunteers brought food to feed other volunteers.
"The support is overwhelming," said Angelika Licata, who got burned out of her rented home and visited the center with daughter Kamilla, 11. "It's from everyone in the community. The schools, friends, strangers. I wish everyone who has to go through disasters would have this kind of support."
Licata said her family evacuated on a Friday night, assuming their home would be fine, so they didn't take a lot of clothing or supplies with them. Now she had to replenish some of what was lost.
The next day, Licata said, having lost their home, the Oak Park eatery she and her husband own — the Park Restaurant & Bar — served meals to first responders.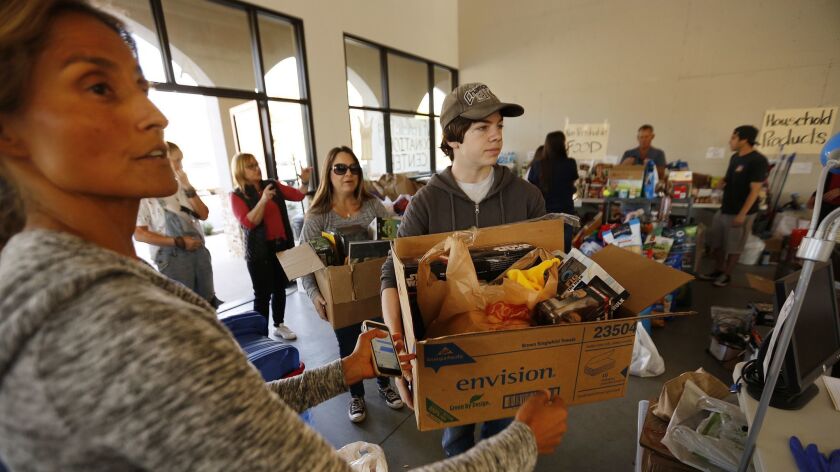 Inside the donation center, Kamilla picked out two stuffed animals, a dog and a cat. She said they were for 9-year-old sister Lucca, "because most of her toys burned."
High school student Cole Orr told me he volunteered all day Saturday and decided to work another shift Sunday because "it feels like I'm actually doing something to help the community."
Dave Dillon, a Calabasas High School teacher, helped a woman carry bags of donated goods out to her car.
"We were feeling a need to help," said Dillon, who discussed with his kids how to best pitch in before they decided on the donation center. Luke, 16, and Cali, 13, organized goods inside the shop.
"I feel very grateful and lucky, and knowing that others were not as lucky, we're trying to do our part," said Dillon, who wanted to add one more thought.
"In the not-so-civil society we live in," he said, "it's nice to see a lot of civility."
Kurtz said she hoped that the community would be changed for the better, and that children "will be more appreciative of the many, many things they have, but understand that what matters is friends and family and support. It's not about clothes and possessions and Xboxes."
Erickson said she would like to rebuild on the spot where she lost her home, but she needs to earn a living in the meantime and is available for commissioned artwork. She can be contacted at carolapril@verizon.net.
Prince said Las Virgenes Fire Relief would continue raising money for those who lost property and need financial assistance, and donations can be made at lvfirerelief.org.
When I asked Angelika Licata what her family would do for Thanksgiving, she said her restaurant is ordinarily closed for the holiday. But it will be open Thursday for a holiday feast, offered at no charge, to first responders and families who lost homes. To RSVP, send an email to thepark706@gmail.com.
"Thanksgiving is here!" said the invitation on social media. "Let's come together and be thankful that we have our lives, and our friends, families, and amazing community!"
Get more of Steve Lopez's work and follow him on Twitter @LATstevelopez
---
The perils of parenting through a pandemic
What's going on with school? What do kids need? Get 8 to 3, a newsletter dedicated to the questions that keep California families up at night.
You may occasionally receive promotional content from the Los Angeles Times.