Column: Her six-hour commute each day seems crazy, but her affordable rent is not
She doesn't need an alarm clock, Carolyn Cherry says. Her brain is programmed, by years of routine, to sound an internal alarm just before 3 a.m.
One hour after rising, she leaves her house in Hemet and drives in darkness to the South Perris Metrolink station, the first leg of her daily journey to work. The drive takes 22 or 23 minutes, a bit longer if she picks up a friend or stops to get a cup of tea for the long train ride ahead. The parking lot is all hers when Cherry arrives, and she pulls into the same spot every time.
The train leaves at 4:43 a.m. and Cherry, 60 years old and a couple of years away from retirement, rides it all the way to the final stop, more than two hours away. That's Union Station in downtown Los Angeles. Scheduled arrival time: 7:05.
Cherry then hustles to the Red Line, pops out of the ground at the Civic Center station, crosses Hill Street and reports for duty as a clerical worker at the L.A. County auditor controller's office by 7:30.
9 hours of work, 6 hours of commuting a day
"It's usually 8:15 or 8:20 when I get home at night," says Cherry, who has been doing this merciless long-distance commute for 16 years, getting by on just 4½ hours of sleep each night. "Nine hours of work and six hours of commuting. That's my story."
In a region of hellish commutes, it's one of the craziest I've heard of. But in Southern California, where being close to work is a luxury many in the middle and working class can no longer afford, readers keep telling me to quit pushing affordable housing measures and let the market determine who lives where.
If you can't afford the Westside, they say, go east.
So I went all the way to the end of the line to have a look. And sure, 90 miles or so from downtown L.A., you can get far more stucco for your money. But it comes at a real price.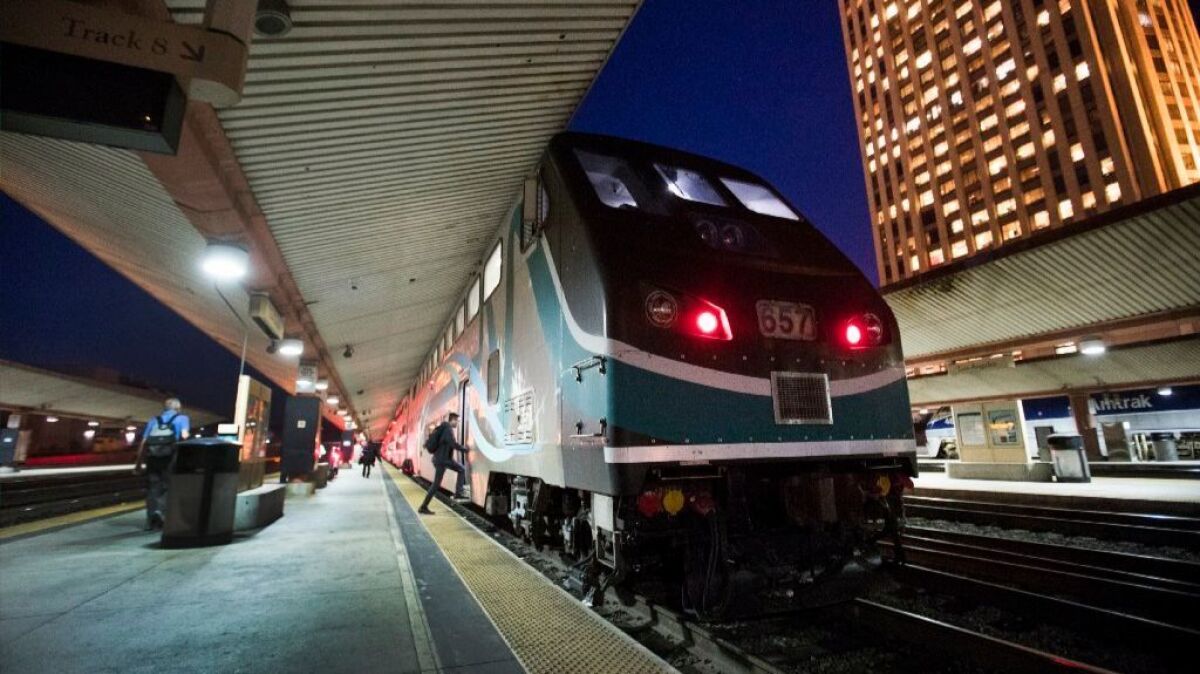 Ungodly commutes, as we know, are not new to Southern California, which practically invented sprawl. People have long moved out of the city by choice, but with housing costs at historic highs, some now move by necessity.
According to Metrolink, the 400-plus-mile commuter railroad has the longest average one-way trip — 36 miles — in the country. Almost two-thirds of Metrolink commuters work in a different county than the one they live in, and riders took roughly 600,000 one-way trips of 60 miles or more last year. That sounds grueling, but on a train, at least, you can make good use of your time and experience the evil pleasure of glancing out the window at all the poor souls stuck in traffic.
When Cherry and I board in South Perris, about a dozen other yawners climb aboard, two hours shy of sunrise.
Morning commute begins in the darkness
"This is where I sit," Cherry says as she slides into a four-seat compartment with a table, where she sets her tea.
The Metrolink extension to Perris didn't begin service until the summer of 2016, so before then, Cherry drove to Riverside and took the train the rest of the way. That still added up to three hours each way, and Cherry says she prefers a longer train ride to driving in heavy traffic and contributing to air pollution.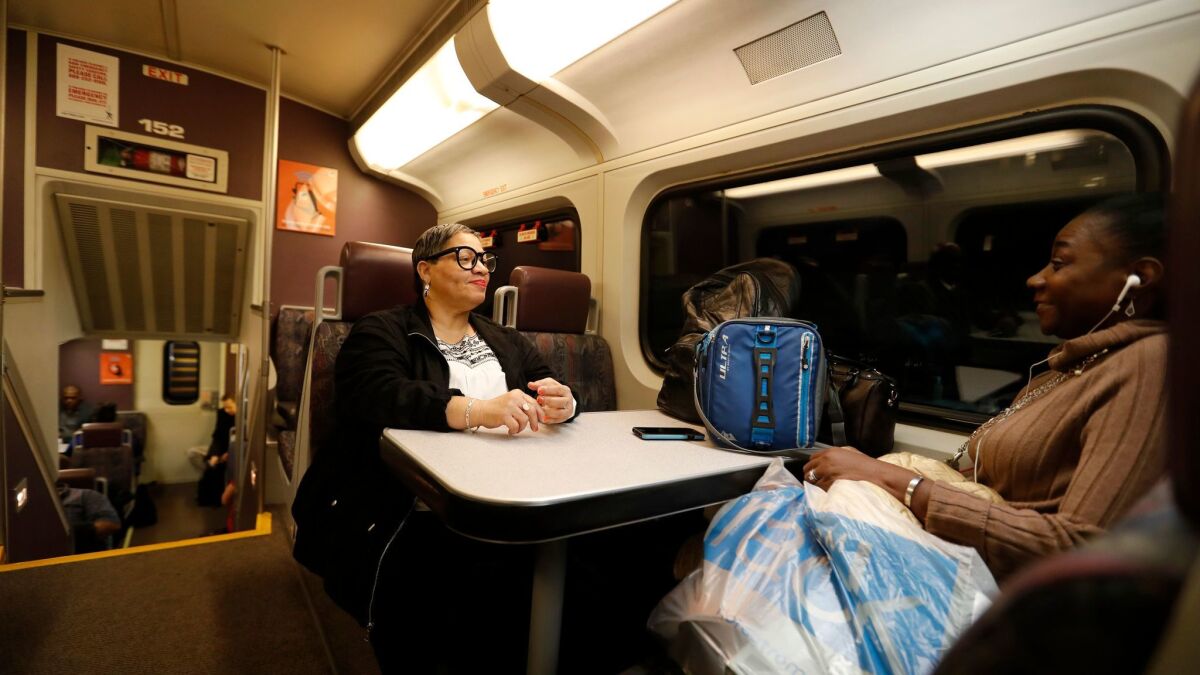 But why Hemet?
Cherry's story unfolds as the train chugs along, with stops in Moreno Valley, Riverside, Corona and Fullerton, the sky outside still dark as empty seats begin to fill.
Terence Dyck says he's in his first week of commuting to a new job in Los Angeles from Nuevo, where he lives in a motor home. It's a long haul, he says, but if the job works out, he'll keep up the commute for a year or so and save money to live closer to work in the future. If he can afford to.
Michael Perkins, a microbiologist heading to the Norwalk station, says he and his wife bought a 3,000-square-foot house in Riverside 10 years ago, with good schools for their three kids. It cost just $280,000. "There's no way I could afford a house like that in L.A.," he says, so for him, an 80-minute door-to-door commute is worth the trouble.
Cherry, a divorced mother of two, lived at the Compton home of her parents in the 1990s and had a neat arrangement with her identical twin sister, Marilyn, who lived in Lynwood. Together, they cared for their aging parents, now deceased, and Marilyn watched Cherry's kids while Cherry was at work.
Lower housing costs, but at a price
Marilyn and her husband, a truck driver, moved to Hemet in 2001 to take advantage of lower housing costs. At the time, Cherry was worried about crime and the quality of schools in Compton, so she decided to head east, too. She rented space in her sister's home in Hemet, kept the child-care arrangement intact, and took on the monster commute to work. In 2009, she and her kids moved into their own home in Hemet.
"It's two bedrooms, two bathrooms, a backyard and amenities I wouldn't be able to afford in Los Angeles on my salary," says Cherry, who makes less than $50,000 a year as a tax services specialist after 25 years on the job.
Her rent is just $800 a month. In L.A., a home like hers would be twice, three times or four times as much. And while Cherry says she has no regrets about her move to Hemet, she does bear some pain. She missed a lot of time with her kids and was not there for some of their social and school activities.
"I was heartbroken a lot of times, and on weekends I made sure I was at their activities," she says. "I felt guilty. A lot of guilt. But I was adamant about my kids having a better life than me."
Her daughter, now 28, graduated from UC San Diego and is a property appraiser for Riverside County. Her son, 23, also went to college and works at Amazon in Riverside.
Cherry looked into making a switch to Riverside or San Bernardino counties, but says the pay was significantly lower, even taking her $400 monthly commuting costs into account. So she decided to hold on to her seniority and retirement benefits, tough out the commute, and retire at 62. Because she works nine-hour days, from 7:30 to 5, she gets every other Monday off, which helps.
No financial stress, but commuter stress...
"I have no financial stress, whereas if I was in L.A. I'd live paycheck to paycheck. I didn't want to live like that and I didn't want my kids to see us living like that," Cherry says.
"I'm pretty much OK with everything," she continues as her eyes fill and she dabs a tear. "Everything was about sacrifice, and at times I beat myself down because I wasn't educated and didn't have higher pay. But you know what? I did OK, and I helped put my kids through college."
The light is coming up now, and in the distance, L.A. skyscrapers reflect the golden dawn. It's not so bad, says Cherry, once you program yourself to the routine and look forward to seeing the members of your commuting family, including a best friend from junior high who usually boards in Riverside.
"I chat, I sleep, I listen to music, my mind wanders, I think about the past and the future," Cherry says as the train from the land of affordable living arrives on time, halfway through another day of compromise.
Get more of Steve Lopez's work and follow him on Twitter @LATstevelopez
---
The stories shaping California
Get up to speed with our Essential California newsletter, sent six days a week.
You may occasionally receive promotional content from the Los Angeles Times.