Column: The human catastrophe of homelessness hits the shores of Malibu, and some try to offer a helping hand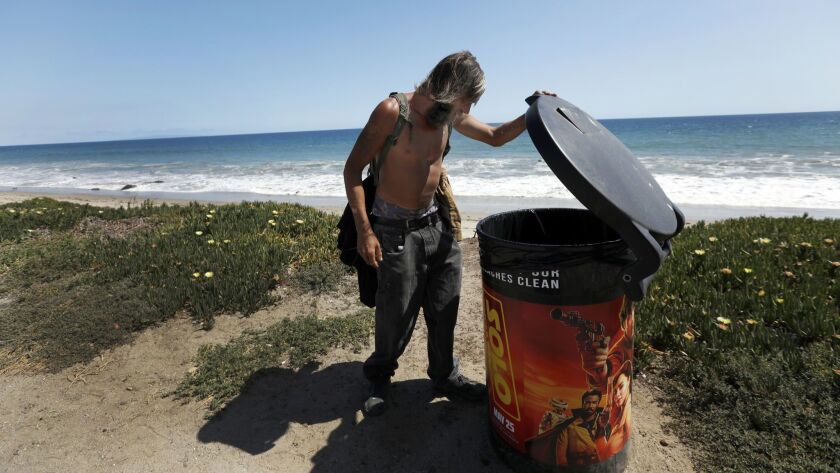 Wherever there's a public library, there are homeless people taking shelter, and this is true in Malibu.
Perry Thomas, who said he's a U.S. Army vet known as "The Real," was wheeling his belongings into the Civic Center library Tuesday morning. He told me he sleeps on Surfrider Beach.
"It's about as safe as any other place," he said.
In a way it's odd that destitute people would settle down in one of the most affluent areas in the country — a place where there is no affordable housing, no shelter and very few services.
On the other hand, if you're homeless, why not at least enjoy your surroundings?
"I love the weather," said Bill Witter, a Pennsylvania native who was badly beaten near the Civic Center almost two years ago by another homeless man. Witter had numerous broken bones and a long recovery, and is now in a Santa Monica shelter while he waits for housing, but he hangs out in Malibu by day.
Sade Bryan was crying outside the library entrance and claimed it was allergy. But tears streamed down her face, and it was nothing Claritin could fix.
She said she became homeless 10 years ago thanks to an evil mother but did not elaborate. And she just moved to Malibu after living in a skid row tent. Now she sleeps on a mat near the Civic Center.
The reason I stopped by the library was that the county courthouse next door to it sits vacant, and the Los Angeles County Board of Supervisors decided Tuesday to serve meals out of the space and provide some homeless services.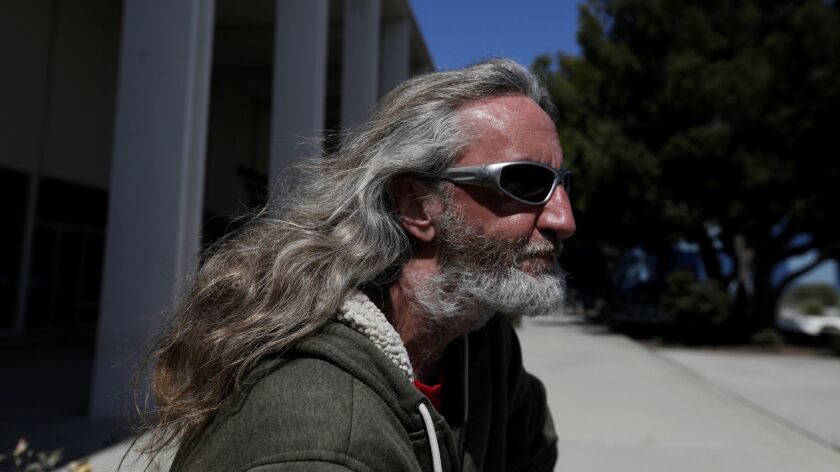 In Malibu, as in other communities, people disagree over what to do about homeless populations. There's fear of fires that may be set by those who live in the canyons, and break-ins, and also a fear of whether more services will only draw more homeless people, putting the library off limits for those who don't want to have to deal with them.
"It's hard to balance what everyone wants," said Malibu Public Safety Manager Susan Duenas, who works with faith-based groups even as she handles complaints from residents "who are just fed up" and want the city to do more about public safety issues.
As John Maceri sees it, Malibu has done a comparatively decent job of bridging differences among various groups. He's director of the People Concern, which has worked for about a year and a half to serve Malibu's estimated 180 homeless, and has found housing for at least two dozen so far. People tend to live in canyons, Maceri said, and many have some combination of serious physical and mental health issues along with addiction problems.
All of that can complicate efforts to reel them in, and then there's the ever-present challenge that's going to be with us for a while.
Not enough housing anywhere in L.A. County. And certainly nothing in Malibu.
Despite voter-approved initiatives and more funding, problems festered for far too long, progress has been slow, mismanagement of available funds is always a threat, and we'll find out soon — in the latest homeless count for the county — if we're keeping up or losing ground.
That brings me to Orange County, where demands to get homeless people away from the Santa Ana River were followed by the unsurprising discovery that there's nowhere for them to live. And even if there were, they might be turned away.
Last month, protesters rallied at Irvine City Hall even after county officials dropped a plan to consider the use of public land in Irvine, Huntington Beach and Laguna Niguel for temporary housing.
"We are strong," one protester said. "We will decide who comes into our city, and we will activate our supporters to make sure our children are safe."
An Irvine councilwoman urged residents to "get a good description" of homeless people moving into the community and call the police.
Look, I can understand the fears and the anger. To a degree. Some homeless people are addicted to drugs that kill their pain one day and cause new problems the next, some of them commit crimes, and few among us would choose to have an encampment near our home or business or school.
But for the most part, the homeless are a prophetic presence — a symbol of breakdowns on so many levels. Widespread poverty in a land of riches, unaffordable housing, substandard healthcare, limited psychiatric services and facilities. All of that has taken a toll, and so have the brigades of scarred, bomb-rattled veterans returning from distant wars, out of one tent and into another.
And Irvine's message is, "Sorry, it's not our problem."
The latest flashpoint in this developing human catastrophe is in Koreatown, where there's opposition to a plan by L.A. Mayor Eric Garcetti and council President Herb Wesson to put a temporary shelter on a city-owned lot.
Some foes say the shelter has been forced on them without enough of a chance for their input. But is that really the issue, or is Koreatown just one more place that would rather let someone else take care of the problem?
"I've gotta give the mayor and City Council credit for trying to use city-owned property to start moving people off the streets, but it's like every community experiences this level of pushback," Maceri said. "If every community would take a piece of it, it could be broken into smaller chunks. It's like we're chasing our tails. No one wants the problem, but no one wants to be a part of the solution."
Last year, complaints from concerned residents forced the end of free meals for the homeless Wednesdays and Thursdays at Malibu United Methodist Church. The Rev. Sandy Liddell said meals are now distributed at nearby Zuma Beach just once a week.
"Some people are just afraid," Liddell said, and she understands legitimate fears about public safety. But she went on to say that many people, some of whom "have so much" they don't need, make harsh judgments about those with next to nothing.
"You can be forgiven for just about anything in our culture, except not pulling your financial weight," Liddell said. "It's the one unforgivable sin."
But there are those among us, she said, "who just will always need extra help."
And there will always be those who step up, and those who turn away.
Get more of Steve Lopez's work and follow him on Twitter @LATstevelopez
---
For reporting and exclusive analysis from bureau chief John Myers, get our California Politics newsletter.
You may occasionally receive promotional content from the Los Angeles Times.