Column: What to do with dying malls? Readers suggest turning them into artist colonies, parks, apartments, homeless shelters
What to do with dying malls?
Readers have weighed in, and they've got plenty of ideas.
Teresa Price votes for turning them into parks, but if that doesn't work, she's got a Plan B.
"They could be remodeled as live/work spaces. It seems the younger generation likes the concept of communal living and working."
Along those lines, several readers had art in mind, and that's not a bad idea. I went to a friend's show in the Culver City Arts District last year, and galleries were mobbed, with great masses of people doing art crawls.
Arts and actors could make malls hip again
"Artists and actors are always in need of cheap space," said John Bauman. "And where there are artists and actors, hip little restaurants and coffee shops are sure to follow. Then come more commercial venues, like movie theaters and groovy furniture and second hand clothing stores. Et voila! You've got a new hip place to go on a Friday night!"
That's something you generally don't hear people say about going to a mall.
Dr. Rokshan Taherpour sees the death of malls as a great opportunity. How about an ice rink in winter months, a skate park, a dog park and rec areas.
"I went to Chicago for medical school," said the doctor. "I was shocked at how many parks they had. They were just everywhere! In all sizes."
Todd Bianco would turn malls into giant TV/film/video production centers, and use at least part of the space to teach all the related crafts.
Turning the mall into a village
Glenda Young completely re-imagined the standard mall, offering up a vision of a miniature borough complete with apartments, medical offices, daycare and preschool, gardens, a grocery store, community hall, playground, a library, and vocational training for veterans and the unemployed.
Carol MaHarry was on the same wavelength as lots of readers who see a chance to address a major problem in greater Los Angeles.
"How about converting the malls into homeless shelters?" she asked, while other readers suggested adding social services that could help people rebuild their lives and move on.
I like the thought, but practical realities present some limitations. Some malls are doing fine as is, but even among those that are struggling, the land is still worth a fortune. Owners would want top dollar whether they sell or rent out their land, and I'm not sure a tent city would pencil out.
Plus, changing the use of the land could require zoning changes, and that's fraught with bureaucratic and political challenges, as well as possible neighborhood opposition.
But nothing's impossible. As I said in last week's column, as the outdated three-story indoor design loses out to digital shopping, discount giants and so-called lifestyle centers that offer more than shopping, mall space is being reconstituted all over the country. Some now have apartments, senior housing, high schools, churches, medical clinics, parks, business offices and other forms of commerce and entertainment.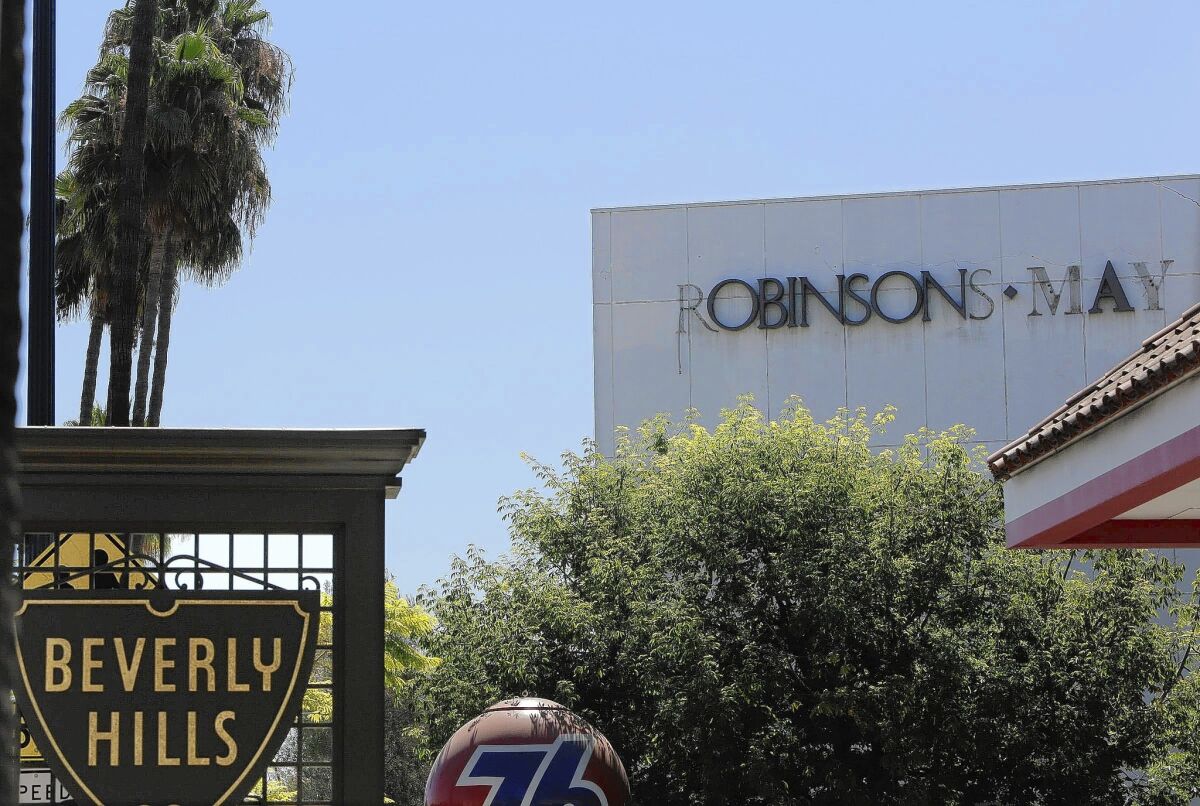 Can that old mall store be your next apartment?
The most popular recommendation from readers was not surprising.
More housing.
If a big anchor store closes, said Glenn Egelko, carve it up into apartments and give rental priority to the low-wage workers who toil in other parts of the mall, so they've got a car-less commute.
A few readers recommended condos, apartments or micro-lofts on the upper floors of existing malls, with a smart blend of retail and services on the lower floors.
Still others suggested leaving alone what works, such as the Target at the Eagle Rock mall. Then you build apartments on the aircraft carrier parking lot, move all the parking underground, and redesign the mall to fit the needs of the new residential population.
These ideas are all worth considering, not just for malls, but for any large, under-utilized buildings in warehouse districts or elsewhere. As I wrote on Sunday, California in general and Los Angeles in particular are in the midst of a massive housing shortage. Rental rates have soared but wages have not, leaving laborers, service employees, teachers, nurses and others struggling to find affordable homes.
By some estimates L.A. County alone needs an additional 500,000 rentals for the lower income renters who now live in substandard spaces or share with other families. More than 2 million households in L.A. and Orange counties have housing costs that exceed 30% of their income.
Still only a drop in the bucket in L.A.'s housing crisis
Converting Southern California's few dozen malls as they wither away won't solve the housing problem by a long shot, but land is scarce, so why not put it to better use?
Speaking of housing, my Sunday column on that topic drew a response from Mike Manville, who teaches urban planning at UCLA. I had said in the column that developers were rabidly opposed to L.A. Mayor Eric Garcetti's plan to require linkage fees on new construction, with the proceeds going into a fund for affordable housing.
Manville said he's opposed to the fee as well. His view, in short, is that developers shouldn't be forced to fix a problem that has many causes. And even if the linkage fee is approved, it won't pay for more than 1,000 or so new units a year in a region that has a shortage of several hundred thousand.
So what should we do?
Landowners and homeowners benefit immensely from current tax policy, said Manville.
"We have chosen capital gains for the haves rather than reasonable rents for the have-nots," he wrote in his first email.
He said we can raise far more money for affordable housing with a $1 daily parcel tax on land, or a tax on real estate transactions above a certain amount. That means those with capital would each pay a small amount for the greater good, rather than putting a tax on construction, which might discourage the very thing we need — more construction.
There is, of course, no single answer, and every suggestion has a counterargument. But through compromise, creativity and courage, our elected leaders have to lead, and we in the media have to keep after them until they do.
While I had his attention, I asked Manville his thoughts on getting more mileage out of our malls.
"You have large swaths of land, the land is valuable and the current use of it is not," said Manville.
Whether the existing structure is redesigned or demolished, if you can get the zoning changed, Manville said, there's nothing wrong with "housing, mixed use and a park, right?"
You are correct, professor. The sooner the better.
Get more of Steve Lopez's work and follow him on Twitter @LATstevelopez
The stories shaping California
Get up to speed with our Essential California newsletter, sent six days a week.
You may occasionally receive promotional content from the Los Angeles Times.