Column: This couple put art before income. But creativity doesn't pay the rent in today's L.A.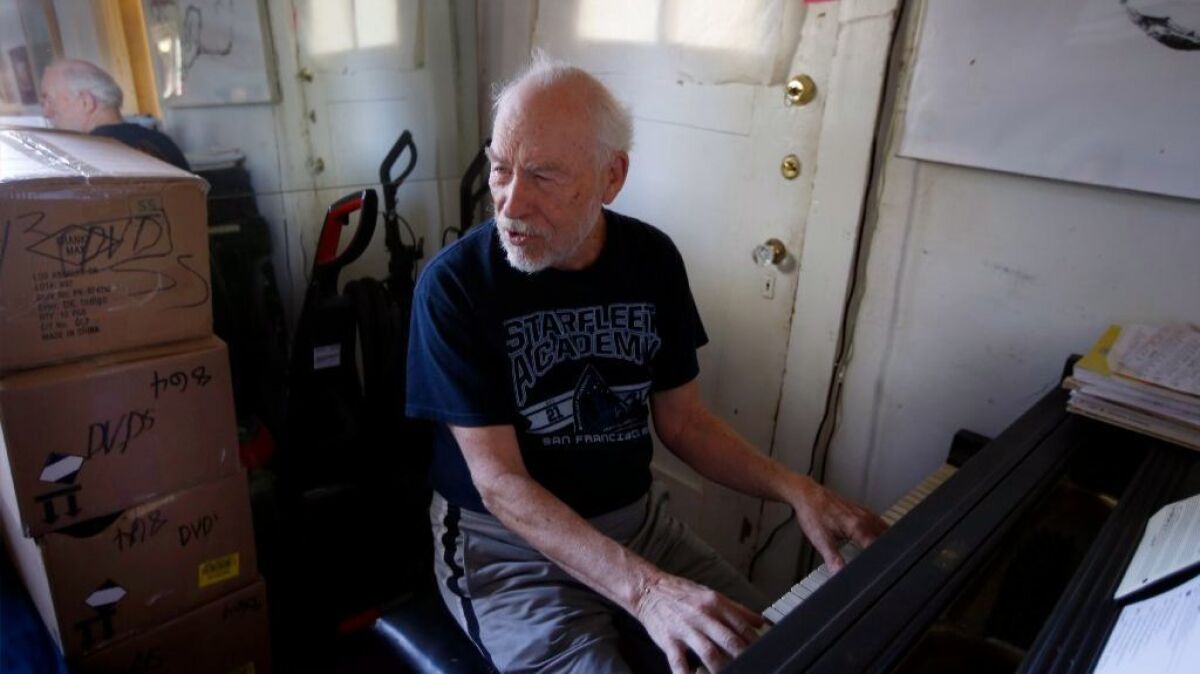 In Arleta, a 64-year-old woman pays $1,100 a month — her entire income — for three meals a day and a bed in one-half of a converted garage.
In Pasadena, a blind 59-year-old woman has lived without a functioning stove for years and is being forced out of her apartment because an upgrade will raise the rent to about 80% of her income.
The number of cases like these in Southern California is dumbfounding, and the situation is sure to get worse as the population ages and the cost of growing old keeps climbing, thanks to housing prices.
While I'm paying visits and researching stories, I keep getting sidetracked as new cases come my way. Last week, I went from the garage in Arleta to a home in Highland Park. I'd gotten a tip about Don Preston, 85, and his wife, Tina, 76, who had begun packing their belongings at the two-bedroom house they've rented for 12 years. The house is going to be remodeled, and the rent they now pay — $1,325 a month — will soar in a neighborhood that's made national news for its gentrification. So the Prestons are scrambling to find a place they can afford.
The Prestons are accomplished artists, the kind of creative types who came to California not to make a lot of money but to pursue their passions. Is that kind of California dream still affordable?
Tina is a stage actress known for Padua Playwrights productions, L.A. Weekly acting honors and rave reviews. In this year's presentation of John O'Keefe's "Don't You Ever Call Me Anything but Mother," Theater Ghost's review said "Tina Preston's bravura performance raises it to a level of art."
Don is a pianist, double bass player and soundtrack composer with legendary range, including rock 'n' roll, jazz and experimental music. He played with jazz giants such as Nat King Cole, Gil Evans and Elvin Jones; he was the corkscrewed redhead on keyboards in Frank Zappa's Mothers of Invention; and he's still touring with a tribute band called Grandmothers of Invention.
But the entertainment/arts industry is much like L.A.'s broader economy, only more so, in terms of income inequality. For every performer who becomes a name and pulls in big money, thousands of artists struggle and juggle, and the bills always seem to outnumber the breaks.
In our dark moments, we have a lot of problems with our money situation. And the fear
— Tina Preston
"It's amazing we're still together," Tina said. "In our dark moments, we have a lot of problems with our money situation. And the fear."
Don posted their situation on his Facebook page, saying that L.A. has become "inaccessible to not only most artists, but especially to elder artists on fixed incomes." He issued a "shout out to those out there who may know of a modest, affordable … house or apartment."
He got a lead on a condo in Diamond Bar, but the rent is on the high side. So far, the Prestons haven't found a place that meets three criteria:
They kind of like it, it's big enough to hold their stuff, and they can afford it.
Over the course of their careers, the Prestons had a few highs but spent lots of time in payday valleys. Don has stories about royalty and writing credit disputes and a lawsuit against Zappa, and during a dry spell, he worked as a limo driver. Tina began designing and making clothes, which she still does. In 1970, they scraped together enough money to buy a house they were renting in Echo Park, but the owner got sick and later died before they could close a deal. So they've been renters through their 37-year marriage, moving several times when rents jumped.
"Our combined income is $1,700 a month," all of it Social Security, Don said. They always supplemented that with occasional outside income, but there are no guarantees.
"The last year has become the most frightening," Tina said, "because things have dropped off."
When they fell behind on the rent, their landlord offered a deal: He'd forgive the debt if they left by Nov. 1, and his property manager would help them find a place.
The Prestons applied for federally assisted housing years ago and qualified based on their low income, but they only recently got a Section 8 voucher. That means they can get a break on rent in a new place, but lots of landlords don't accept the vouchers. And by the way, when new applications for vouchers are accepted later this month for the first time since 2004, L.A. city housing officials expect as many as 600,000 people to enter a lottery for about 20,000 slots, and even the winners will have to wait years to find an available apartment.
"We've been looking for three weeks, and every place has a waiting list of like 300 people to 600 people," Tina said. "There's just no housing."
They did find one possibility in Highland Park, a couple of miles from where they are now. It's a one-bedroom apartment that goes for $1,480, but with their voucher, they'd pay about $725 monthly. They'd have to put half their belongings in storage, though, and that could eat a couple hundred dollars each month. And the apartment did not make a good first impression.
"It looks like a motel that's been redone into an apartment building," Don said. "There's no grass, no trees, nothing. There's barbed wire out the back window and another building six feet away."
They wonder if it would be smarter to move farther out, they said, where rents are cheaper. But there'd be a cost for that, too.
"That's a big trauma, to be really honest," Tina said, "to move out of not just the familiar, but out of your connections that … keep your creativity and your lifeblood going."
They've been through the what-ifs and woulda-couldas, Tina said, as they look back on lives devoted to the arts rather than material pursuits. It'd be lovely if there were greater support of the arts and artists, and greater distribution of the wealth, they said. But neither Don nor Tina lives with regret.
"All the fantastic enjoyment and creativity, and all the people that got to share all this stuff, that means a tremendous amount … way more than where I live," Don said.
We talked about the drummer I wrote about recently, another 85-year-old, whose rent is $100 a month higher than his Social Security income. Steve Hideg gets by only because his last playing gig brings in $50 each week, but as long as he can do what he loves, he's content with what he calls his beautiful struggle.
Don, who paints and writes poetry, gave me a collection of his poems. One is titled "Real Old," and it has these two lines:
At some point you start wondering
What it's like to die
But I've not met many people with as much life as there is in these two. Leaving the cozy, worn, clapboard home they're in will be rough, Tina said, but if the one-bedroom Section 8 is where they end up, they'll adapt.
Don has made a sketch of the new space, to scale, showing how they'd squeeze his piano and recording equipment into the room along with Tina's sewing machine and fabric cutting table. It's all there, the pieces of their lives, on a map of how they'll make it work.
Get more of Steve Lopez's work and follow him on Twitter @LATstevelopez
ALSO
Most of us are not ready for a major earthquake. This guy can help — and maybe save your life
Hear about the tract house that went for $800,000 above asking? Welcome to California 2017
They raised tens of thousands of dollars to fix a dangerous intersection. Now they can't get the city to take action
The stories shaping California
Get up to speed with our Essential California newsletter, sent six days a week.
You may occasionally receive promotional content from the Los Angeles Times.