For a man's makeshift home, destruction swiftly follows El Niño's arrival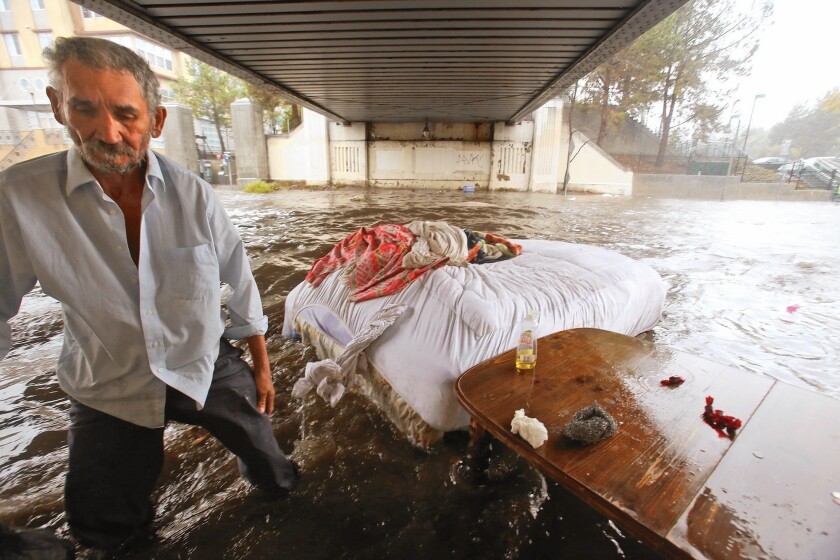 Tuesday began like any other winter morning under the Gold Line bridge on Avenue 26, except that this was an El Niño day, and Felipe Flores Lopez had no idea what the rains would bring.
I wouldn't have known about Lopez if not for Sister Giulii Zobelein, who sent me an email in early December.
"Hi, I photographed this fellow," wrote the nun, who lives in a convent next to Sacred Heart Church in Lincoln Heights and has been with the Sisters of Mission San Jose since 1951. "His little 'home' is unbelievable. Attached are photos."
In an alcove under the train tracks, Lopez had assembled his furniture as if he were living indoors. Next to a double bed — with box spring and mattress and a clean white comforter — was a kitchen table and set of chairs, along with cupboards. All these items were either donated, he said, or they were discards he scrounged. On top of his dresser sat a little Christmas tree with red decorations.
FULL COVERAGE: El Niño in California >>
When I tried to visit in December, Lopez was gone, but a little dish of candies was on the table, along with some apples, neatly arranged, and a loaf of bread. He was living a few feet from noisy traffic and across the street from the Cypress Park/Lincoln Heights train station, with no privacy whatsoever, but clearly a great deal of pride had gone into his homemaking.
On Tuesday, as the first heavy rains rolled in, I thought I'd see how Lopez was faring. He was asleep on his bed when I arrived, covers pulled over his head. He was dry, but water had pooled on the dirt floor of his home, right up to the foot of his bed, where his slippers lay on a wooden plank.
I announced myself and he popped out of bed. He's a slight man of 59, with a narrow face and a salt-and-pepper beard. I asked if he wanted me to make a call and see about getting him to a drier place to wait out the storms.
No thanks, Lopez said. He'd be fine. But he did have one concern, and pointed to the small rivers racing along the nearby gutter.
"The water is splashing onto the bed when cars go by," he said.
Lopez speaks rapidly, in muffled Spanish and English, and is hard to understand in either language. He pointed to his head, saying he has some health issues he couldn't specify, and showed me a healthcare card from the nearby county hospital.
Lopez said he worked in demolition, but had been out of work for years and couldn't afford to keep paying rent, so he took to the streets and had been under the bridge for several months, at least. He showed me his state food-assistance card and said he is doing OK on the $230 a month he receives, along with donations of money and food from passersby.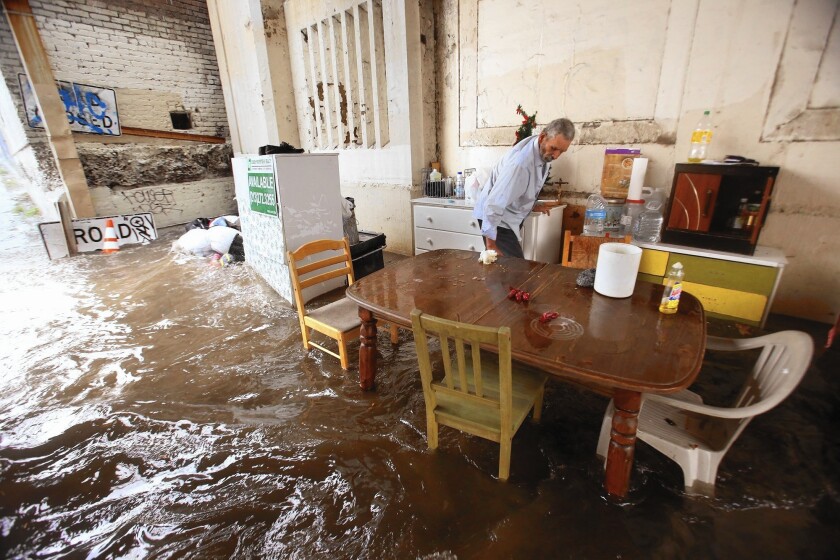 "I don't have a wife or children" to support, he said. "So it's fine."
The lunch hour was approaching and I offered to take Lopez out for a bite. He declined. Ever the gracious host, he decided to prepare lunch for me and Times photographer Genaro Molina. He set up his propane stove and went to the cupboard to get some Mazola corn oil, eggs, cheese, peppers and flour tortillas. As the rains picked up and the water rose, he whipped up a fine meal of burritos and set glasses of water on the kitchen table.
As Lopez showed off his kitchen skills, Rebecca Clendening, who lives in the neighborhood, approached. She's a nursing student at Pasadena City College and wants to get into public health or mental health. She had just gotten off a train and wanted to check on Lopez. She hadn't met him and didn't know his name, but she was worried about him because of the weather.
Seeing that he was OK, she went on her way. Soon after, the running water had crashed the curb and began spilling across the sidewalk and into Lopez's encampment. He stood on a patch of dry ground and didn't seem alarmed. But the water kept climbing, and as vehicles plowed through a street that had become a lake, waves were crashing at my ankles and moving higher.
Lopez rolled up his pants and began moving his belongings to safety, but it was too late. His slippers floated in swirling, knee-deep water. I fished the slippers out and set them on the kitchen cupboard, but was wobbled by the current and moved to higher ground.
Lopez's boxes and clothes rode currents as he helplessly watched his encampment get destroyed. Water moved under the frame he had built to keep his bed off the ground, the bed he claimed when a nearby resident had put it out for the trash, and the bed became a raft.
Lopez climbed atop it, a valiant captain trying to steer his vessel to safety against the curse of El Niño, but the bed traveled a good 30 feet. It came to rest — soaked through with filthy water — against a telephone pole. Once Lopez had done what he could, he went back to rescue his Christmas tree.
As this played out, a red Nissan stalled in deep water under the bridge, and three passengers were stuck inside. Someone called 911 and a crew from LAFD Station 44 arrived on the scene. Firefighter Jose Rodriguez, 59, on the job 30 years, bulled through swift knee-deep currents without hesitation and carried two women and one young man to safety, one at a time.
The rain slowed, picked up again, then stopped. The water slowly receded, and I helped Lopez lug some soaked blankets and the mattresses to drier ground. He pointed to the 110 Freeway and said he knew a place near where he could build a new camp that wouldn't get washed out in coming storms.
His shoulders had slumped, his disappointment more evident. A woman crossed the street and handed him a plastic bag with something inside.
"All his clothes got soaked," Rebecca Pimentel, 24, told me.
Pimentel said she lives across the street and has watched Lopez make a home for himself. When she saw him get swamped, she called her mother and asked her to get something out of the closet. Inside the bag she handed Lopez was a dry jacket.
Twitter: @LATstevelopez
MORE STEVE LOPEZ COLUMNS
2015 in review: How income inequality pervades the L.A. landscape
San Bernardino brothers: Selling homes, chasing dreams, seeing possibilities
Back on skid row with Nathaniel Ayers: A chorus of hallelujahs for 'Messiah'
---
The stories shaping California
Get up to speed with our Essential California newsletter, sent six days a week.
You may occasionally receive promotional content from the Los Angeles Times.