Column: 2015 in review: How income inequality pervades the L.A. landscape
Doris Tillman of South Los Angeles had lost her husband, her job and her water service, so she did what people do here in a gilded metropolis that throws curses at people on the fringes — she adapted.
When I think back on the year 2015, I'll conjure up an image of Tillman at 71, bending into a five-gallon water jug and hoisting dead weight onto her spiny knee before stumping over to the kitchen, an athletic move perfected out of necessity after nearly a year without running water.
Tillman had fallen behind on her DWP bills and the behemoth turned off her tap, making her one of about 8,000 customers capped off every month. She disputed the utility's accounting, given DWP's scandalous billing system woes, but was left to make do. Tillman purchased water at a vending machine, did the dishes with the same water that steamed her vegetables, showered at a rec center and learned to survive on 50 gallons a week.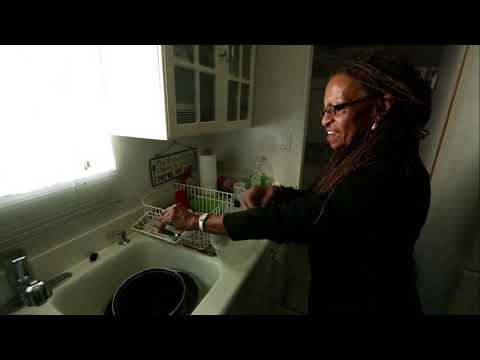 Doris Tillman has had no running water in her home since August. She fills up the 5-gallon jugs at a water dispenser twice a week, and uses the water for bathing, cooking and washing dishes.
Meanwhile, in another galaxy a few miles away, California's top residential water guzzler was pumping 1,300 gallons an hour — nearly 12 million gallons a year — to quench a lush Bel-Air estate. This, despite an epic drought that turned public parks brown and brought official demands for everyone to scale back.
There was no shutoff or crackdown in Bel-Air, home to four of the state's top five residential water gluttons, whose identities remain a mystery. DWP won't give them up because the customers technically broke no laws, other than moral ones. A DWP official told me that after media prompts, the utility sent someone to the most offending property and advised the owner — who was surprised by his No. 1 status — to summon the royal servants and have them cut the sprinklers already.
Who needs a chart on the staggering concentration of wealth when you've got someone who's barely aware of a $90,000-a-year water bill and someone just down the road who uses broccoli-steaming water to flush the toilet?
When I think back on 2015, I'll remember the $35-million Beverly Hills house in mint condition, and the real estate agent who revealed its fate.
It was a tear-down, he told me.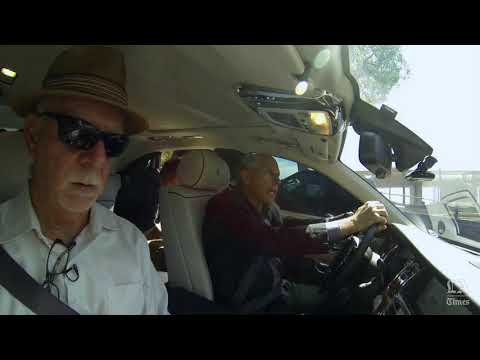 L.A. Times columnist Steve Lopez takes a tour of mega-mansions and wants to know if this is capitalism at its best, or run amok.
Someone bought it but wasn't thrilled with the layout, so he intended to bulldoze it and build anew.
Hard to forget that, or the Echo Park shoe repairman — Rafael Lopez — who works in one van and lives in another.
Greater Los Angeles is a crazy quilt of prosperity and poverty, with more rags and more riches than entire nations could ever amass, and 2015 brought enough new homeless encampments to make Charles Dickens choke on his shepherd's pie.
They're working on a plan about that in the local halls of power, and here is my bet: It will be just like all the previous plans, which were pretty good but lacked one key element — implementation. Which is why we are where we are, not that it helps when you park a minimum wage economy in a maximum cost real estate market.
Speaking of which, 2015 gave us nonstop talk about a minimum wage increase, thank you very much L.A. Mayor Eric Garcetti, City Council, L.A. County Board of Supervisors. But before you take yet another bow, raising the minimum wage was easy.
What about reconstructing the $30-an-hour economy that built the middle class in Los Angeles?
Garcetti once said his No. 1 priority was job creation, but he produced so little, council President Herb Wesson stepped up, only to disappear into the same vacuum.
Bucking global forces isn't easy, and government can't create private jobs. But with more coherent planning and a little imagination, it can create an environment that attracts them.
With its shipping ports, great weather, world-class universities and thousands of tech and medical grads, why is Los Angeles so far behind other cities in California and elsewhere in building a living wage economy around biotech?
Why is California ranked near the national bottom in school funding, and when we think about the future of those students, can we focus on something beyond promising $15 at Burger King in the year 2020?
When I think back on 2015, I'll recall Air Force veteran Rod McIntosh settling for $10 an hour at Bloomingdale's after making close to six figures in tech, and going to school on the side to give himself a chance to climb back into the ever-elusive middle class.
I'll remember the pride on Rafael Leon's face when he showed me the converted Hawthorne garage he found for his family to live in, even though, with his $10.25 hourly job in food prep near LAX, he can barely cover the $800 monthly rent.
I'll recall the look in Martin Saldana's eyes — a mix of determination and fear — when the Boeing C-17 production line shut down in Long Beach and he went from $40 an hour to about one-third the pay at a nearby factory.
I'll recall Miriam Antonio riding the bus to Fairfax High from her apartment in Koreatown, where she shares a bedroom with her mother — a night-shift janitor — and two brothers. Antonio, driven by a desire to go into politics and serve the needs of families like hers, is determined to get a college scholarship and one day lift her family out of poverty.
In 2015, I hosted a discussion on income inequality at the L.A. Times Festival of Books and keyed on a damning, shameful and all-too-true assessment by USC professor Ed Kleinbard in his book, "We Are Better Than This."
"We are the richest economy in the world, but an extraordinary number of Americans live in poverty. We are the most unequal society of all large peer economies, and even more shocking, we are nowhere near the top in income mobility — the ability to climb from poor to rich or to slide down the opposite side of that hill."
Our work's cut out for us in 2016 and beyond.
My thanks to all the people who let me into their lives in 2015 to tell stories about how we live and who we are. A special thanks to the hundreds of readers who generously donated to Miriam Antonio for her SAT prep courses and other needs, and to Doris Tillman, whose water service was turned back on.
steve.lopez@latimes.com | Twitter: @LATstevelopez
READ MORE: Steve Lopez on the struggles of the middle and lower classes
ALSO
On the Streets: A video series about homelessness in Southern California
State officials investigate potential data leak involving millions of California voters
L.A. County jail inmates were handcuffed to a wall for hours on 'potty watch'
Sign up for Essential California for news, features and recommendations from the L.A. Times and beyond in your inbox six days a week.
You may occasionally receive promotional content from the Los Angeles Times.