L.A.'s Mexican American cultural center begins to blossom after a rocky start
La Plaza was touted as an important addition to the heart of L.A. County, which is nearly half Latino. But like the history of its people, the center's journey has not been not easy. (Video by Claire Hannah Collins / Los Angeles Times)
There was a time when children of Mexican descent were slapped if they spoke Spanish in school.
As Toni Gomez walked through an exhibit at La Plaza de Cultura y Artes on a recent afternoon, she saw a reference to Malabar Street Elementary in Boyle Heights — and remembered that her mother, Ines, was once one of those students.

For the record:
11:16 a.m. Feb. 2, 2023An earlier version of the article noted that officials moved La Plaza's entryway from the side of the building to Los Angeles Street. The entry is on North Main Street.
"It's hard to be reminded of those things," Gomez said. "But this is our history, and it's important for us to come here and see it."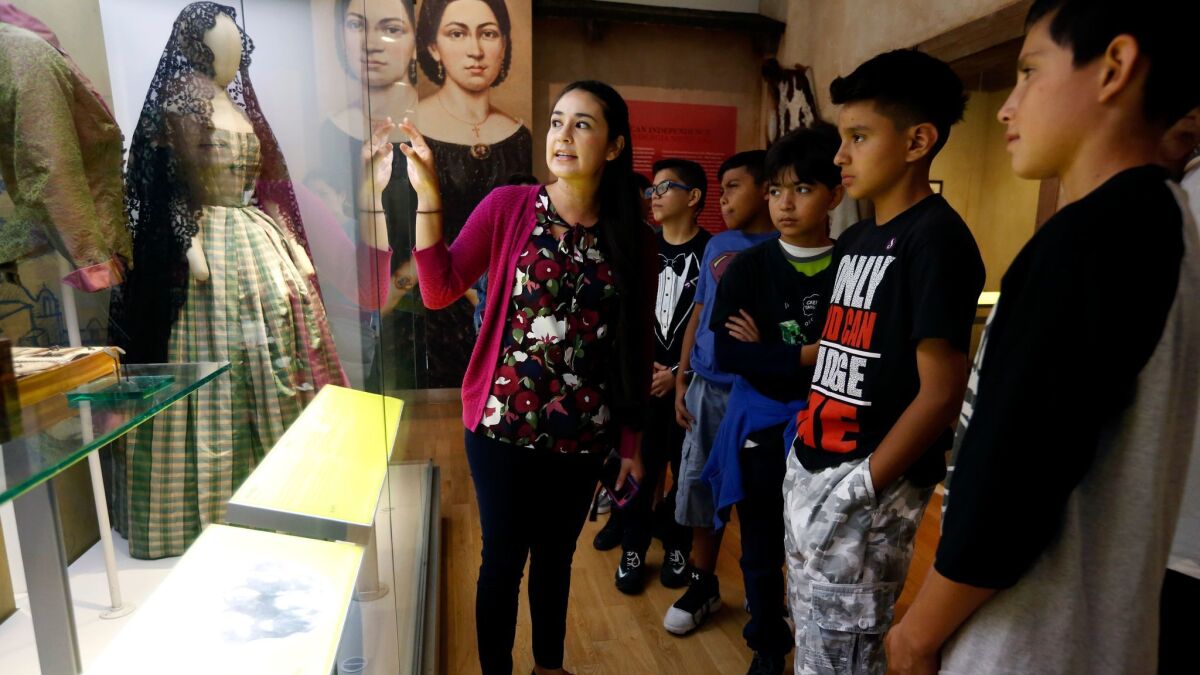 It was her second visit to La Plaza, a cultural center and museum that opened six years ago, aiming to be the city's leading home of Mexican American heritage.
Aided by more than $36 million in public funds, the county transformed two historic but dilapidated buildings near Olvera Street into a colorful, modern space with revolving art shows, interactive history exhibits, community events, a vegetable garden and a performance stage.
La Plaza was touted as an important addition to the heart of L.A. County, which is nearly half Latino. But like the history of its people, the center's journey has not been not easy.
Construction took years and sparked controversy when the remains of more than 100 Los Angeles settlers were dug up from an abandoned cemetery.
When La Plaza finally opened, it struggled with money problems. Its chief executive was accused of mismanagement, and half the staff was let go. Despite a gala launch and a prominent list of backers such as actress Eva Longoria, the place was mostly empty.
"It was a tough, tough beginning," said former county Supervisor Gloria Molina, who helped create the center.
These days, the museum is blossoming in many ways.
Donations and grants are expected to surpass $3.5 million this year — the highest total ever. The number of community programs and events has grown from 15 in 2011 to more than 80. And after the center switched leaders a handful of times, CEO John Echeveste has been at the helm for three years.
Every week, busloads of students stroll through exhibits.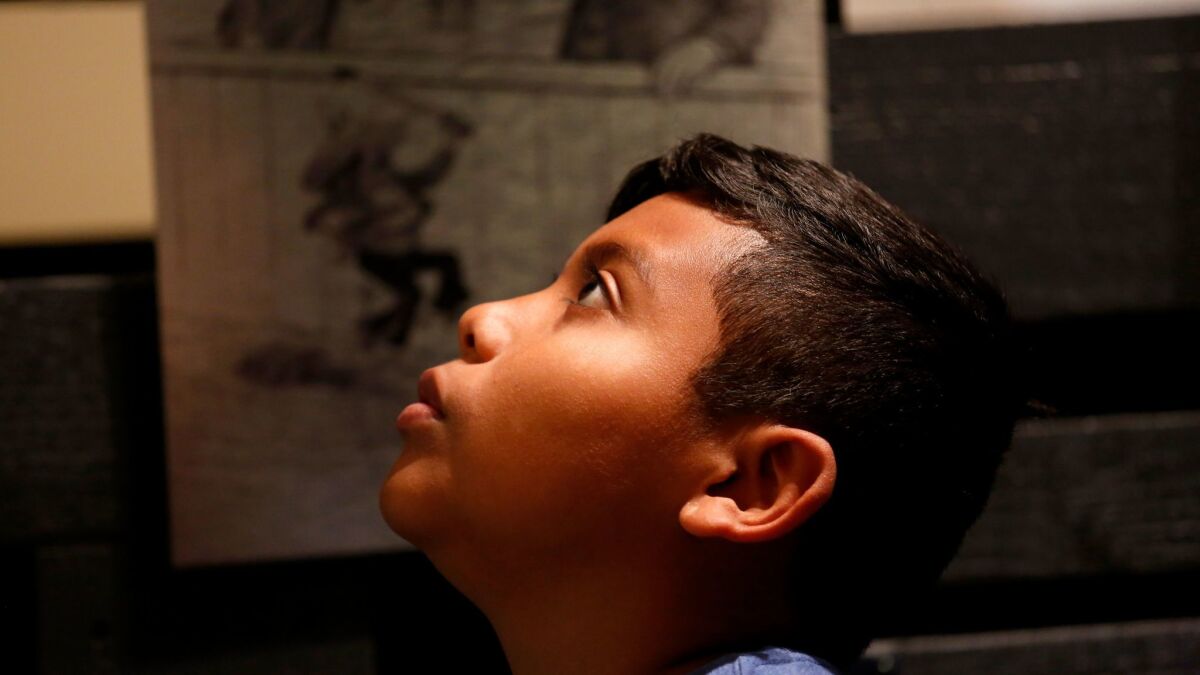 They grab baskets and pretend to grocery shop in the "Calle Principal" exhibit, which recreates the feel of Main Street in the 1920s. They explore farming in the teaching garden, then get culinary lessons from the center's chef using freshly picked vegetables such as eggplant and Swiss chard. And they gather around artifacts once owned by some of Los Angeles' first inhabitants, the Tongva and Gabrielino Indians.
On a recent morning, Francisco Murio — a seventh-grader at South East Middle School in South Gate — was most impressed by a man he had never heard of: Pio Pico.
Pico was a wealthy rancher who served as the last governor of Alta California from 1845 to 1846, when the territory was still part of Mexico. He died in financial ruin at 93 years old.
"He had all that power," Francisco said. "And then, just like that, he lost it."
As two curators led Francisco's class through the center, they helped the students connect the past to current topics such as immigration, school segregation and political protest.
Molina said La Plaza's founders wanted it to be a place filled with stories and conversations, where Latinos could learn about their struggles and feel inspired.
"We're talking about the family in Baldwin Park, the family in Torrance, the family in East L.A.," Molina said. "We want them to come here and learn about their contributions and their history, particularly the children."
But getting people to visit the center has been an ongoing challenge, even through admission is free — a rarity on the Los Angeles museum circuit.
A few months ago, officials moved La Plaza's entryway from the side of the building to North Main Street, thinking that might help attract visitors just across the way at bustling Olvera Street.
But because the structure is considered historic, they were not allowed to attach a sign to promote the museum. At this point, La Plaza doesn't have the budget to advertise on billboards or television, so it relies on social media.
"When people come by, they're sort of surprised we exist," board treasurer Miguel Santana said.
But those who do visit tend to take their time, he said, reflecting on their own history as well as the city's.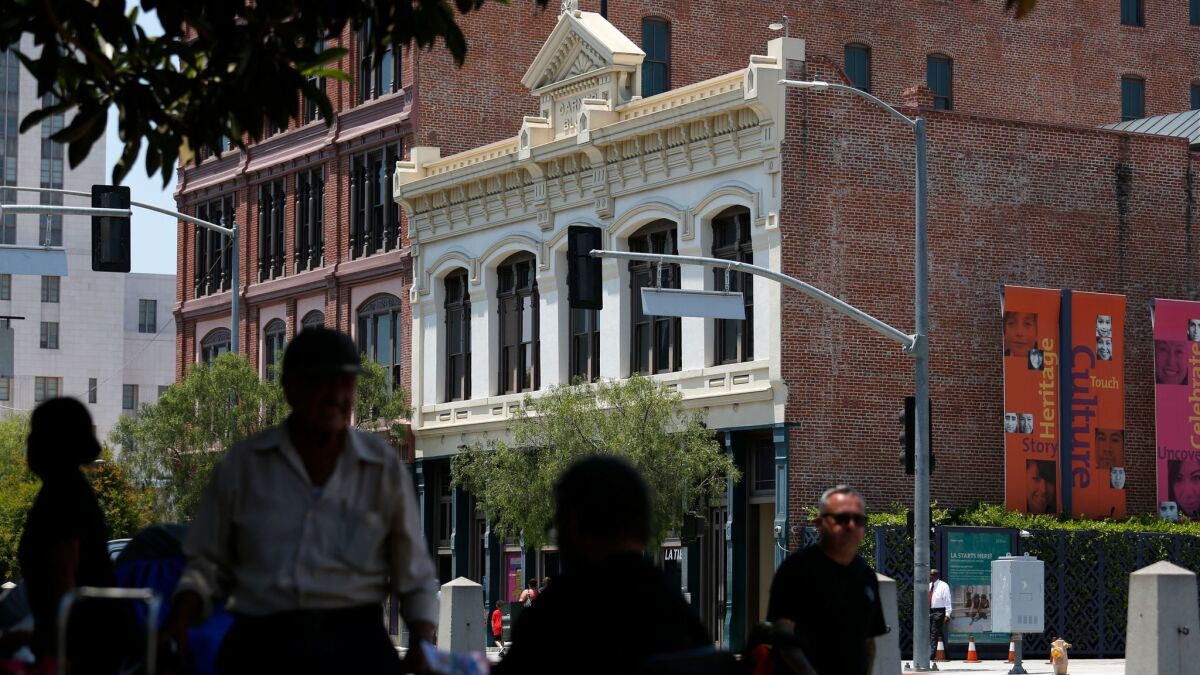 Gomez and her friend Lupe Garcia did just that as they began a tour that took them from the 1700s through the colonization period and the Mexican repatriation.
Seeing the reference to Malabar Street Elementary triggered an emotional conversation about language and identity.
"Growing up, we only spoke English at home because of everything my mom and dad went through," Gomez told her friend.
"I was the opposite," Garcia said. "I made sure I spoke to my daughter in Spanish, even though I used to get criticized for it."
While weekdays may be quiet, on the weekends La Plaza is a hub of activity — especially when there's an event.
The center has presented a lineup of community activities that draw thousands to its outdoor grounds, with food, salsa concerts, classic-car festivals and movie showings. There's also a regular menu of chats — on the history of chocolate, gentrification, poetry, the Latino gay experience.
Soon, La Plaza will open a kitchen across the street, where cooking classes and food programs will be offered.
"You can come and share your abuelita's pozole recipe or learn about the history of tamales," Santana said. "There's so much diversity among us, and we're excited about everything the future holds."
esmeralda.bermudez@latimes.com
---
The stories shaping California
Get up to speed with our Essential California newsletter, sent six days a week.
You may occasionally receive promotional content from the Los Angeles Times.