Family of man killed by deputies releases witness' video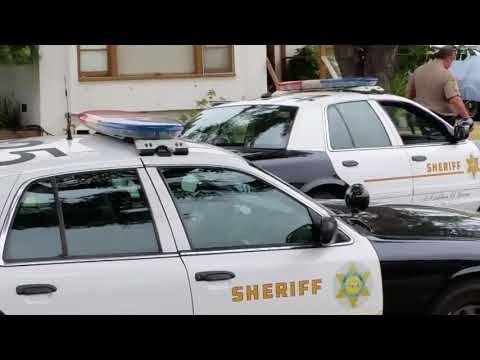 John Berry shooting video provided by Ethan Ysais, Attorney at Law
In the chaotic last moments of John Berry's life, Los Angeles County sheriff's deputies attempted to pull him from his car and shot him with a Taser as a woman screamed at them to stop. Then came the gunfire that sprayed the windshield of his BMW. Minutes later, the 31-year-old was pronounced dead at the scene — the curb just outside his Lakewood home.
The July 6 encounter was captured on a shaky, three-minute cellphone video that attorneys for Berry's family said Monday is key evidence in a claim they filed against the county and the Sheriff's Department for negligence, assault and battery and violation of civil rights.
At the time of the shooting, the agency said Berry had rammed his vehicle into a responding patrol car and later trapped a deputy between his vehicle and another auto. "Fearing for the deputy's life, the assisting deputies fired at the suspect," read a statement released shortly afterward.
But an attorney for Berry's family said that Berry never struck the patrol car with his vehicle and that the shooting began after a deputy fell down beside the cars.
At a news conference at the family's home, the attorney disputed allegations that the deputies' lives were in danger.
"No one here should have to endure the pain of watching a loved one unnecessarily and unlawfully be shot right before their eyes," added attorney Steven Carlson.
A neighbor recorded the incident and can be heard yelling at the deputies to stop using force on Berry. At times, the camera is not focused on the interaction between Berry and the deputies. Right before the shooting, the vehicle can be seen moving in reverse at which point deputies opened fire.
A spokeswoman for the Sheriff's Department confirmed it is in possession of a video filmed by a witness and said an investigation into the incident is ongoing.
"The video, while it shows only a portion of the incident, is consistent with other information developed during the investigation," spokeswoman Nicole Nishida said in a statement.
She noted that the video does not include the moment when deputies arrived, at which point Nishida said Berry drove his vehicle head-on into a patrol car.
"As deputies attempted to remove the suspect from his vehicle, he continued his attempts to operate the vehicle, placing at least one deputy's life in immediate danger. That is when the shooting occurred."
Berry suffered from a mental illness that was diagnosed a couple years ago. He was given a prescription for medication and seemed to adjust well, according to a family member. He got a job as the manager of a pizzeria and made time to play tennis and go for hikes.
One of nine children, Berry was known as a sweet kid who turned into a compassionate adult and liked to give food and money to the homeless.
"He was always introspective," said his neighbor Lisa Carter, 55. "He was not a violent person. Never ever."
As an example, she referred to a quote he posted on Facebook: "It's not about getting better than others. It's about progressing beyond one's own abilities."
But Berry was not himself and appeared to be off his medication July 4 when he showed up at home upset that he had lost his job. He called the police to complain that he wasn't being allowed access to the belongings in his room. When a deputy arrived, Berry gathered some possessions and left the house he shared with his mother, sister, brother and a niece.
Two days later, Berry reappeared at the house, parking his car on the front lawn. His older brother went out to talk to him.
"He was sitting in the driver's seat of his BMW," Chris Berry, 37, recalled. "I could tell he hadn't slept in a while."
Chris Berry, a federal police officer who works at a facility with two psychiatric hospitals, said he called the Lakewood sheriff's station and asked that a mental evaluation team be dispatched. He was informed that deputies would be sent instead.
The deputies who arrived were immediately aggressive and escalated the situation, Chris Berry said. He said he watched as they unleashed pepper spray, shot his brother with a Taser at least four times and struck him with batons. His brother, he recalled, looked stunned and cried, "What did I do wrong?"
"They said he accelerated and crashed into the police car. That did not happen — I was there for the whole thing," Chris Berry said. "But they have to say that because it justifies their aggressive actions.… I believe in my heart and I know Johnny wasn't trying to hurt them."
Chris Berry said that as a law enforcement officer, he is pained to be mixed up in what feels like a family fight. "I called one brother to help another brother and..." He stopped, unable to finish the sentence.
The family hopes the release of the video will hold the department accountable while also forcing law enforcement agencies to rethink how they interact with the mentally ill.
Berry's death has angered a close-knit neighborhood where longtime residents know one another's children and grandchildren. They often talk about the shooting, attempting to understand an event that left shattered glass and blood on their street.
"Just, how could this happen?" Carter said. "And how did it progress so fast?"
ALSO:
Group of black women kicked off Napa wine train after laughing too loud
'You're going to die soon,' man tells Louisiana trooper after firing fatal shot
Man dies after being run over by WWII tank on Jelly Belly chairman's property
Sign up for Essential California for news, features and recommendations from the L.A. Times and beyond in your inbox six days a week.
You may occasionally receive promotional content from the Los Angeles Times.