Truck drivers with temporary immigration status rally for permanent solution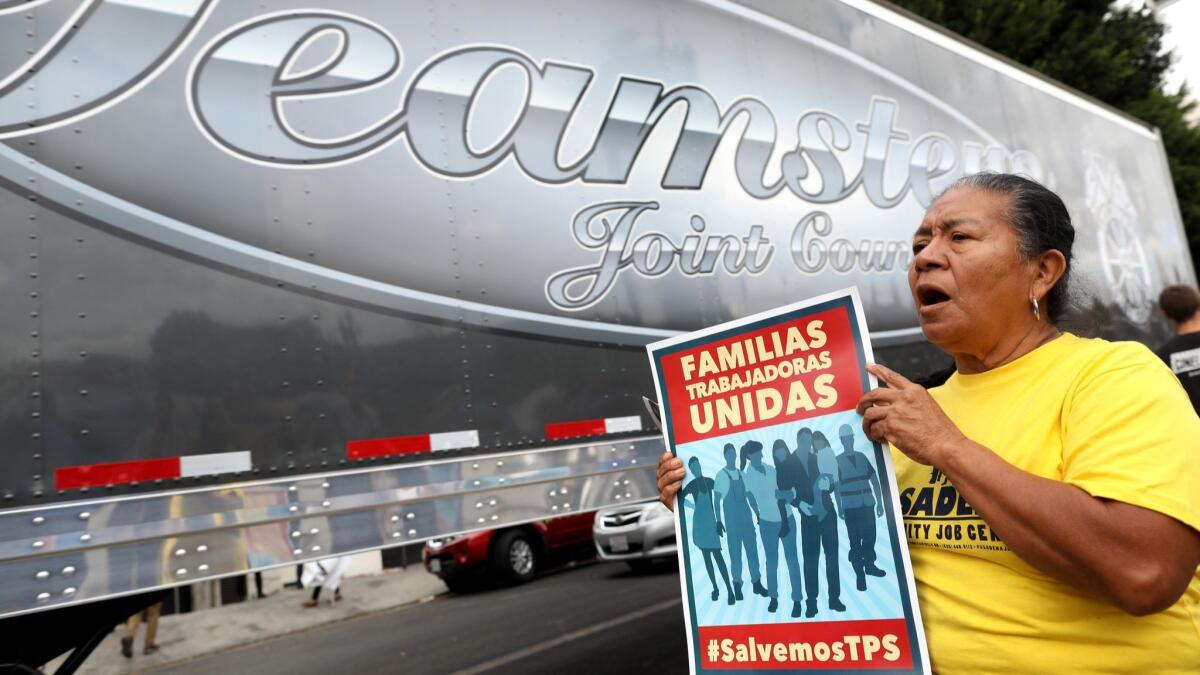 Under gray skies, a convoy of six tractor-trailers pulled up to the Metropolitan Detention Center in Los Angeles on Wednesday morning, kicking off a protest to call attention to the plight of hundreds of thousands of legal immigrants — some of them truck drivers — who face deportation when their temporary protected status runs out in the coming months.
Nearby, Cesar Rodriguez, a truck driver who has temporary permission to live and work in the U.S., rallied with a yellow sign with black lettering that read "Full Protection Now." The 46-year-old from El Salvador stood with about 100 other protesters near a stage featuring a band playing cumbia music. Later that day, a group of 60 leaders in immigrant rights, labor and faith participated in a planned act of civil disobedience, sitting down and blocking the intersection of South Figueroa Street and West Harry Bridges Boulevard, near the port in Wilmington.
As of 3 p.m., LAPD officers started making arrests. In all, 64 people were arrested and released, said LAPD Officer Mike Lopez.
Rodriguez drives a truck that hauls containers to and from the docks of the Port of Los Angeles, carrying merchandise for Amazon, Walmart and Target.
"If I lose my TPS, I lose my trucker's license," Rodriguez said, referring to his temporary protected status in the U.S. "I work hard. I have a clean record. I pay taxes. Right now, I have no solution to fix my status if TPS ends.
"I'm scared because I've lived in this country for so many years. We've adapted to this country. We have U.S.-born children."
The TPS program allows people from countries facing upheaval or natural disasters to work and live in the U.S. on a renewable temporary basis.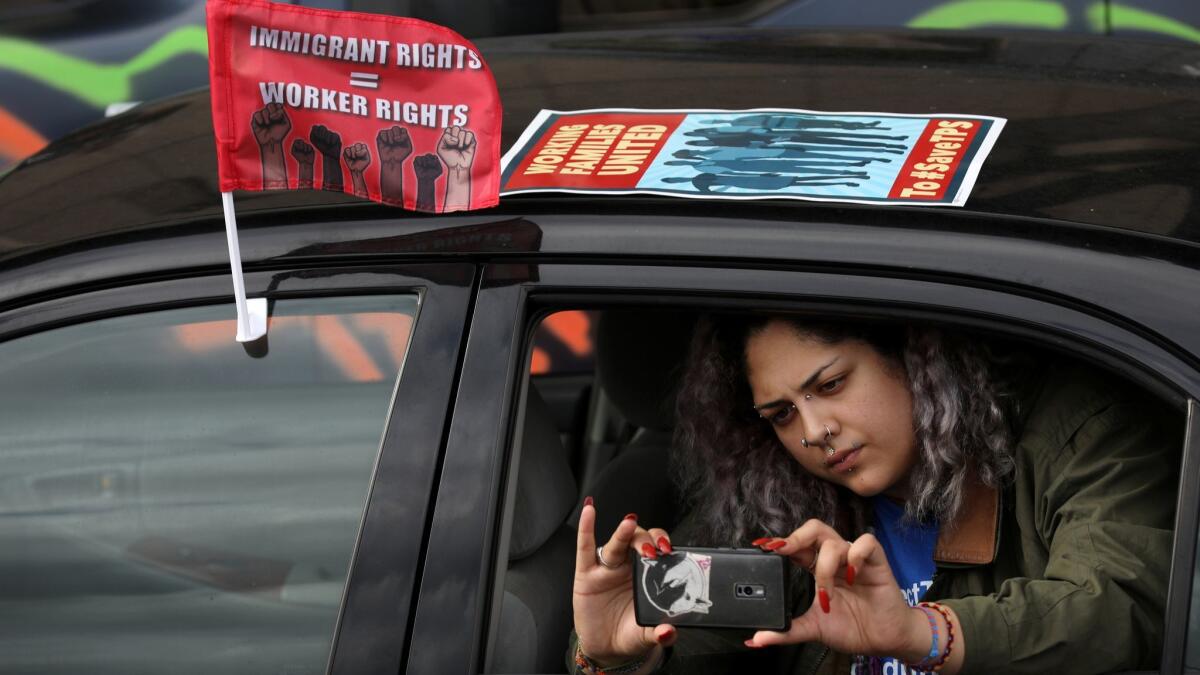 This year, the Trump administration rescinded the program for some 262,000 Salvadorans — many of them with U.S.-born children. Rodriguez and others like him now have until September 2019 to decide whether to return to the small Central American country, find another way to stay or hide and risk removal from the United States.
Last year, the Department of Homeland Security also announced an end to temporary protections for Nicaraguans, Haitians and Sudanese. This year, DHS ended the program for 60,000 Hondurans.
The American Civil Liberties Union sued the Trump administration, arguing that terminating TPS is unconstitutional and could have a major effect on hundreds of thousands of immigrant families.
The administration of George W. Bush extended the special protections for Salvadorans in 2001, after two devastating earthquakes in El Salvador. But current administration officials say conditions in El Salvador have improved since then — an assertion challenged by advocates who point to a State Department travel warning for U.S. citizens.
The agency's website warns of the dangers of travel to El Salvador, noting that the country has "one of the highest homicide levels in the world and crimes such as extortion, assault and robbery are common."
Rodriguez has lived in the U.S. for more than 20 years, he said. He came to the U.S. illegally but was able to gain immigration relief under TPS after a disastrous earthquake in 2001.
He didn't like living with such precarious immigration relief but said he has no other option to stay in the country permanently. His 18-year-old daughter, who was born in the U.S., would be able to sponsor him in a few years. But it's a long process, and what would he do in between?
At the rally, Rodriguez chanted "Residency" and "Justice" as a band playing cumbia music serenaded those inside the detention center.
A couple of hours later, the caravan of protesters drove to the Port of L.A.'s Wilmington Waterfront Park, where they rallied with port truck drivers and warehouse workers who are on their third day of a strike. They are protesting the classification of drivers as independent contractors and claim the logistics companies owe them back wages.
Carlos Revelo, a truck driver with TPS from El Salvador who planned to rally at the port, said this was the first time he had protested for immigration reform.
The 41-year-old said he never felt the need before.
In years past, he's seen rallies on the nightly news, but he never felt compelled to participate. He never thought TPS would be canceled.
"I'm protected," Revelo would tell himself.
After 20 years in the U.S., he had deep roots in this country and felt apart from all that. He bought a Mediterranean two-story house in a newly planned community in Lancaster. His sons — all U.S.-born citizens — only know life here, Revelo said.
"I was too comfortable and secure. I had to come out of the shadows," he said. "I never imagined I'd do something like this."
Times staff writer Alene Tchekmedyian contributed to this report.
Follow Cindy Carcamo on Twitter @thecindycarcamo
---
UPDATES:
10:35 p.m.: This article was updated with the number of arrests.
3:45 p.m.: This article was updated with details on a planned act of civil disobedience and arrests being made.
This article was originally published at 1:40 p.m.
Sign up for Essential California for news, features and recommendations from the L.A. Times and beyond in your inbox six days a week.
You may occasionally receive promotional content from the Los Angeles Times.