Art gives a lifeline to help veterans cope with traumatic memories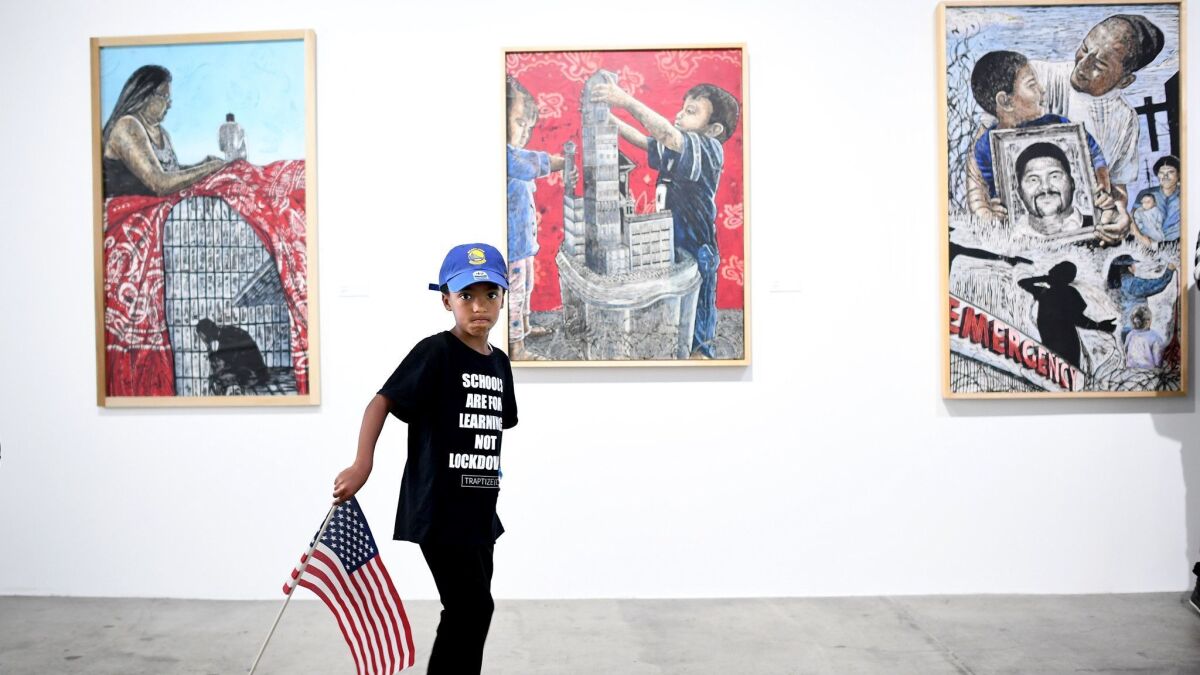 As part of a Marine Corps K team sent to the front lines since Vietnam, Sgt. Mike Dowling and his military dog, Rex, ventured into Baghdad streets to sniff out suicide bombers, improvised explosive devices and weapons caches.
In 2010, he was given a new assignment: working with wounded veterans at the Naval Medical Center San Diego who had lost limbs, suffered severe burns or had lost their sight. He also tracked down veterans who had lapsed into substance abuse or were suicidal.
Surviving hellish experiences and witnessing terrible losses took a toll. Dowling was diagnosed with post-traumatic stress disorder, joining thousands of veterans struggling to deal with invisible psychological wounds.
On Monday, Dowling, author of "Sergeant Rex: The Unbreakable Bond Between a Marine and his Working Military Dog," told how creative writing served as a form of therapy during a panel discussion that was part of an ongoing downtown event hosted by the Los Angeles County Department of Mental Health to focus on trauma, art and healing.
"Writing that book was a cathartic experience," said Dowling, now a producer in the entertainment industry. "Once I got it down on paper, it felt OK to talk about what had been deeply repressed, painful feelings. I found that through writing, I could actually channel some of the energy of certain memories and images into artistic reflections that were empowering."
Art therapy has long been a component of school counseling departments, acute care hospitals and nursing homes. But now it's also being tapped by veterans' agencies and clinics for its value as a constructive expression of states of mind both extreme and inescapable.
The event called "We Rise," held in and around a massive warehouse, features a gallery of more than 150 artistic expressions of inner solitude, loneliness and confusion. Some of the works, such as a massive sculpture of an iPhone with kitchen knives sticking out its screen that's titled "Cyber Bully," offer shocking manifestations of alienation and fear.
One visitor muttered, "Sometimes a wall is the only witness," while pondering a profoundly moving work called "Weeping Wall," which consists of only two small holes dripping tiny tears of saline solution.
The gallery will remain open to the public through June 10. But Memorial Day festivities included free performances by singer-songwriters Skylar Grey, Jackson Browne and Elliott McKenzie, 33, a Marine Corps veteran diagnosed with PTSD linked to his experiences in southern Baghdad's infamous Triangle of Death.
"I shot a man dead — and 16 Marines from my battalion, including my commander, were killed by small arms fire, IEDs and rocket-propelled grenades," he recalled. "My PTSD didn't start acting up until a few years after I returned home in 2005. Once, a kid's balloon popped in a supermarket and I ducked behind the lettuce and tomatoes for safety."
A counselor introduced him to songwriting as therapy, which produced "Shots Fired," a song that went viral on social media platforms popular among veterans with PTSD.
The chorus: "Shots fired everywhere I go. Makes me want to hit the floor."
Tess Banko, 37, executive director of the UCLA Veteran Family Wellness Center and a Marine Corps veteran, took up acrylic painting after she was diagnosed with PTSD related to traumatic experiences while stationed in Okinawa, Japan: the suicide of her husband and what she described as "a catastrophic sexual assault."
"The ways in which trauma can manifest are shocking," said Banko, a speaker on a panel discussion devoted to trauma and relationships. "I've dealt with veterans who can't be touched. Some others could not bear the sound of a cigarette lighter, or even the click of a ballpoint pen.
"Many veterans turn to physical therapy, medication and acupuncture for help," Banko said. "But a growing number are looking into art and music programs.
"Even though making sense of what's going on inside can be difficult," she added, "it is important to know that someone loves you — even it is only you — and that is where artistic expression can really make a difference."
Jon Sherin, director of the Department of Mental Health, would not argue with any of that.
"Our goal is to engage as many as possible of our 250,000 clients across the county of Los Angeles in the creative process," he said. "Trauma is important, and art can be a path to treatment and opportunities for personal recovery and well-being in life."
---
The stories shaping California
Get up to speed with our Essential California newsletter, sent six days a week.
You may occasionally receive promotional content from the Los Angeles Times.