LAFD's latest recruits are primarily white and overwhelmingly male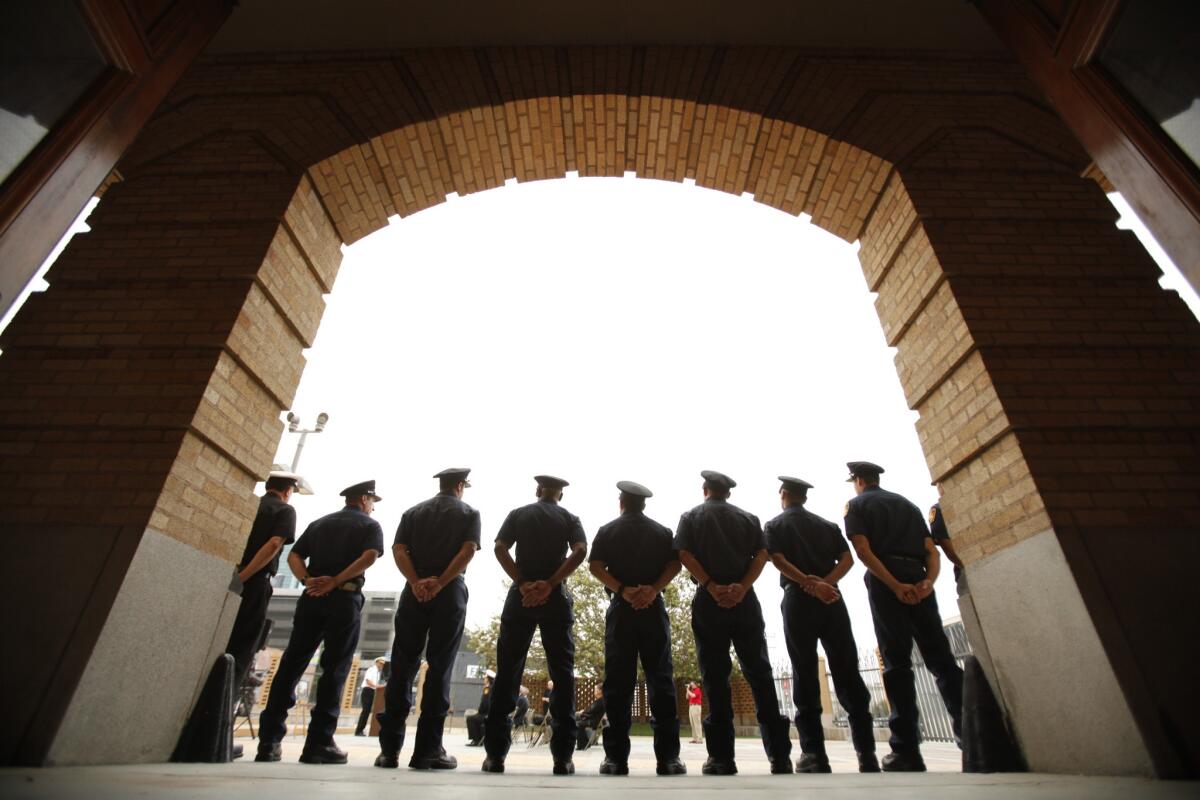 A second class of recruits hired after Los Angeles Mayor Eric Garcetti's overhaul of the city's firefighter hiring process is primarily white and overwhelmingly male, marking little progress toward the mayor's pledge to diversify the Fire Department.
The 54 recruits, who are scheduled to start training at Terminal Island on Monday, include only two women.
Racial minorities are better represented than in past years, but the administration's new hiring and screening effort has fallen short of the kind of diversity needed to alter the LAFD's overall makeup so it reflects the city it serves, city data show.
The latest hiring figures have renewed calls for reforms to a selection system that has been criticized for nepotism and mismanagement. Some are asking for increased funding for efforts to attract qualified women and minorities to the department.
"That's the key," said Fire Commissioner Jimmie Woods-Gray. "There's not enough women and African Americans applying."
In March 2014, the mayor halted LAFD hiring after The Times reported that thousands of candidates were excluded from the applicant pool because their paperwork wasn't received in the first 60 seconds of a filing period. Many applicants said they had no idea mere seconds would determine which candidates advanced.
Nearly one-third of the 70 recruits eventually hired were related to LAFD firefighters, and the group's makeup was overwhelmingly white. It included only one woman, who later dropped out.
Soon after, Garcetti backed a hasty reboot of the hiring process that added a lottery to winnow down the large applicant pool.
To further the mayor's diversity initiative, each gender and ethnic group was guaranteed a percentage of slots equal to their proportion of the initial applicant pool.
Of the more than 10,000 people who entered the lottery, only 5% were women, city data show, limiting the likelihood a large number would advance through testing and interviews to be hired.
Because state rules outlaw government hiring quotas for women and minorities, city officials say their best chance to increase their numbers in the Fire Department is to entice more to apply.
Aides to the mayor and Fire Chief Ralph M. Terrazas said they are considering additional changes to the firefighter hiring process, but they declined to provide specifics.
The LAFD has struggled to overcome a long history of racial and sexual discrimination. In recent years, bias complaints have cost taxpayers millions of dollars in legal payouts.
Though the rank and file has become more racially diverse, whites continue to make up about half of the roughly 3,200 uniformed LAFD employees, but only 29% of the city population. Latinos, who make up about half the city population, are the most underrepresented ethnic group. And despite repeated calls for reform, the percentage of female firefighters remains at slightly less than 3% — the same as in 1995.
The new class of recruits is 43% white, 30% Latino, 11% Asian American and 9% black. It also includes one Native American and three recruits who declined to state their ethnicity. The number of recruits in the latest class related to LAFD firefighters has not been tallied, officials said.
Those who complete training will join a force charged with fighting fires within the city limits, but also one in which sworn firefighters perform many less physically demanding tasks. In many other cities, officials say, those tasks are assigned to civilian employees and, among other things, tend to result in more women being hired.
Those jobs can include handling 911 calls, enforcing the fire code and rolling out on medical rescues that have become the bulk of emergency responses.
"A lot of those jobs could easily be done by any woman," said Danita Crombach, former manager of the 911 call center at the Ventura County Sheriff's Department.
Sign up for Essential California for news, features and recommendations from the L.A. Times and beyond in your inbox six days a week.
You may occasionally receive promotional content from the Los Angeles Times.