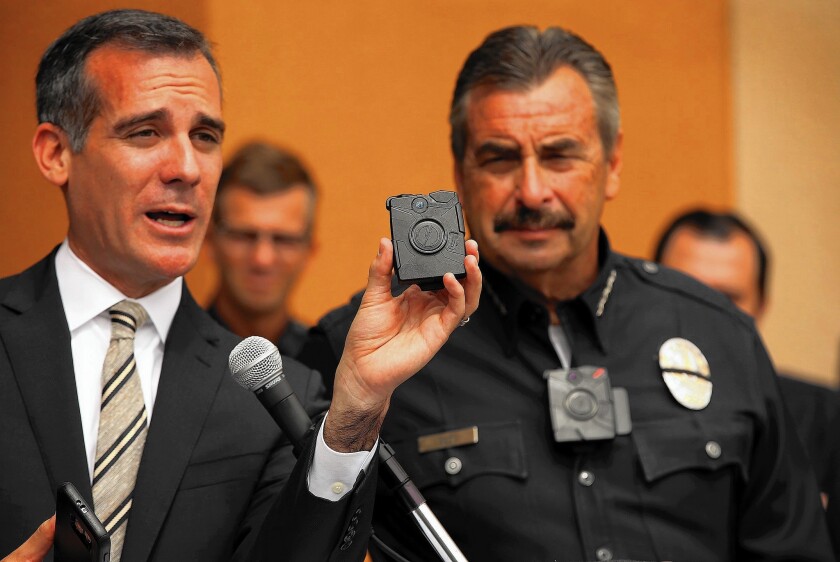 Los Angeles leaders have described their plan for putting thousands of body cameras on police officers as transformative, a move that will set the standard for major law enforcement agencies across the nation.
But that costly and sweeping initiative — expected to consume $57.6 million over five years — hinges on a little-watched contracting process that unfolded more than a hundred miles north.
LAPD officials are asking the City Council to purchase body cameras from Scottsdale, Ariz.-based Taser International. They also want to avoid a time-consuming and potentially politically messy bidding process. So they've asked city lawmakers to let them "piggyback" on a competitive search carried out by officials in Kern County.
Kern County officials used a bidding process last year to buy 30 Taser Axon body cameras for $65,530. Weeks later, the LAPD announced that it planned to use the same search to make a bigger order: 6,140 cameras, plus replacements and upgrades, and 4,400 Tasers — all at a cost of $31.2 million over five years.
The city's practice of piggybacking on another government agency's bidding processes is legal and used regularly in L.A. and elsewhere, officials say. But in the LAPD deal, that maneuver has sparked complaints from competing technology companies, which say they were denied the chance to bid on the camera contract.
"They are running the risk of missing out on a more capable technology at a lower cost," said Robert McKeeman, chief executive of Utility, a software firm based in Decatur, Ga., that sells a camera called BodyWorn.
Join the conversation on Facebook >>
McKeeman says that, given the huge size of LAPD's camera program, city leaders should examine all the products currently on the market.
Department officials point out that they had a competition in 2014, with technology companies testing their devices in the field. Although the LAPD relied on another agency's search, it negotiated more favorable financial terms — $99 per camera compared with $399 in Kern County, they said.
Police Commissioner Steve Soboroff, an appointee of Mayor Eric Garcetti who has championed the body camera initiative, said complaints about the LAPD's process are simply "sour grapes" from losing bidders. The LAPD is moving swiftly on the camera initiative, he said, in response to calls by President Obama and the mayor for improved documentation of incidents involving police.
City leaders also have been trying to steer clear of long, contentious bidding fights like one that engulfed the search for a company to run the city-owned Greek Theatre last year.
"We didn't have time for that here," Soboroff said. "That's why I said my first day as a police commissioner that I wanted to get this done in 18 months, not 18 years."
NEWSLETTER: Get the day's top headlines from Times Editor Davan Maharaj >>
In recent months, Soboroff has cited Ferguson, Mo. — where a black 18-year-old was shot to death by a white police officer — as one reason for moving aggressively on the camera program. Still, even some advocates for the adoption of body cameras say the LAPD is moving too fast.
"The idea that they're using a no-bid process is consistent with the idea that they just decided to do this and rush through this as fast as they could," said Peter Bibring, senior staff attorney with the American Civil Liberties Union of Southern California, a critic of the LAPD's policy that governs public access to the body camera footage.
Officials with Taser International did not respond to multiple requests for comment.
Los Angeles is not the only city to use the piggybacking procedure to purchase cameras from Taser. In Wichita, Kan., police officials relied on a bidding process carried out by the state of Arizona's procurement office. Scottsdale's police force did the same thing. In Virginia, officials in James City County ordered 69 Taser cameras using a procurement process performed by the nearby city of Fredericksburg.
L.A. contracting officials say about 10% of the agreements the city awards for goods and commodities — hoses, golf carts, automobiles and other items — are made while relying on another government agency's competitive bidding process. In some cases, city officials rely on a bidding process carried out by much larger agencies, like the U.S. Army. In others, they have turned to much smaller jurisdictions, such as a park district in Palatine, Ill.
"Typically, we would do that because it's going to get us some good pricing," said Deborah Ramos, assistant general manager of the city's General Services Department.
Still, one businessman who sells body cameras contends the piggybacking process is a poor fit for body cameras. High-tech products tend to become more sophisticated and less expensive over short periods of time, he said, making a new bidding process worthwhile.
"It's not like buying concrete or lumber," said the businessman, who asked to remain unnamed out of fear that speaking publicly could hurt his company's business prospects.
LAPD technology officials say they monitor the evolving body camera market and remain confident that they selected the right product.
LAPD field officers spent part of 2014 testing three types of cameras — two produced by Taser and a third from Coban Technologies. After two 90-day tests, the department concluded that Taser had the best camera on the market.
In May, the LAPD decided to find another government agency whose bidding process had resulted in the selection of cameras that matched the department's specifications. Had the LAPD embarked on a formal bidding process, it would have had to assign as many as 15 staffers and spend more than a year on that effort, said chief information officer Maggie Goodrich.
Under the LAPD's proposed agreement with Taser, the cost of data storage and docking stations would also be considerably less than Kern County's. "We actually ended up with much better pricing than we would have had we spent the next year" conducting a new competitive search, Goodrich said.
The City Council initially had been scheduled to vote on the camera contact Dec. 16 but delayed that decision after lawmakers voiced concerns about cost and logistics. Councilman Paul Krekorian, while voicing support for the camera initiative overall, said he wanted to learn more about Kern County's search.
"I will need to make sure the city's obligations come from a truly competitive, open and fair process, so that the city gets the best deal possible," he said in a statement.
Kern County issued its request for body camera bidders last May, securing responses from four companies. One of the bidders, Kansas-based Digital Ally, was dropped because of support costs and battery life, according to documents. Among the remaining three, Taser received the highest ranking, with Kern County officials saying it was cost-effective and had an "easy-to-use system."
Lorena Golveo, sales director with L.A.-based body camera manufacturer Wolfcom, said her company did not participate in Kern County's competition. At the time, she said, company executives did not know the LAPD would rely on that search to make its own purchase.
"We have been trying so hard to get into LAPD," she said. "We wanted to be able to show what we had here."
Twitter: @davidzahniser
Twitter: @katemather
ALSO
In latest case of L.A. jail abuse, trial will focus on alleged beating of handcuffed inmate
County turns to urgent care centers, rather than jails or ERs, to treat the mentally ill in crisis
SoCal Gas abandons plans to capture and burn gas at Porter Ranch leak, citing safety concerns
---