L.A. tourism expected to set its fourth record in as many years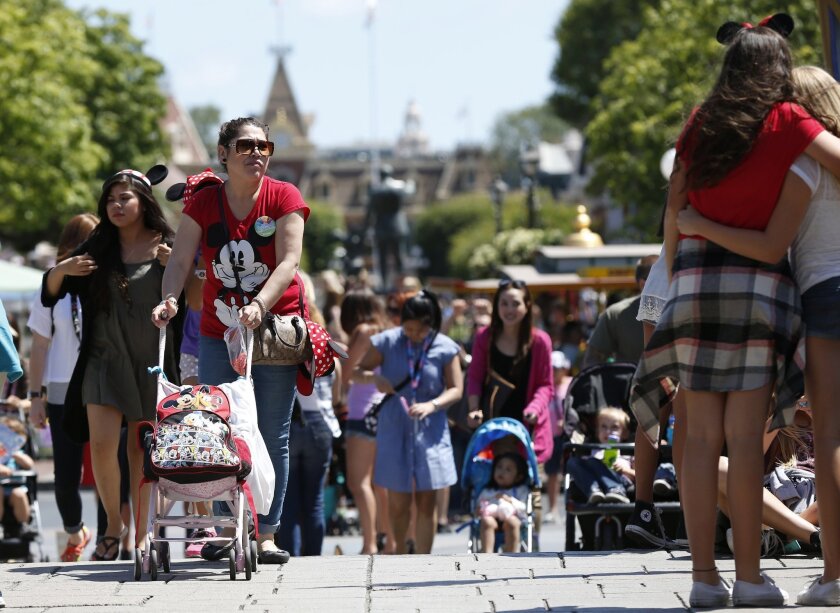 In another sign L.A. is shaking off the worst recession since World War II, local tourism in 2014 is expected to set its fourth record in as many years and Los Angeles International Airport — after more than a decade of struggle — will finally exceed its previous peak for airline travel.
At LAX, which was hit hard by 9/11 and the recession, the number of airline passengers will probably surpass 70 million for 2014, far exceeding the previous peak of 67.3 million in 2000, according to a Times review of city data. In the aftermath of the terrorist attack on New York's World Trade Center in 2001, the passenger volume plummeted roughly 18% to about 55 million by 2003.
The West Coast gateway recovered more slowly than many other major commercial airports across the nation because of the deeper effects of the economic downturn, changing travel patterns and natural disasters overseas, most notably Japan's devastating earthquake and tsunami.
Still, by 2013 LAX handled a record 17.8 million international travelers, exceeding a previous high of 17.5 million in 2005. If last month's passenger counts follow trends of earlier months, the number of international travelers passing through LAX could total almost 19 million for 2014.
Airport officials attributed the resurgence to an improving global economy, especially in Asia, and a modest strengthening of the Southern California economy.
At a news conference Tuesday, Mayor Eric Garcetti, airport officials and tourism industry representatives are scheduled to lay out details of the gains and highlight the latest round of modernization projects approved for the nation's third-busiest airport.
The data are expected to show growth in visitors, hotel occupancy and both international and domestic airline passengers at LAX.
"We are on an uptick in tourism and that will continue to grow. At LAX, we are finally over a major hump," said Gary Toebben, president and chief executive of the Los Angeles Area Chamber of Commerce.
At the bottom of the recession in 2009, the number of visitors to the city had plunged to 34.4 million. Two years later, Los Angeles welcomed a record 40.4 million visitors — 1.9 million more than in 2010.
As the economy rebounded, the number of visitors continued upward, reaching an estimated 42.2 million in 2013. Though the number has not been released yet, 2014 promises to be another record year with a forecast of 43.2 million visitors.
Hotel occupancy rates have increased as well, surpassing the previous record of 75.1% set in 2006. In 2013, the rate was 76.8%. Figures showing further improvement for 2014 are expected.
To accommodate the growth, LAX is undergoing a multibillion-dollar modernization that includes the remodel and expansion of the Tom Bradley International Terminal. Among recently announced projects are a $1.25-billion midfield concourse with 11 new passenger gates, a consolidated car rental facility and a people mover that would link the terminal area with a new light-rail project.
Jerry Nickelsburg, an UCLA economics professor, attributed the increase in tourism and air travel to a steadily improving economy, the state's population growth, more visitors from China and a thriving Los Angeles tech sector that has helped bring a surge in business travel.
Nickelsburg, who participates in the Anderson School of Management's economic forecasts, expects the growth in tourism to continue. The U.S. economy, he noted, is forecast to grow 3% this year and household incomes will increase, which, along with lower gas prices, will make vacations more affordable.
"If you live in the Midwest, you might say, 'Let's drive to Disneyland or L.A.,'" Nickelsburg said. "All this bodes well for the California tourism industry."
Follow @LADeadline16 for local news
---
For reporting and exclusive analysis from bureau chief John Myers, get our California Politics newsletter.
You may occasionally receive promotional content from the Los Angeles Times.