Why ex-L.A. Sheriff Lee Baca gets to keep his pension even if he goes to jail for lying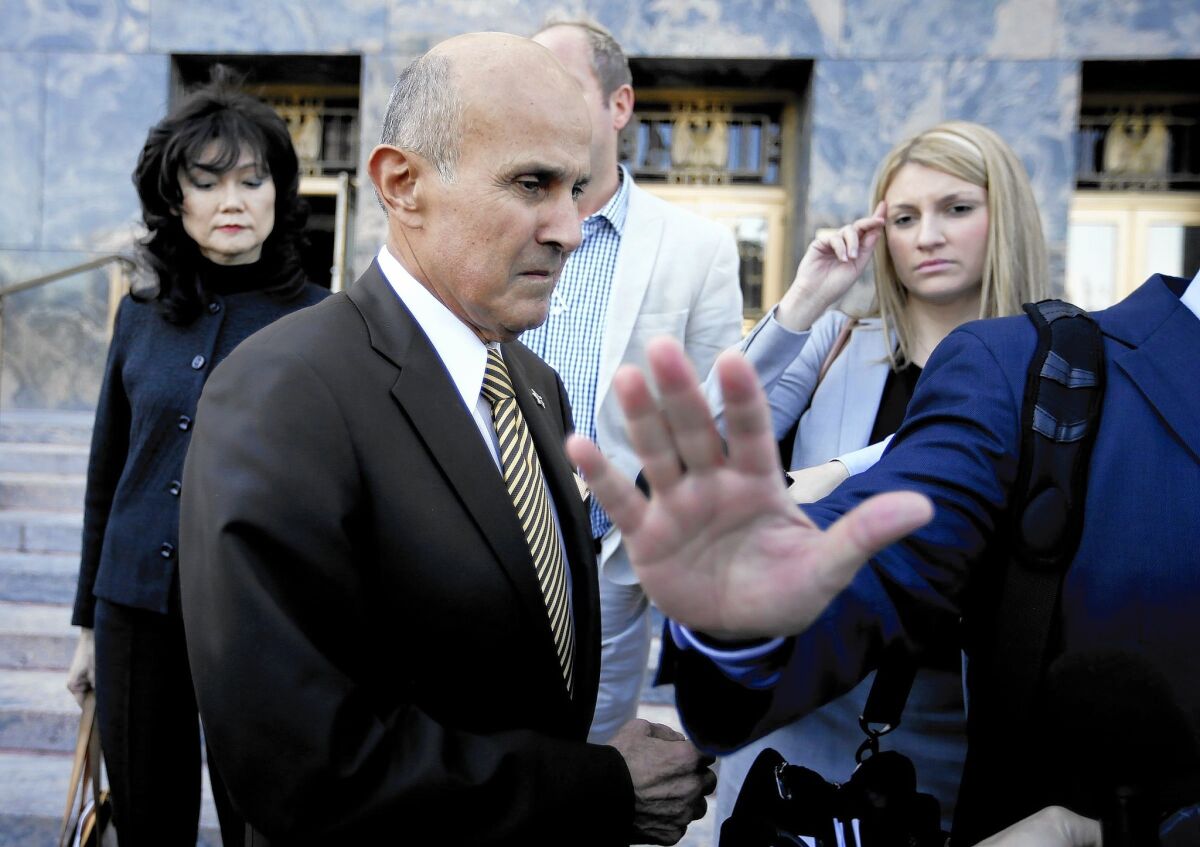 Retired Los Angeles County Sheriff Lee Baca could lose his freedom for up to six months when he is sentenced in federal court in May, but there's one thing he won't forfeit — his county pension.
Reforms enacted in 2013 to strip pensions from public employees who commit job-related felonies will have little effect, if any, on the roughly $328,000 annual benefit owed to Baca, who pleaded guilty this week to lying to federal officials investigating corruption and brutality by deputies at the Los Angeles County jail.
Sweeping pension reforms that took effect three years ago included a provision that would force public employees convicted of job-related crimes to forfeit pension benefits "from the date of the felonious act going forward," said Gregg Rademacher, chief executive of the Los Angeles County Employees Retirement Assn.
In other words, benefits accrued up to the date of the crime are paid; those earned afterward are not.
"It cuts down the time you worked to the day of the crime," Rademacher said.
The forfeiture provision could have a significant effect on the pension benefits of a public employee convicted of a crime committed many years earlier. In Baca's case, however, the operative date appears to be April 12, 2013, the day he has admitted to making a false statement to the FBI and U.S. attorneys investigating the nation's largest jail system.
As part of his plea agreement, which calls for up to six months in prison, Baca admitted to lying during an interview with prosecutors. They were grilling him about whether he was involved in attempts by sheriff's officials to impede the investigation federal officials launched in 2010 after inmates complained of beatings and other abuse.
Interested in the stories shaping California? Sign up for the free Essential California newsletter >>
Agents found evidence of assaults, including attacks on a mentally ill inmate and a man visiting a jailed relative. More than a dozen former sheriff's officials have been convicted of charges related to the beatings and attempts to cover them up. Baca is to be sentenced May 16 by U.S. District Judge Percy Anderson.
Baca, who stepped down in 2014, was initially eligible for a monthly pension of $26,961, a sum that has been adjusted twice for inflation. The former sheriff's current monthly benefit is about $27,300, of which he collects $19,447, with the remainder paid to his ex-wife in accordance with a court-approved dissolution agreement, Rademacher said.
Baca's pension could be recalculated if the court determines the date of the original crime was earlier than April 2013, Rademacher said. But it otherwise is not likely to take a significant hit, because Baca had long ago maximized his benefits. Under the terms of his retirement plan, an employee must work 39 years and be at least 55 to reach 100% of salary, Rademacher said.
Baca, 73, clocked 48 years of service in the system, he said. Baca spent the last 15 years as the elected sheriff.
"He could have retired many years ago," Rademacher said.
Mario Mainero, a professor at Chapman University Dale E. Fowler School of Law, said that in 2012 state lawmakers took steps to reform public employee retirement eligibility in the wake of two highly publicized cases of felons who continued to receive pensions: former Orange County Sheriff Mike Carona, who was convicted of a corruption charge, and Los Angeles Unified School District teacher Mark Berndt, who was convicted of multiple charges of lewd acts with children.
Until the reforms were passed, with few exceptions, only elected officials could lose their pension benefits and only for specific job-related crimes such as fraud and embezzlement. Mainero said the Legislature's action broadened the law to cover all public employees, and expanded forfeiture so that it will be imposed on conviction of all felonies committed in performing official duties, or in seeking office or securing salary or benefit increases.
At least one court challenge involving the new law is pending.
Attorney Stephen Silver, who litigates pension cases, said he represents a plaintiff who is facing the loss of several years of retirement benefits and, perhaps more important, disability benefits obtained after the date of the alleged crime. His client's former employer and retirement system have sought to deny a payout of the disability benefits.
richard.winton@latimes.com | Twitter: @LAcrimes
kim.christensen@latimes.com | Twitter: @kchristensenLAT
Join the conversation on Facebook >>
ALSO
Baca's guilty plea caps a 'sad saga' of corruption'
Editorial: Justice finally catches up with Baca - who helped deny it to others
The stories shaping California
Get up to speed with our Essential California newsletter, sent six days a week.
You may occasionally receive promotional content from the Los Angeles Times.