Operation Pandora's Box blew up in L.A. County sheriff's officials' faces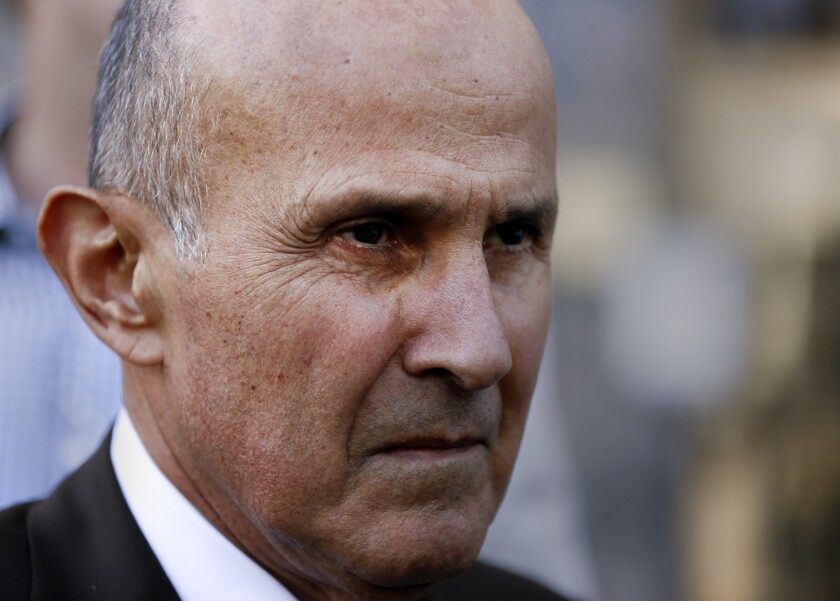 At the center of the FBI's investigation into allegations of obstruction of justice by Los Angeles County sheriff's officials was a top-secret program known to a select few deputies as Operation Pandora's Box.
The federal investigation into the operation took a dramatic turn Wednesday with news that retired Los Angeles County Sheriff Lee Baca had pleaded guilty to a federal charge of making a false statement.
Here's a look at the operation from The Times archives:
What was Operation Pandora's Box?
It was launched after sheriff's officials learned in the summer of 2011 that the FBI had enlisted Anthony Brown, an inmate at the Men's Central Jail, to collect information about allegedly abusive and corrupt deputies.
In an unusual move, sheriff's officials responded by moving Brown, a convicted bank robber, to a different jail under a fake name.
They assigned at least 13 deputies to watch him around the clock, according to documents reviewed by The Times. And when the operation was over, the deputies received an internal email thanking them for helping "without asking too many questions and prying into the investigation at hand."
A Baca spokesman previously said that Brown was moved not to hide him from the FBI, but to protect him from deputies.
Prosecutors allege the goal was to prevent the FBI from talking to Brown.
Full Coverage: L.A. County jail system under scrutiny
What was the role of former Undersheriff Paul Tanaka, who was indicted on corruption charges last year?
An internal Sheriff's Department email, written while Brown was allegedly being hidden from the FBI, states that Tanaka or one of his subordinates had to be present before deputies could move Brown.
In the email, Deputy Gerard Smith warns his colleagues: "To keep yourself free of any controversy ... let the approved, above listed people deal with Brown's issues.... It has been expressed to me (several times now) that this is one of the most important investigations involving the Los Angeles County Sheriff's Department in its 160 year history. No joke."
Tanaka has said he had a minimal role in the Brown matter and that he did nothing improper or illegal.
Who is Anthony Brown?
In a 2012 profile and interview with Brown, The Times outlined his role in the federal investigation:
He took down the names of sheriff's deputies who he alleged were dirty. He reported tales of violent abuse of inmates at the hands of jailers. He even ensnared a deputy in a phone-smuggling scheme that resulted in a criminal conviction.
Brown gave FBI agents what they couldn't have gotten on their own: an insider's view of a jail system beset with allegations of excessive force and other deputy misconduct.
Brown is serving a lengthy prison sentence for bank robbery and has a long criminal history. He is a former cocaine addict who has a history of lying and making dubious allegations against law enforcement, according to court records and interviews.
In his interview with The Times, Brown said that he delivered notes about corrupt and brutal deputies during weekly visits with his FBI handler.
Brown helped with an undercover FBI operation to bribe a jailer, who smuggled a cellphone into jail for him. Brown told The Times he used the phone to take photos of deputy beatings and transmit them to his FBI handler. The Times could not independently verify whether he provided photos to the FBI.
What was the false statement Baca made?
Baca admitted lying in an April 12, 2013, interview with investigators.
Baca told them he was not involved in hiding Brown and was not aware that one of his top lieutenants had intervened to stop agents from questioning Brown.
In addition, he told investigators that he was not involved in sending sheriff's officials to the residence of Leah Marx, an FBI agent working the jail case, to threaten her with arrest; he said he only learned about it when an FBI official phoned him to complain. According to the plea agreement, Baca was at the meeting the day before where officials came up with the plan and told his subordinates they "should do everything but put handcuffs" on her.
In entering his guilty plea, Baca admitted only to lying to officials about his awareness of the visit to the FBI agent's home. Under the terms of the plea deal, he agreed not to contest the prosecutors' other allegations.
Where does the case stand now?
So far, more than a dozen former sheriff's officials have been convicted as a result of the wide-ranging investigation, which began more than five years ago. Baca is scheduled to be sentenced in May.
ALSO
Ex-Sheriff Lee Baca's guilty plea caps a 'sad saga' of corruption
Ex-L.A. County Sheriff Lee Baca pleads guilty in jail scandal
Retired L.A. Sheriff Lee Baca admits he lied to the FBI in the jail abuse scandal
---
Get breaking news, investigations, analysis and more signature journalism from the Los Angeles Times in your inbox.
You may occasionally receive promotional content from the Los Angeles Times.