Police appeal to public in search for 15-year-old girl's killer; $50,000 reward is offered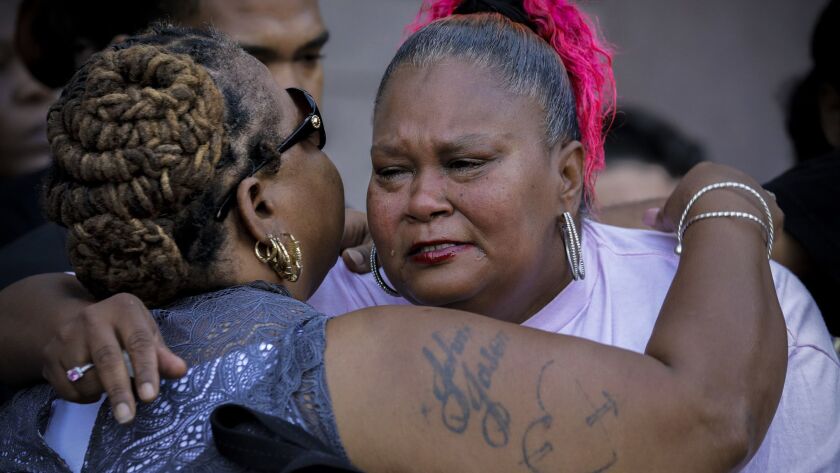 Once again, Samantha Mays stood in front of TV cameras at a South Los Angeles police station and asked for the public's help in solving the killing of her 15-year-old daughter, the second time she has done so since the shooting in April.
Police at the Friday morning news conference emphasized the $50,000 reward offered by the city of Los Angeles for information leading to the arrest of a suspect in the slaying of Hannah Bell, who was gunned down as she stood in line waiting to get a hamburger.
Nearly five months later, central questions about the crime remain: Why did a gunman fire four to five shots at a burger stand? Who was he aiming for?
Police say they're no closer to those answers and need more people — particularly three witnesses who were nearby at the time of the shooting — to come forward with what they might know. In a city where the number of homicides has declined significantly since the 1990s, it is relatively rare for a young girl to be shot and killed, seemingly at random.
"She's just so young," LAPD Officer Eddie Amaral, the investigator in the killing, said.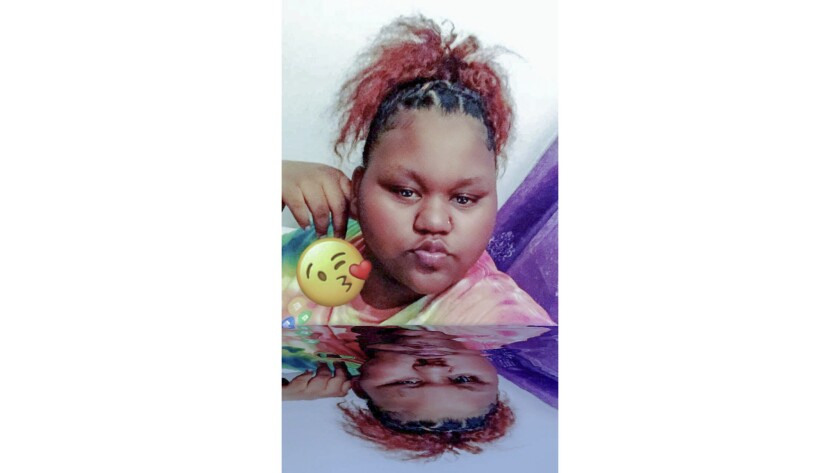 Police are still trying to determine if the shooter — described as a male wearing a black hoodie with a white T-shirt — got into a car, and if so, what make and model. At this point, the smallest bit of information will help, Amaral said.
Usually detectives can glean information about the circumstances of a killing through the victim's background. Hannah wasn't a gang member, police said, and had no criminal connections. She was a student who someday dreamed of becoming a singer, her mother said.
Sometimes, people in the neighborhood talk. Loose lips can help detectives narrow down the potential gangs involved in a killing. But in this case, Amaral said, there hasn't been a lot to work from.
"Nobody has really come forward with any information at all," he said.
On April 27 shortly before 9 p.m., Hannah told her mother that she wanted to grab a bite to eat. The two were staying with relatives a few blocks from the burger stand, so Hannah and her mother made the short walk to the restaurant, located in the 7700 block of South Western Avenue in Manchester Square. Hannah and her mother were waiting for their food when a person ran up and began shooting. Bell was shot, and died at a hospital. No one else was hurt.
Eileen Barker mentored Hannah last year through City Year, an education nonprofit that aims to build students' academic and social skills. Barker said that the Santee Education Complex freshman was smart, compassionate and serious about her education. Hannah rode a bus an hour each way to and from school and often stayed late to do her homework.
"Her dream was to go to college," Barker said. "But not only to go, but to graduate."
Barker said that Hannah remains an inspiration for her to continue working with kids.
"Hannah just gave me so much hope," she said.
On Friday, surrounded by family, Mays teared up as she remembered her daughter, the youngest of four siblings, who she said lifted everyone in times of hardship. She described Hannah as an "old soul."
"My daughter just wanted something to eat, and this man's eating every day," she said. "I just want somebody to come say something."
Anyone with information can call detectives at (323) 786-5113.
For more crime news, follow @nicolesantacruz on Twitter.
---
UPDATES:
5:30 p.m.: This article was updated with comments from a mentor.
This article was originally published at 4:05 p.m.
---
The stories shaping California
Get up to speed with our Essential California newsletter, sent six days a week.
You may occasionally receive promotional content from the Los Angeles Times.