Rising bloodshed in L.A. feels like 'Dodge City,' LAPD chief says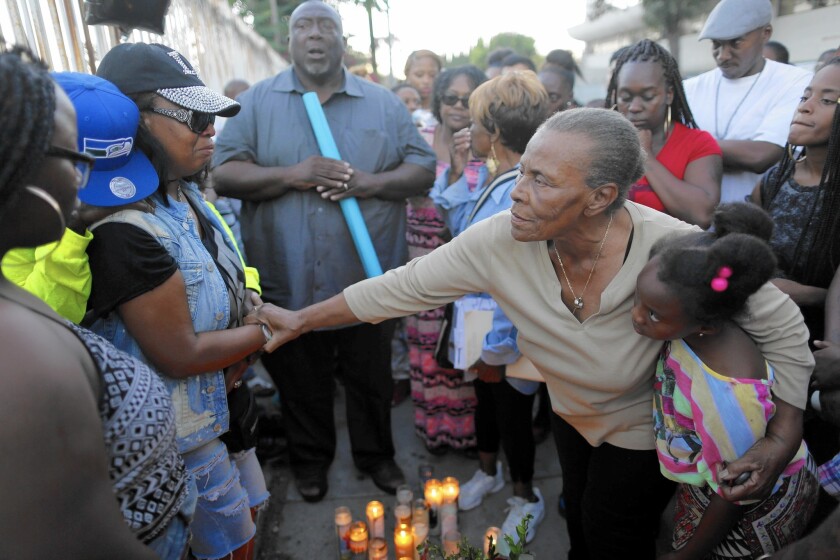 The violence that erupted this weekend across Los Angeles had a familiar pattern.
A 30-year-old man was fatally shot Sunday morning at a Jack In The Box in South L.A.. Six hours later, a man sitting on a milk crate at a Watts housing project was shot and killed. Three hours after that, someone jumped out of a car and gunned down a 16-year-old. In North Hollywood later that night, a gunman killed a 24-year-old man.
In all, 19 people were shot over the weekend, five of them fatally. On Tuesday, Los Angeles Police Chief Charlie Beck was blunt about the impact of the violence.
Interested in the stories shaping California? Sign up for the free Essential California newsletter >>
"This is not Dodge City," he said. "And unfortunately, it looked a little too much like Dodge City this weekend."
For months, the LAPD has been sending more officers onto the streets in an effort to quell the violence that's risen across the city this year, particularly the gang-related activity that Beck said fueled most of the weekend's attacks.
But the number of killings continues to creep higher — homicides are up nearly 11% this year compared with 2014, Beck said.
Police have seen crime decline in some neighborhoods, only for it to flare up again elsewhere. The violence slowed in recent weeks in the LAPD's South Bureau, where most of the killings have occurred. But over the weekend, two people were fatally shot in Watts, an area where until then only one person had been killed since March.
LAPD Asst. Chief Jorge Villegas said the weekend's violence prompted officials to again look at how police were being deployed in the city. The goal, he said, is to isolate the crime and prevent retaliatory attacks from happening.
If one shooting appears isolated, Villegas said, police will focus their efforts elsewhere on shootings that could spark more violence.
For example, authorities are conducting more parole and probation checks in the San Fernando Valley after one of the weekend shootings, which officials believe was connected to an earlier robbery involving a street gang.
"There's some type of feud that needs attention immediately," Villegas said.
The LAPD's top brass defended the city's crime-fighting strategies, saying the mix of gang prevention and intervention efforts, youth outreach and officers focused on suppression have helped bring down the soaring gang violence L.A. experienced years ago.
Villegas noted there were fewer homicides in September than in August, when 39 people were killed during the deadliest month the city had seen since 2009. The last week of August saw a string of shootings similar to last weekend's problems.
"I honestly believe that if we weren't doing what we are doing and we weren't as aggressive with our continuous movement of resources, crime would be twice as high as it is now," Villegas said.
Beck echoed that view Tuesday.
"Does that mean that they always stop four young men from getting in the car at two in the morning and driving down into a rival neighborhood and shooting at people on the sidewalk? You can't always prevent that," the chief said. "But the models that we have work. It just requires diligent application."
Aqeela Sherrills, an activist who works to curb gang violence, said that the city was not taking the right approach to stem the killings. Although investing more in programs such as the city's Gang Reduction and Youth Development program is a step forward, he said, more needs to be done.
"The city has to pivot and show that it's really invested in community-based solutions," Sherrills said. "The response is not more police."
After years of decline, violent crime rose in Los Angeles in recent months. For a while, homicides were the one bright spot, remaining relatively flat through the spring. But by summer, killings were also on the rise.
Still, the homicide rates in Los Angeles and other cities are far lower than in decades past. The number of killings in L.A. peaked in 1992, when the city saw 1,092 homicides. Last year, the figure was 260.
The rising violence is both a public safety and political issue.
Police have met with residents, gang intervention workers and clergy, asking for help in calming tensions and tracking down those responsible for the crimes. That message was repeated Friday during an emotional news conference at City Hall, where the mother of a 13-year-old boy wounded near a taco stand begged for the public's help in bringing her son's shooter to justice.
"You watch the nightly news, you might get two or three [homicides] a night, and then you watch your late-night show and you go to sleep," Mayor Eric Garcetti said at the news conference. "We can't rest easy. We cannot go on doing what we are doing."
Capt. Peter Whittingham, who oversees a group of detectives who investigate homicides in South Los Angeles, said the LAPD needed a "sustained partnership" with the community to address the violence.
He and other LAPD officials called on residents to help police identify the people who are shooting.
"If we really want to bring justice to a grieving family, the community needs to rise up and send a message to these gang members," Whittingham said. "To let them know that they cannot hide among us."
On Tuesday evening, friends and relatives of Elijah Galbreath gathered at the spot where the 16-year-old was fatally shot two days before. His football teammates were among the dozens of people who huddled around a cluster of candles that spelled out the boy's name.
Galbreath was walking along East 103rd Street on Sunday afternoon when a person got out of a light-colored sedan, walked up from behind and opened fire, LAPD Officer Ronald Kingi said. The shooter sped away. Galbreath died at a hospital.
"I don't think he had a chance," Kingi said. "You're walking in your own neighborhood in broad daylight and you don't think something like this is going to happen."
Galbreath's mother sobbed at the vigil as her older son listened in on the phone from college.
Mike Cummings, who grew up in Watts and works in violence prevention efforts, told the crowd he was tired of coming to vigils like the one they were at.
"For Elijah's death not to be in vain, we need to make a change," he said.
ALSO:
Two men charged with murder in death of UCLA student
3 human adult-sized skulls found at Palmdale home
Artist fatally shot while working on anti-violence mural in Oakland
---
The stories shaping California
Get up to speed with our Essential California newsletter, sent six days a week.
You may occasionally receive promotional content from the Los Angeles Times.