Rural UC Merced on edge after police kill student who stabbed four
A SWAT team from the Merced County Sheriff's Department enter the UC Merced campus after reports of stabbings. An assailant stabbed four people on central California campus before being fatally shot by police.
(Andrew Kuhn / Merced Sun-Star)
UC Merced student Karen Bustamante, 18, left, hugs her mother, Gloria Bustamante of San Leandro, Calif., after she leaves campus following a series of stabbings.
(Paul Kitagaki Jr. / Sacramento Bee)
At UC Merced, the entire campus became a crime scene as police investigated the stabbings of four people.
(Michael Robinson Chavez / Los Angeles Times)
At a news conference Wednesday afternoon, Merced County Sheriff Vern Warnke, left, UC Merced Chancellor Dorothy Leland and campus Chief of Police Albert Vasquez answer questions about the attacks on campus that left four injured and a student dead.
(Michael Robinson Chavez / Los Angeles Times)
Law enforcement and university officials arrive for a news conference after the stabbings at UC Merced. Two of the victims were taken to a hospital for treatment, and the two others were treated on campus.
(Michael Robinson Chavez / Los Angeles Times)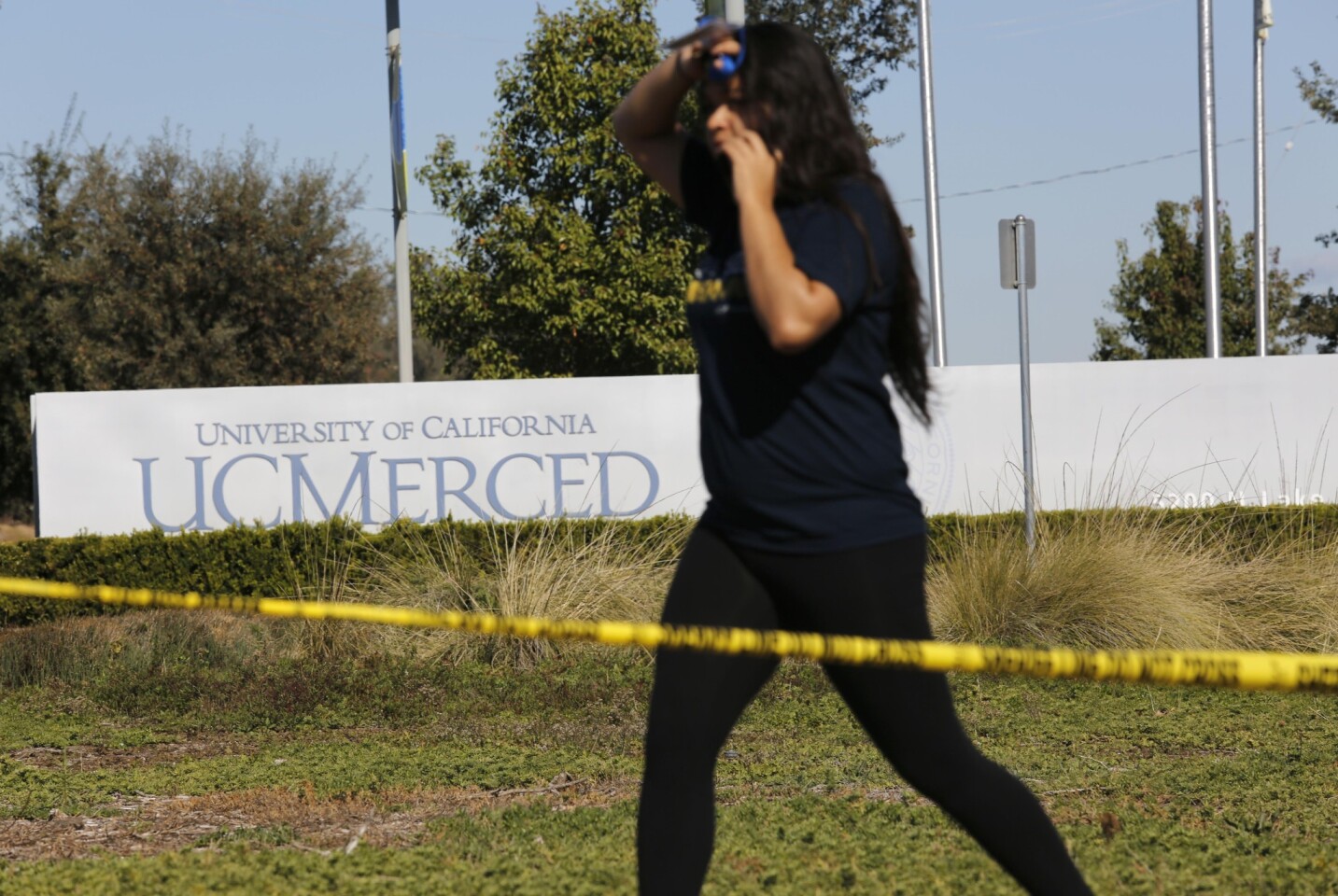 A UC Merced student walks past police tape to leave campus after the stabbings.
(Michael Robinson Chávez / Los Angeles Times)
Merced County sheriff's officers helped secure the campus after the stabbings.
(Michael Robinson Chávez / Los Angeles Times)
Reporting from MERCED, Calif. —
The violence ended where journeys begin.
There on Scholars Lane Bridge — where incoming UC Merced freshmen walk in a traditional school welcome and where graduates cross during commencement — a male student believed to have stabbed four people with a hunting knife was shot and killed by police.
In the wake of Wednesday morning's incident, fear and anxiety whirled on the rural campus in the San Joaquin Valley. Classes were canceled and students were urged to stay away.
Interested in the stories shaping California? Sign up for the free Essential California newsletter >>
"It's shocking," said university spokeswoman Lorena Anderson. "You hear about it at other places and you hope to God it's not going to happen on our campus."
The attacks began just before 8 a.m. on the second floor of the Classroom and Office Building, which houses humanities and natural science classes.
The attacker first slashed a student's throat with a blade that authorities said was as long as 10 inches. Then, on his way out the classroom door, he stabbed a man in the waist and fled down a flight of stairs. Outside, he knifed another student before attacking a female university staff member, stabbing her multiple times.
Two campus police officers gave chase, and, about 15 minutes after the attacks began, the male student was shot. A knife was found within 4 feet of his body, said Merced County Sheriff Vern Warnke, who added that the man also had been carrying a backpack.
He was described only as a Merced student from California who lived on campus. The FBI is involved in the investigation.
Anderson said the crime scene, the entire center of campus, is the size of a city block.
Witnesses tried to administer first aid to the knife victims as they waited for help.
Some who were on campus quickly took to social media. "I look to my right on the ground is a lady laying down she got stabbed in the chest," tweeted Josh Palmer, who wrote that he was working on the roof of one of the buildings.
All four victims were expected to survive. Two were airlifted to a hospital, and the other two were treated at the scene. Among them was Byron Price, 31, who was working on a renovation project in the building where the first attack took place.
According to his father, Price heard chairs crashing and screams from a classroom across the hall. He went to open the classroom door, and the attacker lunged at him and stabbed his torso. Price managed to kick his attacker in the head before he ran off.
Warnke said Price's actions were "heroic" and probably saved lives.
It's a notion that fills John Price with pride, but the father is also unsettled by the details of what had been a risky situation.
"It kind of hit me that this all could have ended badly," he said. When he was sure that his son was OK, he headed to his Rotary Club meeting.
"This here happens on the news in somebody else's town. Not in our little nothing town," John Price said. "I knew people would need to talk."
Merced is the newest University of California campus, built in 2005. With fewer than 7,000 students, it is a tight-knit community where two canals run through the bucolic campus and cows roam the rolling grasslands. A walkway lined with oak and pine trees leads to Lake Yosemite, where students lounge between classes.
A group of freshmen sought solace Wednesday at that reservoir — just a skip away, but seemingly far removed from bloodshed.
"The lake is a nice, beautiful place. And we go there every day anyway," said Kenji Israels, 18.
As they walked, Shayan Rostami, 19, read aloud a text from a classmate: "Dude, I'm shaking. In a million years I never thought it would happen on our campus." He then got a call from his uncle in Iran who had heard about the incident.
Louis Vincent glanced around at the rustling oaks and fresh snow crowning the Sierra Nevada in the distance.
"There's birds chirping, the wind is blowing and you want to think, 'Life goes on,'" he said. "But it happens. And it hurts. And I don't want to be that guy, but it's going to feel different. How do you protect yourself?"
Vincent, 18, said he once went through a five-hour lockdown in high school when someone threatened to kill hundreds of people at lunch.
"Why is this so prevalent that it happened to me twice in a year?" he wondered aloud.
UC Merced Chancellor Dorothy Leland acknowledged the terror of the day but said the campus remains secure.
"Both our police and students acted in a way that would make all of us very proud," she said. " ... The children are safe here."
The campus was not evacuated, although some students were relocated from a residence hall that was part of the crime site. Classes are expected to resume Friday.
Throughout the day, officials sent alerts to students' and faculty members' phones and also tweeted updates. Counseling was offered as well as shuttles to those in need of transportation off campus.
Students who stuck around huddled in small clusters. They have been raised in an era where violence is a known campus hazard. Still, this was their school, not someone else's, that had a brush with something brutal.
"We knew it could happen," said Daniel Garcia-Ceja, 21. "But nobody thought it would."
diana.marcum@latimes.com; Twitter: @dianamarcum
hailey.branson-potts@latimes.com; Twitter: @haileybranson
corina.knoll@latimes.com; Twitter: @corinaknoll
Marcum reported from Merced, Branson-Potts and Knoll from Los Angeles. Times staff writer Joseph Serna, in Los Angeles, contributed to this report.
ALSO:
Case of pedestrian struck by car at 2014 Zombie Walk goes to jury
Search for new L.A. schools chief shifts focus to individual candidates
Family of Chinese mom who died after birth complications gets $5.2 million
---
Get breaking news, investigations, analysis and more signature journalism from the Los Angeles Times in your inbox.
You may occasionally receive promotional content from the Los Angeles Times.